Why the humble business card is in rapid decline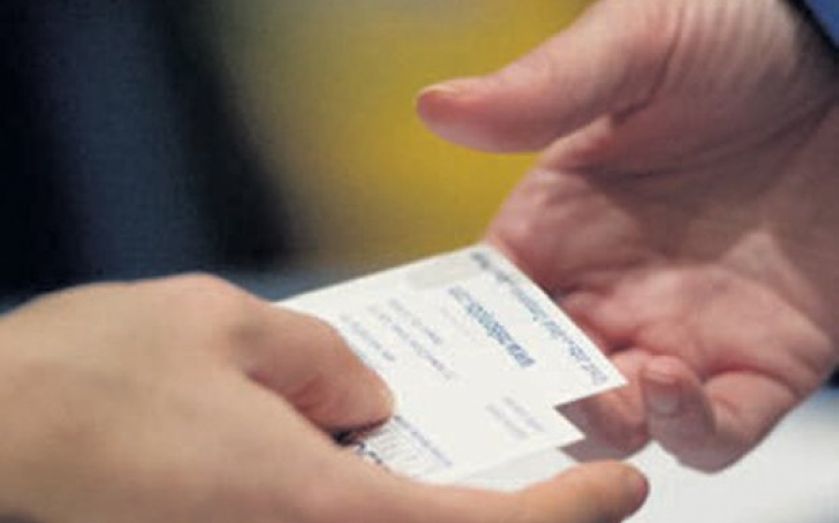 But there's still space for the analogue antique in our digital future.
Few corporate rituals have proved as enduring as the exchanging of business cards. Some Brits may not think twice about stuffing several of them into a pocket or bag, with only the vague intention of retrieving them (crumpled and torn) later on. Internationally, however, the practice has been honed into a piece of theatre.
The Kwintessential website outlines China's etiquette, which includes holding the card with both hands when offering it, and translating one side into gold Chinese characters (an auspicious colour). In India, it's customary to use the right hand to make the swap, while Japanese exchanges are apparently conducted with great ceremony. Business cards are offered with one hand, but received with two, and kept in pristine condition in a dedicated case or portfolio. "Treat the business card you receive as you would the person," urges Kwintessential.
THE DIGITAL ALTERNATIVE
But in the UK, at least, the humble business card seems to be in decline. Office search company officebroker.com recently surveyed over 500 people working in businesses, and found that 22 per cent of those who relied on physical cards 10 years ago have since done away with them. And of the 78 per cent of people who are still issued cards by an employer, 74 per cent said they hardly use them. Like fax machines and brick-sized mobile phones, the business card may be becoming a relic of a bygone era.
Direct replacements, however, have had a tough time breaking through, and the fall of the physical card hasn't been as dramatic as some predicted. Bump, an app that allowed users to share contact details by literally "bumping" smartphones, was hailed as the new way to network back in 2010. Tom Ziegler, writing for Fortune, spoke to attendees of the SXSW technology festival that year, finding that "people are going paperless, mostly 'Bumping'" to share contact details. The firm was acquired by Google for between $30m (£18.4m) and $60m in September 2013, but was shut down at the beginning of this year, reportedly because not enough people were using it. Just a few months later, LinkedIn announced that it was killing CardMunch, its app for digitising business cards, for similar reasons.
Instead, searchable email inboxes and social networks like LinkedIn and Twitter seem to be behind the relative decline of the business card. The information held is typically far more comprehensive than on a business card (or in a Bump profile, for that matter), and with the ability to call up contact details and more through a few keyboard strokes, physical cards are starting to seem rather retro.
FACE-TO-FACE
But this could explain part of the appeal for some, argues networking strategist Andy Lopata. He points out that business cards have lived through several assaults from the world of technology (CD-Roms, PalmPilots). Part of the reason, he thinks, is that people value the theatre surrounding the act of exchange – particularly in an age where introductions are all-too-often made in the digital domain. As the international examples testify, ritual is as important as the actual sharing of information for some, with many people shelling out hundreds of pounds for sets of luxury cards.
Just be sure to remember the etiquette, especially when in Japan.
---
Yet another business card app
Free
The latest in a long line of apparent app replacements for the business card, CamCard aims to succeed where the likes of Bump and CardMunch failed. It's a familiar technology – your phone's camera reads someone's business card, and then stores the data electronically – but it also makes it easy to exchange your details, share contacts with others, and set reminders to follow up. There are mixed reviews over the reliability and accuracy of the scanning feature.