Why do immigrants want to come to the UK? It's not to get benefits or steal British jobs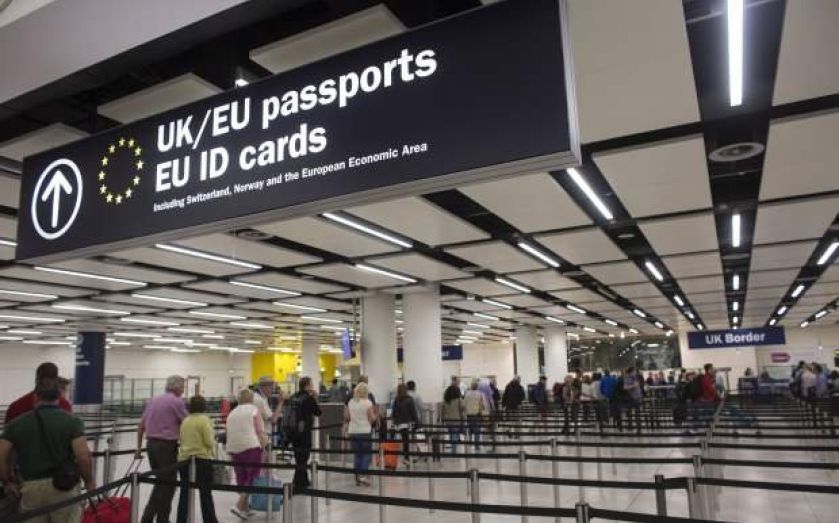 A relatively high proportion of non-UK nationals come the UK to study, and migrants have jobless rates comparable to those of UK nationals, official data suggests.
According to an Office of National Statistics analysis of 2011 census data, 14 per cent of all migrants were students, compared to only 9.7 per cent for the UK population as a whole.
What is more, 35 per cent of those not born in the UK had a degree-level education or higher, compared to 26 per cent of UK residents.
The ONS says this reflects the "younger age structures of migrant populations", which could turn out to be a boost to the UK's aging population.
In the UK, the percentage of the population over 65 will be 18.1 next year, according to a report by Moody's which ranks it as aging. A young, working population means a healthier economy. With the UK's birth rate low (1.9 in 2012, according to the World Bank), young blood from overseas helps.
This goes some way to dispel the myth that immigrants don't contribute to the economy and come for our welfare system.
There are other myths busted by the data too:
Immigrants don't work
In fact, while 69 per cent of UK-born individuals were in employment, the figure rose to 73 per cent for EU migrants, suggesting the narrative of EU benefit tourism is unlikely to hold water.
A lower level, 63 per cent, of non-UK-born persons was in employment but the ONS suggested this was down to the high proportion of students.
What is more, unemployment rates don't bear this out either. According to census data, 5.3 per cent of non-UK-born people were unemployed, compared to 4.8 per for the UK-born.
It is important to note that these figures cannot be compared with the Labour Force Survey, which provides the national unemployment rate. According to the LFS, the unemployment rate oscillated between 7.7 and 8.5 per cent during 2011, the year of the census.
The unemployment rates varied greatly between groups, as the below chart shows.
Poles and South Africans were far ahead of any other group, including the UK-born demographic. Germans also nudged higher.
China had the highest percentage of students, with almost half (47 per cent) of Chinese immigrants in education.
Immigrants claim more benefits
In fact, the data suggests foreign workers contribute to the economy. According to data from the Department for Work and Pensions:
As at February 2014, approximately 15 per cent of working age UK nationals were claiming a DWP working age benefit compared to seven per cent of working age non-UK nationals (at the time they first registered for a National Insurance number [NINo]).
It goes on to say:
134,000 (11.7 per cent) of Jobseekers Allowance claimants are estimated to have been non-UK nationals when they first registered for a NINo. Of these, 48 per cent are from within the European Union.
That 11.7 per cent figure may sound high, but 15.6 per cent of the UK working age population is made up of non-UK nationals, so proportionately it is better.
Immigrants can't speak the language
Another myth busted – the ONS found that almost 90 per cent could speak English well or very well.
The ONS census data has its holes – it is after all a snapshot of UK life taken in 2011 – but overall it paints a picture of immigrants being valuable contributors to our society, who are well educated, work at comparable (and at times greater) rates, and claim fewer benefits that the UK born population.
Update: This story has been changed to clarify that while 14 per cent of the migrant population being students is high relative to the UK population, it is not the predominant reason they migrate.