What to do this winter? From The Hobbit to Guy Bourdin to the Merchant of Venice – culture for the colder months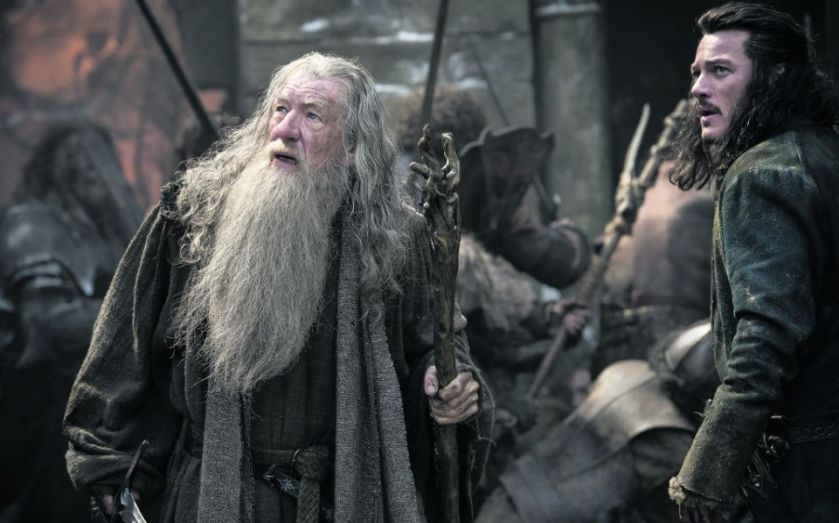 Yes, the weather's taken a turn and yes, the clocks have gone back. But don't let the cold temperatures and short days dampen your spirits; as ever, London has plenty to warm the cockles over the winter, with plenty of great plays, exhibitions and films scheduled for the end of the year.
From one of the greatest fashion photographers of the twentieth century to a new Las Vegas-set Shakespeare classic to a three hour fantasy epic, City A.M. presents a winter arts preview that's sure to get you excited about the dark days ahead….
FILM
THE HOBBIT: BATTLE OF THE FIVE ARMIES
Cert 12a
Peter Jackson continues his epic adaptation of JRR Tolkien's The Hobbit with The Battle of the Five Armies, which will be released on 12 December. The third instalment of the Lord of the Rings prequel sees the return of Benedict Cumberbatch as wrathful dragon Smaug who has left Lonely Mountain to unleash his fiery revenge on the people of Laketown. In his absence, the enemy Sauron has returned to Middle Earth and mobilised legions of Orcs to siege the mountain. Expect around three hours of fighting and folklore. Out December.
GET ON UP
Cert TBC
Hot on the heels of the ill-fated Jimi Hendrix biopic we have a James Brown one that looks like a major improvement. Directed by Tate Taylor (The Help), written by Jez Butterworth (Jerusalem, The River, Edge of Tomorrow) and starring Chadwick Boseman (pictured below), it's already won plenty of rave reviews in the States where it's been out for a couple of weeks. Many have tipped Boseman's performance for Academy recognition. Out November
DUMB AND DUMBER TO
Cert 12a
Tis' the season to be downright daft. After 2003's innovatively named prequel Dumb and Dumberer, the world's stooopidest franchise gets another outing – the equally innovatively titled, Dumb and Dumber To. Within one week the trailer had over 20m views on YouTube and though few predict critical acclaim, Jim Carrey and Jeff Daniels are sure to draw the box office crowds once again. Out December
ARTS
ALLEN JONES
Royal Academy
Allen Jones finally gets the retrospective he deserves this winter at the Royal Academy. The British artist was instrumental in establishing a pop art voice this side of the Atlantic and is responsible for some of the twentieth century's most iconic images. Jones' sculptures incorporating mannequins in fetish gear (see below) won critics as well as fans but his pulsatingly colourful prints are sure to provide some welcome brightness in the cold winter months ahead. Opens 13 November, £10, visit
royalacademy.org.uk
GUY BOURDIN
Somerset House
Somerset House can always be relied upon for an excellent winter exhibition programme, and this year is no different. Fashion photography legend and Man Ray protégé Guy Bourdin is the subject of a stunning retrospective including 100 previously unseen images from a glittering 40 year career. Bourdin elevated fashion advertising to an art-form (see left) and paved the way for countless young experimenters from Miles Aldridge to Viviane Sassen. Opens 27 November, £9, visit
somersethouse.org.uk
BOLT
GRAD gallery
When Dmitri Shostakovich's satirical ballet "Bolt" premiered in 1931 it was met with disapproval from the Soviet political establishment. Subsequent performances were forbidden, and 74 years went by before it was staged again in a 2005 Bolshoi production. This exhibition takes a closer look at the original production, with costume designs and period photographs providing a unique insight into a cultural moment that was almost buried by political repression. Free, Opens 6 December
THEATRE
BEHIND THE BEAUTIFUL FOREVERS
The National
When Pulitzer Prize-winner and MacArthur genius grant recipient Katherine Boo teams up with Academy Award nominee and Laurence Olivier award winner David Hare (pictured), you know you're in for something special. Boo spent three years in an Indian slum recording the lives of its residents. The resulting book, Behind the Beautiful Forevers, has been adapted by Hare for an epic play at the National about the underside of rapid economic expansion. Opens 10 November, tickets from £15
THE KNIGHT OF THE BURNING PESTLE
Sam Wanamaker Playhouse
The candle-lit seventeenth century Sam Wanamaker Playhouse is the perfect setting for a cosy winter night at the theatre. If the intimate interior isn't enough to warm the cockles, hopefully some belly laughs will with the Knight of the Burning Pestle. Forget play within a play, this Jacobean romp from Francis Beaumont has two plays within the same play. A brilliant opening year for the Playhouse rounded off with a bang. Opens 11 December, tickets from £10, visit
shakespearesglobe.com
.
MERCHANT OF VENICE
Almeida Theatre
Following a year of critical and commercial hits – King Charles III, Our Town, Ghosts – the Almeida looks set to continue its run of good form with this show-stopping production of Shakespeare's Merchant of Venice. Everyone's out to make a killing in this production set under the garish Las Vegas lights. Tickets start at £9, visit
almeida.co.uk
.