Uncle Vanya at the Almeida is brilliantly acted, cleverly staged and gratifyingly reinterpreted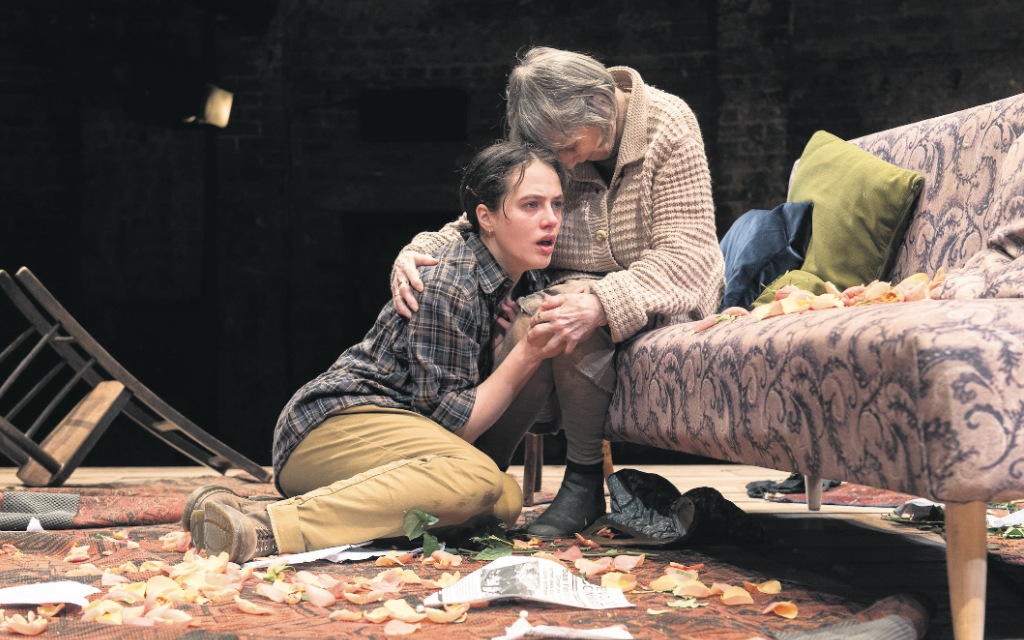 Almeida | ★★★★★
Anton Chekhov is a cornerstone of modern theatre, one of the fathers of realism; he eschews action in favour of mood and character, and while his Uncle Vanya is an undoubted masterpiece, the prospect of three and a half hours of Russian misery isn't necessarily the most enticing prospect. Rejoice then that adaptor-director Robert Icke's new production at the Almeida updates, reinvents, and thoroughly reinvigorates a play that thrives on vitality, even as it delves into lives unlived.
With Elena, his glamorous, young second wife in tow, a retired professor returns to the farm that funds his cosmopolitan lifestyle. It is managed by Uncle Johnny, the brother of his late first wife, and Sonya, the professor's daughter. Johnny and the local doctor quickly fall under Elena's spell, causing both to reflect on the emptiness and isolation of their parochial existence, while Sonya – who by common agreement is a very plain girl – is too timid to tell the doctor of her feelings for him. When the professor announces his intention to sell the farm, everything is thrown into chaos.
It was a bold decision to cast Downton Abbey's Jessica Brown Findlay as the canonically unattractive Sonya, but fortunately she is a character actor trapped in the body of a leading lady. Sonya's manly physicality, social gaucheness, dogged loyalty and doomed romanticism combines to form a wonderfully realised whole. Had she been less talented, having a recognised beauty in the role could have been disastrous, but instead it reinforces Sonya's tragedy; she is not ugly, but she has internalised the message that she is, which has robbed her of the confidence that might have led to a better life.
Paul Rhys, who seems to specialise in profoundly damaged men, plays Johnny to brittle perfection. He drunkenly teeters from ineffective lothario, to self-deceiving bon vivant, to spittle-flecked desolation, looking increasingly like a man physically beaten by the world. The doctor, played by Tobias Menzies, self-identifies as strange, and provides frequent and much needed levity. A booze-fuelled, mid-thunderstorm sing-a-long – in which the two men are joined by a guitar-playing farmhand for a raucous medley of Lust for Life and The Jean Genie – is a high point.
The real revelation though is Vanessa Kirby as Elena. The character could be little more than a destructive plot device and catalyst for others, but Kirby gives her depth. Not a great deal initially, as she lounges about, complaining of boredom, but by the third act she has grown to be the most interesting person on stage. The character is an important contrast to the locals, showing that life at the centre of things can still be unsatisfying, but it is Kirby's comic reactions, especially her reactions to herself, that make her so compelling.
The staging is likely to prove controversial, with most of the action (such as it is) taking place on a large, slowly rotating platform that intermittently obscure's the audiences' view. But it lends a cinematic aspect to what might otherwise have been a static production, and the way the actors leap from the platform to deliver soliloquies is appropriately reminiscent of the legendary, clichéd graffito, "Stop the world, I want to get off."
This is a brilliantly acted, cleverly staged, gratifyingly reinterpreted production. But, despite all the changes, this Vanya remains true to its Russian core of alcoholism and ennui, and it drives home the important but not hopeful message that, "We have to just keep living."