UK has joint seventh highest national debt-GDP ratio in EU (with Spain)
Government debt in eurozone countries rose to 92.2 per cent of gross domestic product (GDP) in the first quarter of 2013 – up from 88.2 per cent in the previous year (release).
At the end of the quarter, securities other than shares made up 77.1 per cent of euro area general government debt, while loans made up 18.4 per cent, and currency and deposits 2.7 per cent.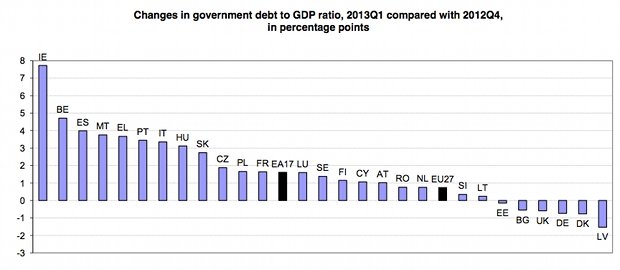 Last week, City A.M. reported that Britain's national debt in June 2013 was at its highest proportion of GDP (75 per cent) since the 1960s, with the unadjusted figure growing £500m to £12.4bn. According to Eurostat, the UK's first quarter debt to GDP ratio was the joint seventh highest in the EU (with Spain) at 88.2 per cent in the first quarter – up 3.1 percentage points from the year before.
Across the 27 EU countries in the first quarter of the year, the highest debt to GDP ratios were reported in Greece (160.5 per cent), Italy (130.3 per cent) and Portugal (127.2 per cent), with the lowest in Estonia (10 per cent), Bulgaria (18 per cent) and Luxembourg (22.4 per cent).
The biggest increases, meanwhile, were in Italy (up 7.7 percentage points) and Belgium (up 4.7 percentage points), while the biggest decreases came from Latvia (down 1.5 percentage points and Denmark (down 0.8 percentage points).
Given the involvement of EU governments in giving financial assistance to some member states, Eurostat also publishes data on intergovernmental lending as a percentage of GDP, which rose to 2.1 per cent from 1.2 per cent the year before. Lending of this nature was 0.2 per cent of GDP in the UK.