Travel industry unites in last-gasp SOS as second 'lost summer' looms
Pilots, travel agents and union members descended on Westminster this afternoon in a plea for the government to "save" the long-suffering travel industry.
Due to Covid-19 restrictions, the protestors were forced to appear one after another in two groups of 400, as part of a coordinated campaign of similar events around the country.
But even if they were physically divided, the message – delivered largely in good, if anxious, spirit – sounded as if from one voice: get the borders open, or we won't be here for much longer.
James O'Donnell, a commercial manager at Eton Travel in Windsor, said that his firm's turnover had shrunk to just 10 per cent of the £50m it made yearly before the pandemic.
"We had a really solid cash flow beforehand, but we have lost over £100,000 a month for 15 months. If we can't get back to traveling by the end of the year, that's us done, and 100 people will lose their jobs", he told City A.M..
And with the government's furlough scheme soon to start tapering off, he warned that job cuts could be imminent.
"We've done our best and haven't made any redundancies, but have 80 per cent of our staff on furlough. But soon we're going to have to pay contributions to the scheme when we're getting no income at all.
He questioned why, unlike the hospitality industry, the travel sector has been denied targeted relief by ministers.
"At least hospitality can service 50 per cent of their clients. We can't service anyone at all right now."
In recent days, the government has suggested that fully vaccinated travellers may be able to travel without quarantine in "amber" and "green" list countries later in the summer.
The next review of the traffic light system is due in the coming days, and O'Donnell was hopeful the above approach is taken:
"We think it's safe to resume travel. We're not having these vaccines just to survive, but to get back to normal again."
His words were echoed by business body the CBI, whose president, Lord Bilimoria, said that ministers should "build on the success of the vaccine programme by removing quarantine restrictions for those who are protected".
"But we can't be first on vaccines, yet last on reopening international travel. It is essential for trade and business travel, not just tourism, and a key component in any economic recovery. "
For some, the personal cost of the pandemic has been even greater. Lee Hunt, owner of Suffolk-based Deben Travel told City A.M. he was forced to move out of his house during the pandemic because he could no longer afford the rent.
"Trading has been horrendous. We haven't made an income since March 2020. We're reliant on people travelling to be paid our referral fees, so not only have we had to pay back our customers, but also all our extra fees.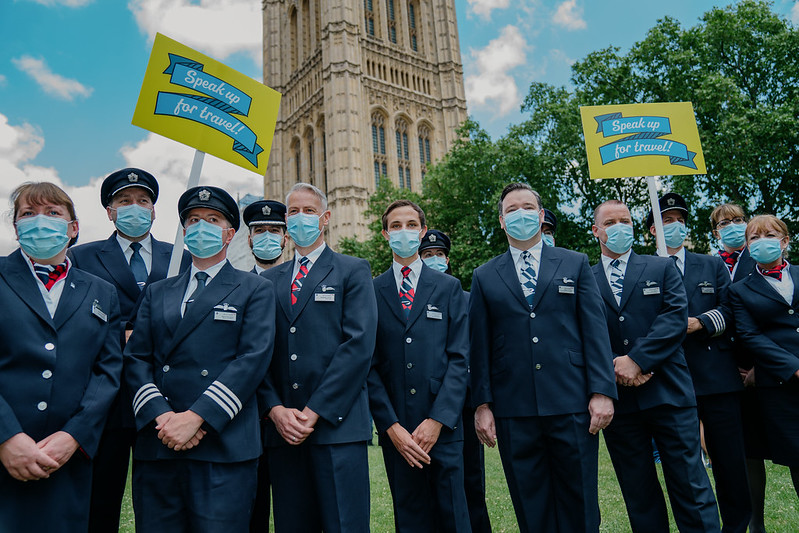 "What was once a thriving business with 10 years of trading is now struggling. "We've got enough to survive through the winter, but we won't survive much longer than that, and that's 10 years of graft down the pan."
He also said that his firm, which employs nine people, had been deemed ineligible for extra additional restriction grants because it was in the wrong category.
But that's not the point, Hunt added. "I'm not hear shouting about being given more money. What I want is to be given the opportunity to make my own money by sending people overseas safely again."
Like O'Donnell, he is hopeful that ministers will ease restrictions for vaccinated travellers in time to save some of the summer season.
But for Aaron Mitchell, who runs youth travel firm Start Your Travel Escape (SYTE) with four others, it is the lack of clarity that has been so damaging.
"We're just repeating the chaos of 2020. We need more clarity; at the moment, it is incredibly hard for us as a business to plan if they keep moving the goalposts."
He said that ministers should share the data they are using to decide which countries belong on which list, and use the "amber watchlist" properly.
Without any income, he said that he and his colleagues had all been forced to take part-time jobs while the pandemic rumbled on.
Clive Wratten, the chief executive of sector body Business Travel Association (BTA) said that such stories were now the average for the industry.
"A lot of our members are in an absolutely critical situation after 15 months without trading. The majority of our members are trading at just 10 per cent of their 2019 income currently", he told City A.M..
Again, he called for ministers to allow vaccinated people to travel to "amber list" countries, and said that extra financial support would be vital.
Business travel, he said, adds £220bn to the UK's GDP each year, but without a successful summer to rebuild confidence in the industry it could be lost for good.
But, he said, despite 15 months of pleading he had yet to have a direct meeting with transport secretary Grant Shapps or Chancellor Rishi Sunak.
"That just sums up the esteem in which the industry is held", he finished.