From Threadneedle Street to the corridors of power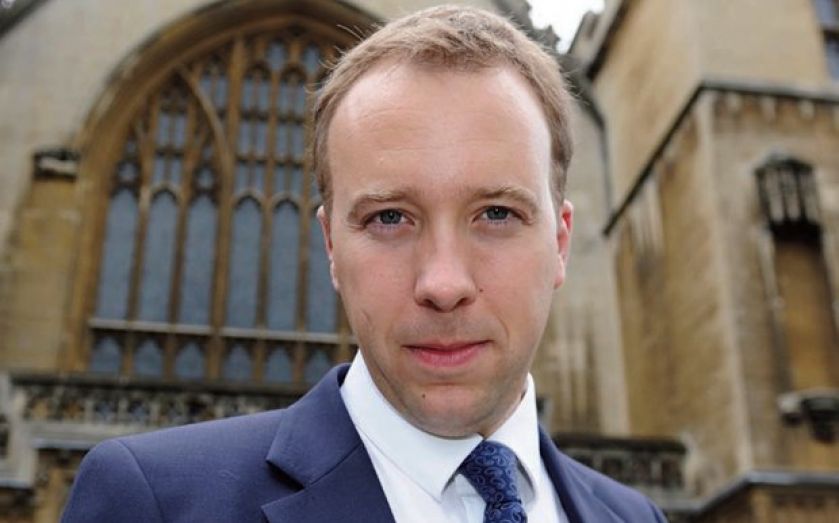 Business minister Matthew Hancock tells Kate McCann he's on the side of new challenger firms
IF CONSERVATIVE MPs spent the weekend nursing a Ukip-induced headache ahead of their party conference, business minister Matthew Hancock showed no evidence of it yesterday. "It's relatively cheerful here, in the circumstances," the former Osborne advisor says with a wry smile, adding that his party "clearly needs to address the concerns" of voters toying with the idea of casting their ballot for Nigel Farage's party in a few months' time – not to mention the threat of more Tory MPs stepping over to the dark side.
The Conservatives know there are questions about issues like welfare that are yet to be answered, but they are keen for this and immigration not to overshadow the economic focus of their annual event in Birmingham. Announcements on cutting the benefits cap and getting rid of jobseeker's allowance for young people, both pushed out by Tory spinners over the weekend, sought to stop the Ukip machine in its tracks before things got out of hand.
"There's no doubt that we could have done more," Hancock admits. "The PM has been clear that we would have done more had we not been in a coalition," he adds, pointing out that the party has promised to go further on welfare if re-elected in 2015. "We have to ask voters: do you want to continue in this direction under David Cameron or throw it all away and have Ed Miliband? When the question is asked in that way I think the answer becomes increasingly clear," he says.
Hancock is a quiet yet credible figure within his party and has been trusted with a number of key portfolios. He is the son of small business owners, an economics graduate, a former Bank of England brain and he worked on the Conservative's long-term economic plan before it even had a name.
The Bank, he explains, was too technocratic for him. "I was more passionate," he admits, adding that he realised after just a short time there that "the big decisions are all made in Westminster".
"I came to be a Conservative because I care about economic security," he says, quickly adding that his story isn't as dry as it sounds. His mother and step-father ran a small computer software company that almost went bust, an event that shaped his life. "We were within days of having to close because a cheque didn't come from a key customer and I knew that if it got to the end of the week without the cheque arriving then the 30 or so people that worked in the business, including my mum and step-father, were going to lose their livelihoods. That made me ask bigger questions about what the economy was, which led me ultimately to here," he explains. "It motivates me to do the job I do, supporting other businesses so they don't have to go through the same experience."
This grassroots attitude towards small business is behind Hancock's desire to see the government make the most of what he calls the shared economy; new business models like AirBnB and Uber which shake up the status-quo. He is, he says, on the side of the challengers, which no doubt makes a refreshing change following strong adverse reactions to these new business models in America and Europe. Knowing too that government doesn't always join up the dots when it comes to the factors affecting small business owners is the driving force behind the report he has commissioned on the blossoming sector, which will report in time for the Autumn Statement in December.
"There has been a negative reaction against AirBnB," he acknowledges, "it's a classic case of wanting to stop the new entrants and of existing players who have a strong voice trying to freeze in aspic the way the economy operates ­– that isn't only a bad idea, it's also impossible."
He does, however, recognise that new models mean someone loses out somewhere, but suggests resisting change is not an option. "If you try to stop the onward march of technology," he warns, "it's ultimately futile.What you have to do is help people to adapt."
Part of this involves giving people access to the right information, the thinking behind a new app for young people setting up their first business, announced by Hancock in his speech to conference today.
Perhaps he'll use it himself one day too, when he gets tired of politics. "All of my siblings have started their own business so I'm the odd one out," he admits. "I did start a business when I was 10, but it folded when I was about 12 … We should support people who fail the first time round," he adds. "America has a much better attitude towards failure than we do." Here's hoping Hancock's next attempt at running a company is a bit more successful.