Theatre review: Treasure Island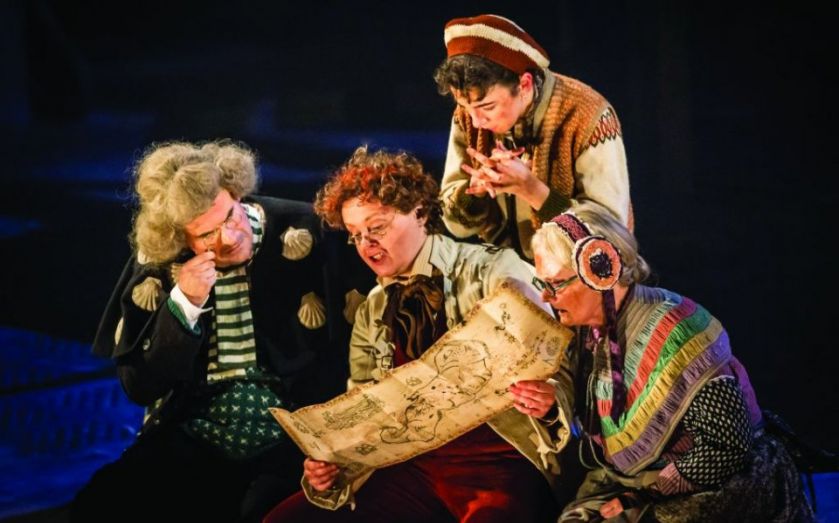 Olivier Theatre | ★★★☆☆
The National Theatre employed the services of a "comedy consultant" for its lavish new Treasure Island adaptation. Whatever he did, it didn't work – the jokes let down an otherwise impressive production that kids will enjoy (if not love) and adults will tolerate. Too often laughs are grasped at clumsily, upsetting the rhythm and interrupting the thing that gives Treasure Island its enduring appeal: total imaginative immersion. A perfectly spiced blend of daring, violence and exoticism, Robert Louis Stevenson's swashbuckling tale remains the pinnacle of adventure writing.
Director Polly Findlay's adaptation captures some of the magic of the source material, with Lizzie Chlachan's set providing a sparkle the writing sometimes lacks. The starry sky that the have-a-go sailors use to navigate is wondrous, and the boat – a cavernous skeletal structure resembling a real dead man's chest – hints menacingly at the danger lying ahead.
The cast is competent, but no more. Joshua James provides some much needed grit in his performance as Ben Gunn, though he overcooks the former-cabin boy's mental illness. Arthur Darvill's Long John Silver looks more like an eighties pop-star than marauding, murderous pirate. His performance is okay, but he's somehow too clean, too young and too two-legged to convince. Instead of a wooden leg, he has a brown boot that obviously contains a fully-functioning limb. The engineering department clearly used up all their ingenuity on the wise-ass animatronic parrot that chirps ironically throughout.
Writer Bryony Lavery has taken the unusual decision to cast a woman (Patsy Ferran) in the role of hero, Jim Hawkins, and she's good, though her narration, spoken directly to the audience, tends to sentimentalise the voyage when all you want to see is a decent sword fight. Speaking of which, the stage combat has a distinctly U-rated flavour – a problem, as key to any successful Treasure Island adaptation is a palpable sense of danger. Fewer ruminations on the nauseous excitement of being far from home, and more derring-do would have made this show a winner.