Theatre review: Made in Dagenham starring Gemma Arterton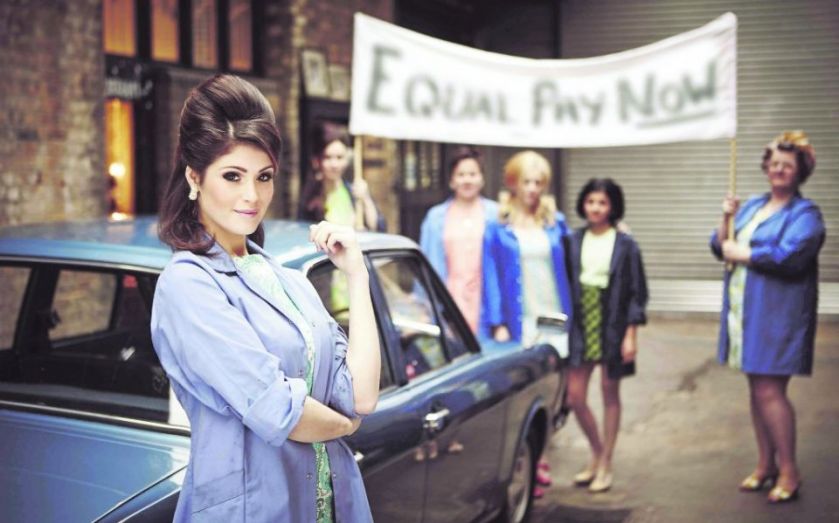 If you ever wondered why Carry On Camping, Carry On Up the Nile and Carry On Up The Jungle were never followed by Carry On Second Wave Feminism, or Carry On Women's Liberation, then watch Made in Dagenham, a new musical in which slap, tickle and gender politics make uneasy bedfellows. It's not that the jokes and politics are at odds, but that the silliness makes trivial a story that's anything but.
In 1968, a group of female Ford factory workers from Dagenham secured equal pay through industrial action. Their courageous campaign was turned into a well-received (non-musical) film in 2010, and this West End production – with a book from Richard Bean (One Man, Two Guvnors, Great Britain) and music from David Arnold – is the adaptation of that film. Gemma Arterton stars as a bright working mother who knows nothing of the language or history of political struggle but has a strong sense of right and wrong. Arterton provides a wholesomeness the rest of the production lacks, a beating heart amid the winks and wolf-whistles.
The production is let down by a dreary second half. Factory bosses, Americans and the British government are represented by two-dimensional caricatures who can't sustain the play for two and half hours. Prime Minister Harold Wilson's portrayal as a chauvinistic buffoon is both egregiously unfunny and grossly unfair. It was, after all, his government of the 1960s that presided over the liberalisation of laws on censorship, divorce, homosexuality and abortion.
The set also disappoints with an elaborate, sort-of-industrial tangle of pipes and grates that suggests the action is taking place outside the Pompidou Centre, rather than a car factory in Dagenham. The final scene, a speech delivered to the Trade Union Congress, is about as captivating as a speech at the Trade Union Congress.
The last song, which tries to contrive a standing ovation by imploring the audience to "Stand Up!"results in an awkward stand off between cast and audience.
Musicals don't have to be frivolous. Billy Elliot and Les Mis present working class struggle in a way that's both joyous and rousing. Made In Dagenham has its heart in the right place and tells an important story – it's a shame that story doesn't receive the care it deserves.