The decline of cash is on the cards: City A.M. speaks to MasterCard's Ann Cairns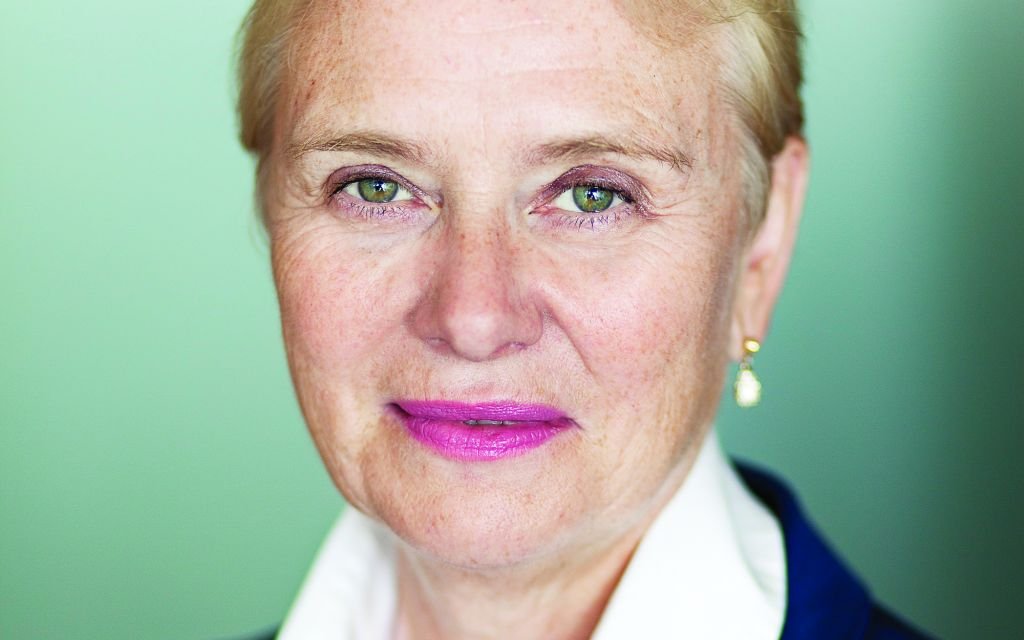 Some sports fans carry the burden of their teams' fortunes around on their shoulders, often for days after a heroic victory or a dramatic defeat. You know the type I mean – we've all worked with them, dated them, got married to them… Hell, some of us are them. The football obsessive who springs into work after a trouncing of Man United the previous day; the cricket fan who mopes about for weeks after a devastating Ashes whitewash.
Thankfully for her colleagues and loved-ones, Ann Cairns doesn't seem to be that kind of person. Having seen England unceremoniously dumped out of the World Cup, and with Newcastle stuck in the Premier League's relegation places, the Geordie-born Cairns could be forgiven for being a tad downbeat. But nothing could be further from the truth.
"We sponsored the World Cup so we're having a fantastic time," she enthuses, showing me around her stunning Canary Wharf office. "This is a picture of me with Thierry Dusautoir in New Zealand, who was man of the match at that final [in 2011]. And over there you see a picture in the far corner of Martin Johnson; well I look like a hobbit [standing next to him] – he's 6"7'!"
With views of Greenwich Park on one side, and the City's skyscrapers on the other, Cairns' zeal is in no way limited to sport. During the subsequent hour, she gushes over her job, her company, its innovations, and how it can transform the way people live in both wealthy and poorer countries.
"Running a business is one of the best jobs in the world, I absolutely love it," she says. "And this business… it's just a really fascinating business, because you've got a lot of innovation going on all the time".
While hardly a household name, Cairns is to some extent on the same level – or higher – than many better known FTSE bosses, essentially heading up the payment processing giant in every region outside the US.
Would she like the top job, currently held by Ajay Banga?
"I would love to be a CEO. We're a $100bn market cap company so I do actually have those skills and that kind of job anyway," she says.
I'm taking that as a "Yes".
With the rapid spread of contactless technology and systems such as Apple Pay – over 200m Tube journeys have been made with contactless payments since it was introduced last autumn – it's tempting to wonder if such innovation and growth will inevitably level out; but outside of my urbanite bubble, Cairns sees an enormous degree of opportunity to come.
"There's a figure that says 85 per cent of the world's consumer transactions are still cash [and] some countries are way up in the nineties, so you go there and you think there's fantastic white space for the business to grow in these countries," she says.
And it's not just a matter of territories or market share; Cairns is clearly fascinated by the social implications of technologies that, for the most part, already exist. Electronic transfers have improved benefit payments in sub-Saharan Africa, she says, and ease of use can help bridge the gap to millions of people around the world who do not use or have access to basic financial services.
Earlier this year the World Bank revealed a "massive drop" in the number of people excluded from such services. "Between 2011 and 2014, 700m people became account holders at banks, other financial institutions, or mobile money service providers," it said.
This comes as no surprise to Cairns, who believes that technologies will be swiftly picked up by millions of people, if they are trust­worthy and simple to use.
"People said to me you have to do a big education programme for these people to learn how to use the cards – don't believe it," she says, referring to a system that covered 21m people in South Africa, and a pilot involving 13m Nigerians.
"I don't really mind whether it's plastic or whether it's telephone – it's just what has ease of use for everyone. We've been doing a whole range of things like this around the world."
Cairns, inevitably, has a global outlook and a positive view of free trade. "It's helpful, from a business perspective, having money be able to flow effectively across borders and to be able to give people the choice about what they want to buy from different parts of the world in an easy way," she says.
Sniffing some strong political inclinations, I ask about the topic at the forefront of UK businesspeople's minds: Brussels. Suddenly Cairns doesn't seem quite so enthusiastic.
"I'm absolutely pro the idea of competition but I don't see [the European Union] as a super free trade environment," Cairns says, complaining of strong interventions from Brussels that she argues have distorted the market and carry the risk of unintended consequences.
"Quite a few politicians think that they're doing something that will benefit the consumer, they think we'll help the voter we'll make payments cheaper – and actually what they're doing is they're shifting the cost around they're not necessarily helping the consumer, it could be negative for the consumer."
Cairns keeps her cards close to her chest, but appears to be in the same ship as many business execs – a reluctant supporter of the EU. "I like the concept of having a big single trading bloc," she says. "In that sense, I would like the EU to work." It's hardly a rallying call.
As for this morning's political hot potato – the number of women in top executive positions – she is insightful and engaging. There's been "good progress on the non-executive side," with Cairns herself sitting on the board of pharma giant AstraZeneca. But the real issue is how women progress into the managerial positions that can subsequently lead to top executive jobs.
"We have to put much more effort into creating opportunities for women to come up the career ladder and really get into top executive positions in an executive capacity not a non-executive capacity," she says.
Despite this battle, Cairns – unsurprisingly – believes the future is bright for equality in the boardroom.
"I am an optimist about it because I think we're mad to waste 50 per cent of our workforce and not have just the best people in the best roles."
Her message is clear – and MasterCard's president of international markets is leading by example.