The world's biggest emojis were just created by Tesco Mobile in a field near Bath to cheer up commuters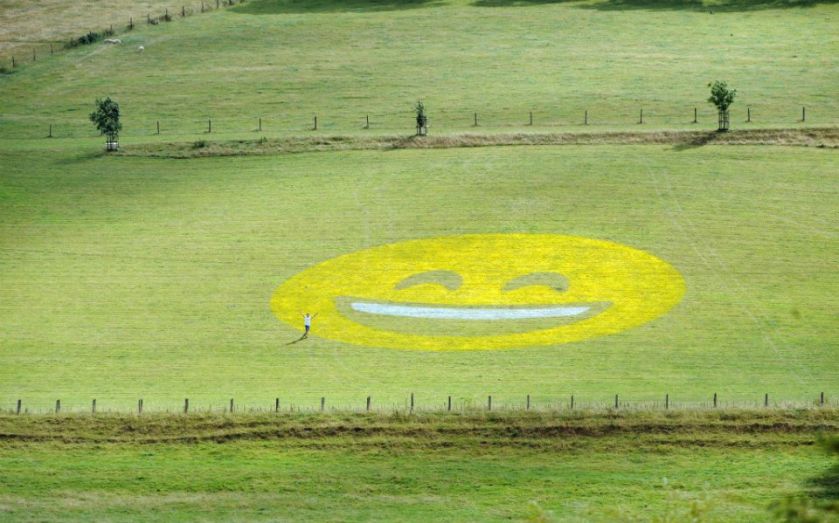 The world's biggest emojis have been created in a field near Bath to cheer up weary commuters.
With the help of 25 artists and 700 litres of paint, a giant smiling face emoji that spans 100ft – the equivalent of three double decker buses – graced the outskirts of the Somerset city while a mysterious smiley faces crop circle appeared near Chippenham.
"The popularity of people expressing themselves via emojis has exploded over the last couple of years. We are committed to helping Brits wake up to better, and so, what better way than to create gigantic smiling emojis to make people grin on their commute?" said Simon Groves, chief marketeer at Tesco Mobile, which was behind the stunt.
Read more: London's happiest areas mapped in stunning 3D
And why not? The mobile network came up with the idea after finding that a smile from a stranger would cheer up commuters in a survey. Although, no wonder we fell that way. Nearly a fifth said they would spend time on their mobile over hugging their partner.
The best view of the giant emojis is saved for anyone flying from Bristol Aiport – they are so big they can be seen from up to 10,000ft.
It's sure to bring smile to anyone's face, and there's still time to catch them if you need a bit of cheering up – the painted face will last a month and the crop circle for three weeks.
Read more: Are Londoners happy? Not compared to the rest of the UK (but we are happier than ever)
The previous record for the biggest emoji in the world was a 50ft emoji on a video wall in Singapore in 2014.