Supermarket wars: Growth at Co-op Food for first time in a year, as Tesco and Asda decline yet again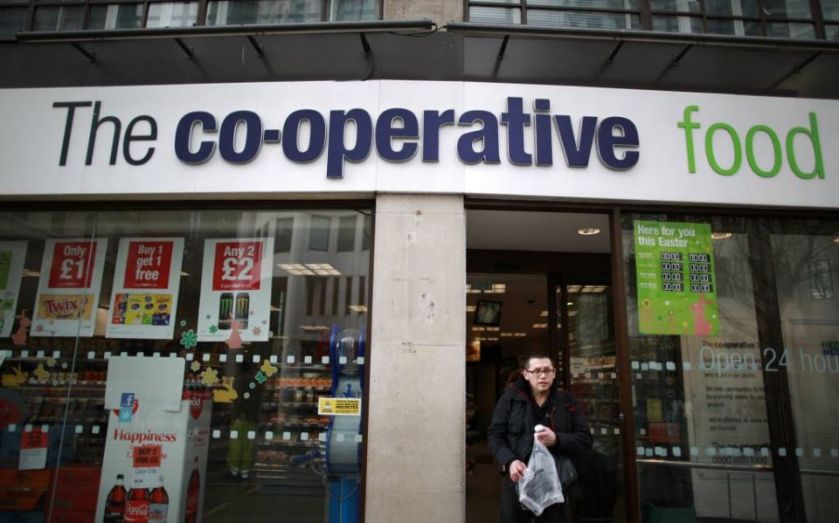 The Co-Operative supermarket is back in growth for the first time in a year, as Sainsbury's reclaims its second place position in the sector.
The sector experienced slight growth for the 12 weeks to 19 July, with sales up 0.8 per cent year on year – though this was generally experienced by the smaller retailers, with the Big Four continuing to struggle.
Prices continue to fall however, down 1.6 per cent – continuing the downwrad trajectory seen since September 2014, although they are projected to start rising again by early 2016.
Sales at Tesco were down 0.6 per cent year-on-year, while Asda's slipped a further 2.7 per cent, letting it fall to third position in the UK's supermarket sector.
Sainsbury's marginal sales increase of 0.3 per cent meant it edged ahead of the Walmart-owned business. It now has a market share of 16.5 per cent, compared with Asda's 16.4 per cent.
Morrisons also dropped, by 0.1 per cent.
The Co-Op Food, which is receiving backing from its parent company in the form of investment in price cuts and a boost to its headcount – grew one per cent.
Waitrose was up a healthy three per cent, although it has ocntinued to lose ground to Aldi, where sales grew 16.6 per cent. The German grocer now has a market share of 5.6 per cent, compared to the John Lewis Partnership-owned business, which has edged up to five per cent.
Fraser McKevitt, head of consumer and retail insight at Kantar Worldpanel, said: "The Co-operative has returned to growth for the first time since July 2014. The Manchester-based grocer's focus on its convenience offer has been rewarded with an increase in shopper numbers, which have risen by 133,000.
"While The Co-operative's growth is slightly ahead of the market, its overall share of 6.3 per cent has remained the same as last year."
He added: "The continued slow growth of the overall market can be explained by minimal volume growth and lower like-for-like prices, both as a result of cheaper commodity prices and the fierce competition between supermarkets."