Ryanair slumps as it warns of a fall in earnings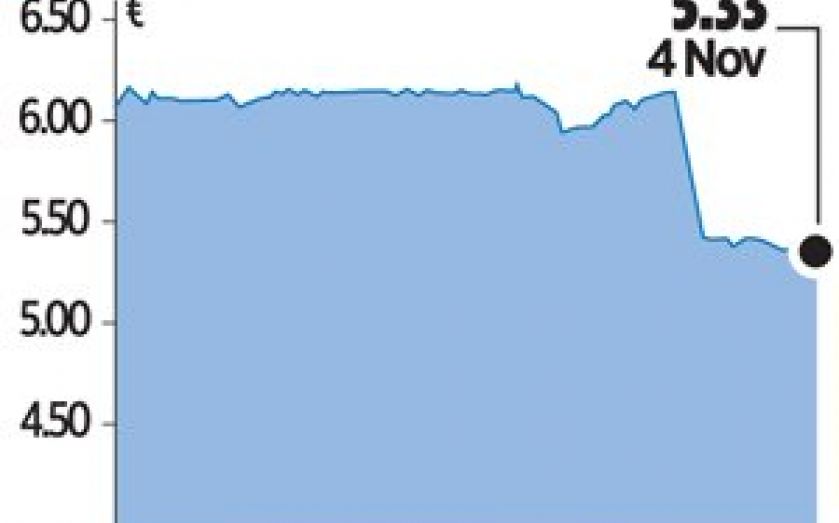 SHARES in Ryanair took a 12.6 per cent dive yesterday after the low-cost airline cut its full-year profit forecast for the second time in as many months.
Ryanair boss Michael O'Leary said its move to lower air fares across its routes had contributed to the gloomy profit outlook, but said he was unsure of the cause of the price pressure beyond "three to four years of austerity across Europe".
And the firm's capacity will fall next summer – the first time it has failed to add seats in 25 years – due to a lag between the end of some leases and the delivery of new planes from Boeing.
"It's a bit grim at the moment, but that's good because it means fares are going to fall," O'Leary told reporters.
Ryanair expects to make between €500m and €520m in the year to the end of March 2014, down from a €570m to €600m range predicted earlier in the year. It warned in September that it might fall short of its range.
The firm has also trimmed its traffic forecasts from 81.5m to just under 81m.
It reported a profit after tax of €602m for the first half, a rise of one per cent on a year ago, but expects to lose around €90m in the next six months, meaning annual profits will fall for the first time in five years.
Average fares fell two per cent in the half-year in the wake of its price cuts, but ancillary revenues rose 22 per cent to €713m as the first wave of seat reservations on Ryanair flights proved popular. The firm revealed that all of its seats will be allocated from 1 February, with passengers able to pay £5 to pick a seat, rising to £10 for chairs near the front or with extra legroom. O'Leary said Ryanair has spent "something in the order of €10m" on its recent customer service drive, including an overhaul of its "crap" website.