Falling foul of local Japanese culture: Raw fish and faux pas in the land of the rising sun
It's customary in travel articles about Japan to talk about how weird it is, and it is weird. This got me thinking: what do the Japanese find weird when they come to the UK? I asked my tour guide as she led me through the bamboo gardens of Kodaiji temple on the outskirts of Kyoto. "Many things," she replied, beaming (tour guides in Japan are always beaming). "One of the main things is when we see men in suits drinking outside pubs at lunchtime. For us that is very strange."
It's not that the Japanese don't drink (an embarrassing incident in Tokyo proves the opposite. I'll tell you about that later), it's that everything in Japan has to be in its right place. There is evidence of this everywhere: the intricately presented morsels in kaiseki cuisine, which arrive in neatly partitioned ceramic receptacles; the clear distinctions between inside and outside that the Japanese observe by removing their shoes and ascending to elevated rooms; the simultaneous yet distinct embrace of both Zen culture and popular culture, the former hushed and reverent, the latter giddily infantilised.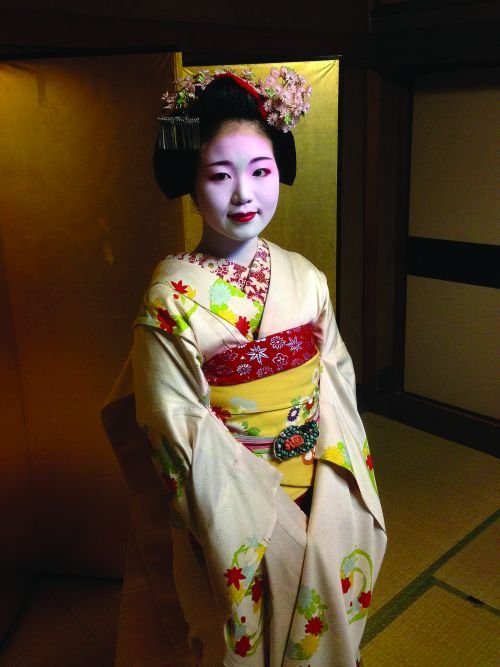 This is how Japanese society manages its contradictions – through separation. Suited workers (or "salary men" as they are called) are free to drink and drink to excess, but to do so in working hours disrespects the proper codes of both work and play. And in Japan, disrespect is a grave crime indeed.
Apologies if that analysis sounds facile or reductive. Japan has a habit of turning its western visitors into amateur anthropologists. It's a hard urge to resist in the face of such extreme cultural disorientation. Take the example of a restaurant I visited in Fukuoka, where we were challenged to catch our own sea bream from large tanks on the restaurant floor. When a customer successfully caught a fish, grown adults would jump up and down and squeal, clapping their hands together like small children.
It was my first experience of "kawaii", a Japanese cultural phenomenon roughly translated as "cute". Many of Japan's myriad obsessions – mascots, small furry animals, cartoon schoolgirls with big, glinty eyes – fall under the banner of kawaii. In the west, the media whips up collective insecurity with sexualised images of bodily perfection. In Japan, the pressure is to be adorable. Hence the squealing and clapping.
Fukuoka sits miles to the west of the Tokyo-Kyoto tourist trail popular among westerners. It's a studenty city that's well known for fishing, and one fish in-particular – the infamous fugu. Fugu (or blowfish, as it's known in the west) is the poisonous puffer fish notorious for killing a handful of people a year in Japan. Having tasted it at two Michelin-starred Hakata Izumi (one of the best Fugu restaurants in the country) I can confirm the Japanese are crazy to eat it with such abandon. Not because it's dangerous – qualified fugu chefs are extremely well-trained – but because it's bland and rubbery.
Having survived my fugu encounter, my next stop was the ancient city of Kyoto. The old capital of Japan, Kyoto has over 2,000 temples and shrines and offers a spiritually nourishing antidote to Tokyo's consumer overload. The ancient roots of kawaii culture can be seen in the geishas (known here as geikos) that populate the city's tea houses. Being entertained by a geiko is a big deal in Japan. CEOs and wealthy business owners pay a small fortune for a night in their company. Contrary to their depiction in western film and literature, they aren't prostitutes. Instead they entertain with games and conversation, a special kind of giggly patter honed during years of training. They dance, too, with the emphasis more on symmetry and grace than rhythm. To be in their presence, to witness the slow, deliberate movements, immaculate make-up and beautifully stitched kimonos induces a Zen-like relaxation, though it's hard to escape feelings of sympathy for these girls who sacrifice formal education, a regular career and the possibility of raising a family to giggle and blush before guffawing businessmen.
Most western tourists will go to Kyoto during a visit to Japan. They'll also do Tokyo and maybe Hiroshima or Nagasaki. Old Japan, tick. New Japan, tick. Second World War Japan, tick. But anyone who sticks rigidly to this well-trodden tourist path will miss out on Osaka, Japan's entertainment and gastronomic capital and home to the best fast food dish of all time – okonomiyaki. This dish is essentially fried pizza made from shredded cabbage and covered in mayonnaise – it's not too unhealthy and provides a welcome break from the endless raw fish.
Incidentally, fish isn't the only thing they eat raw in Japan. I noticed a subway poster with some suspiciously meaty-looking sushi. "That's horse sashimi," my tour-guide said, noticing my quizzical expression. Fine. I can deal with that. I've had Tesco ready-meals. "They also do chicken sashimi." It's true: raw poultry, known as toriwasa, is a delicacy in some regions.
Altogether I ate raw salmon, raw crab, raw prawns, raw squid, raw tuna and raw sea bream. Almost all of it was delicious, but in Osaka I was happy to get stuck into some fast food. Osakans are known for being fat and funny (the two often go hand in hand in Japanese comedy), and for having a culture more akin to ours in the west. The city is desperate to attract more tourism and it will, partly thanks to hotels like the Intercontinental Osaka. The recently refurbished site has a Michelin-starred restaurant and incredible views over a skyline rivalled only by New York and Tokyo.
It was in Tokyo that I spent the final night of my east to west journey through the cities of Japan, and it was here that the aforementioned embarrassing incident took place. It wasn't my fault, I swear. I met up with an old Japanese acquaintance and spent the evening in Shibuya drinking beer and sake; not beer and then sake, but beer, sake, beer, sake, beer, sake and so on for around six hours. Remember all that stuff I said about everything being okay as long as it's in the appropriate context? Apparently there's no context in which it's appropriate to sleepwalk naked through a five star hotel. I saved the biggest faux pas of my life for the international capital of manners. At least they were polite about it.
Don't blow it
Japanese fugu chefs are required to undergo three years of training and apprenticeships before they're allowed to serve the deadly fish
FAST FACTS
FLIGHTS
KLM flies to Fukuoka from 18 UK airports, via Amsterdam Schiphol. Return fares start from £479 including all taxes and fees. For more information visit
klm.com
ENTERTAINMENT
Set fugu tasting menus are available at two-Michelin-starred Hakata Izumi from 10,000 yen (£56) for dinner or 3,500 yen (£20) for lunch.
WAK Japan offers a walking tour of the Gion geisha district of Kyoto followed by a dinner with a maiko. Duration 3.5 hours (including one hour light evening meal with a Maiko). Costs: 29,800 yen per person based on two persons.
wakjapan.com
ACCOMMODATION
InterContinental Osaka single room rates start from 26,000 yen (£140), double room rates from 29,000 yen (£166). Visit
intercontinental.com/Osaka