Oscars 2023 recap – 7 things you need to know from last night
It was a win for diversity last night at the Oscars 2023 – while we write this, many of the stars are still at after parties in Los Angeles…
Everything Everywhere All At Once won big, scoring 7 awards altogether, including Best Picture and Best Actress. Michelle Yeoh became the first ever Asian woman to land the Best Actress gong.
Here is everything you need to know about last night's Oscars.
Huge win for diversity
Everything Everywhere All At Once's made history last night, taking home seven gongs, becoming the most-awarded film of the night. It landed Best Picture, Best Director and Best Actress, Original Screenplay, Best Editing and Best Supporting Actress. They were an animated bunch too, with Jamie Lee Curtis and Ke Huy Quan giving emotional speeches. Best Supporting Actor Quan said through tears: "Mom, I just won an Oscar!"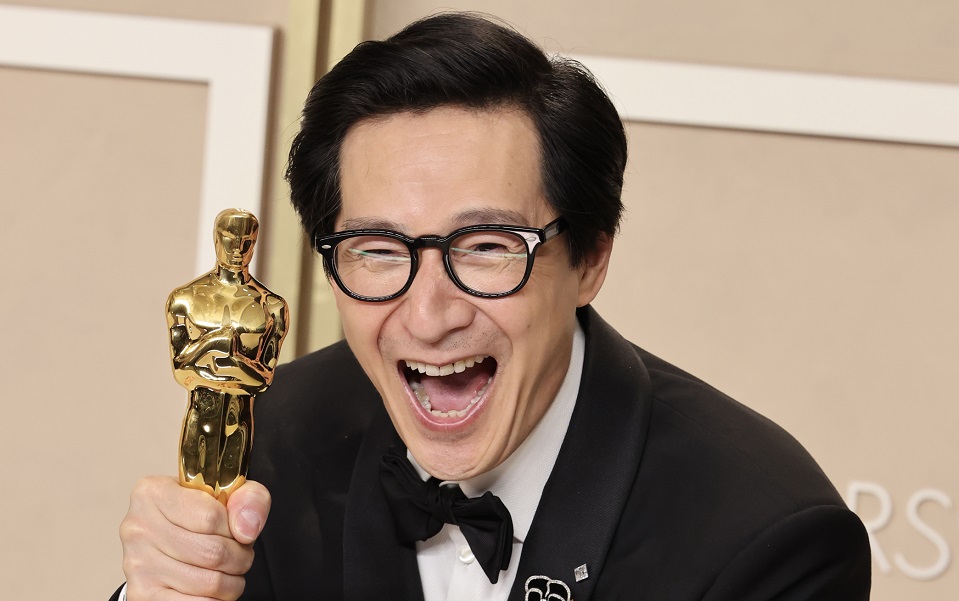 "My journey started on a boat. I spent a year in a refugee camp and somehow I ended up here on Hollywood's biggest stage," he added.
It was a giant haul for Irish films in terms of nominations, but sadly none of the nominated films won, and Banshees of Inisherin went home empty handed despite having been nominated for the most amount of awards, nine, alongside All Quiet on the Western Front.
That World War 1 feature took Original Score. International Feature, Production Design and Cinematography.
Brendan Fraser took the gong for Best Actor for The Whale.
No red carpet
The media was in thralls about the fact the Oscars swerved a red carpet for a "champagne" coloured one. In reality, 'red' carpets at film premieres are often different colours, but this isn't the case at the prestigious Oscars, which normally keeps things traditional. "We chose this beautiful sienna, saffron colour that evokes sunset, as this is the sunset before the golden hour" said the award show's head creative.
Hugh Grant refused to play the Hollywood game
For most, the Oscars is the night to be seen and to play the 'Hollywood Game,' to pour over the winners and nominees on the red – should that be champagne? – carpet and say how wonderful everybody is, darling. But not for Hugh Grant. His palpably awkward red carpet interview was one of the big moments of the night to go viral. The actor couldn't remember his tailor, said he had no stand-outs he was rooting for, and batted away a compliment about his role in Knives Out. "I was in it for three seconds" he clapped back. Unbearably cringe, but so much fun to re-watch.
He was on better behaviour later when he reunited with his Four Weddings and a Funeral co-star Andie McDowell to present an award. He joked that the "vital importance of a good moisturiser" meant MacDowell was "still stunning" before gesturing at himself and calling his face "basically a scrotum."
Jimmy Kimmel went there…
Supposedly hired for his ability to stay PC, host Jimmy Kimmel waited no time to start with the Will Smith jokes. Within his opening monologue he laid into the actor, who has been banned from the Oscars for a decade after slapping Chris Rock around the face last year.
He said: "If anyone in this theater commits an act of violence at any point during the show, you will be awarded the Oscar for best actor and permitted to give a 19-minute long speech. But seriously, the Academy has a crisis team in place. If anything unpredictable or violent happens during the ceremony, just do what you did last year. Nothing. Sit there and do absolutely nothing. Maybe even give the assailant a hug."
John Travolta's emotional tribute
One of the most emotional parts of the night is the tributes to the stars we lost in the year previous, and this year, the memorials were delivered by John Travolta. He paid an emotional tribute to his former Grease co-star Olivia Newton John, who passed away in 2022. He said through tears: "We remain hopelessly devoted to you." It was a pun on the song from the film. Also remembered were Angela Lansbury, Ray Liotta and Jean-Luc Goddard.
Cocaine Bear made an appearance
Actor Elizabeth Banks presented the Best Visual Effects award and came on stage with a very of-the-moment bear to make her point about the importance of visual effects.
"I recently directed the film Cocaine Bear and without visual effects, this is what the bear would look like," Banks joked as the giant brown bear lorded over her on stage.
Lady Gaga went no make-up
The singer performed an incredibly raw and memorable version of Hold My Hand, nominated for Best Original Song, wearing no make up and just a pair of jeans and some Converse. Earlier, wearing a much more glamorous black floor-length dress, Gaga ran across the carpet to help a photographer who had fallen down in a scrum.
Read the full list of winners from the Oscars 2023 here
Read more Oscars 2023 stories from City A.M. here