Osborne targets budget surplus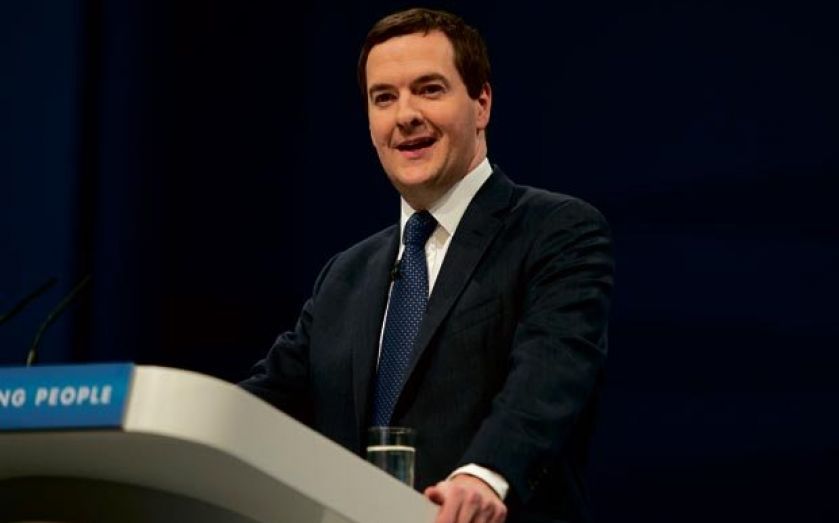 GEORGE Osborne yesterday promised a future Conservative government would attempt to run a budget surplus by 2020, indicating that his party's commitment to austerity is here to stay.
The chancellor told his party's annual conference in Manchester that, assuming the economic recovery continues, he would seek to ensure the government's income is more than its total outgoings, without resorting to tax hikes.
Welfare spending is believed to be a prime target for substantial cuts, as a key part of the day-to-day spending that would be responsible for most of the savings. By contrast investment in infrastructure would be protected, rising in line with national income, Treasury aides indicated.
Osborne also confirmed his intention to freeze fuel duty for the foreseeable future, reaffirmed his commitment to the High Speed 2 railway line and set out plans to make the long-term unemployed undertake community work.
The chancellor told delegates that politicians should seek to "fix the roof while the sun was shining" and insisted his party would run a "surplus in good times as insurance against difficult times ahead".
This would involve reducing the predicted deficit of £42bn in 2017-18 to zero by 2020. Money left over would be used to pay down the national debt.
Osborne's previous target of eliminating the deficit during this parliament excludes capital investment and but this new target would cover every aspect of government expenditure.
Official forecasts put the budget deficit at £42bn in the financial year 2017-18. The Institute for Fiscal Studies (IFS) believes the structural part of that will have fallen to £12bn by then – the part that needs to be squeezed to achieve a surplus in good years – as the economy recovers.
"In normal times that would look like a large but achievable number," said the IFS' Carl Emmerson. "It is a lot less than the current rate of austerity."
Osborne was introduced by West Ham vice-chairman and Apprentice star Karren Brady, who has been appointed to a new position as the government's small business ambassador. She said the chancellor was "the only man who I'd be an apprentice to".