You could almost feel our compartment teeter over the edge of the crossing as the whole carriage readied cameras and phones to capture the iconic photograph. The Landwasser Viaduct on the Swiss rail network's Glacier Express is the pièce de résistance of the journey between swish alpine resort towns of Zermatt and St Moritz.

And judging by the ferocious snapping and uploading as we clacked across its towering bridge, 65 metres above snow-crusted forest below, to marvel at this engineering feat is not reserved only for train nerds. Seconds later, the climax of the journey subsided as we plunged into the darkness of the umpteenth tunnel of the 180 mile excursion.

I scrolled through my own amateur efforts. Useless, all of them.
Read more: What it's like to stay in a Swiss alpine retreat powered by geothermal energy
The glare of mid-winter sun hitting the snow or reflections of fellow passengers on their Canons and Nikons meant my attempts would soon be deleted. I should have stayed seated taken it all in through the carriage's wrap-around windows – a slow-travel mantra that's hard to abide by when the panoramas are such beautiful Instagram bait.

At around eight hours into our journey, seeing this emblematic view – if only through a lens – was a long time coming on what's billed as "the world's slowest express train.
You can't please everybody
We had the fortune of being seated across the first-class carriage from a large family who, once the obligatory photos were taken of champagne flutes toasting our morning departure from Zermatt, seemed content to stare a social media feeds and Candy Crush.

I'm not normally one for effusive audio commentary headsets, but the earphones did help in drowning out our neighbours' squabbles, as we whisked by the bright white ski fields of Andermatt.
The clear winters day meant sunglasses were essential for passengers squinting out to witness the cross-country skiers trying to match our pace, while the curved roof windows allowed us to follow every peak and black run slalom.
Read more: L'Apogee is perched atop Couchevel 1850 and boasts rooftop jacuzzis and five-star skiing

And thanks to my audio-commentary saviour I now know that the Oberalppass we next entered, at 2033m above sea level is one of Europe's highest stretches of railway, integral in transporting commuter vehicles loaded onto trains during the winter months, when the roads are closed by snowfall.
I looked beyond our disinterested neighbours – now arguing over a book – to an adjacent train stacked with cars.

An iconic peak
To find the Glacier Express route so consistently beautiful is no small ask since our starting point, the car-free alpine town of Zermatt, sets the bar unfairly high.
Pressed up against the Matterhorn – its jagged peak emblazoned on Toblerone bars in duty-free shops the world over – Zermatt has nothing to prove. In fact it's quite the opposite.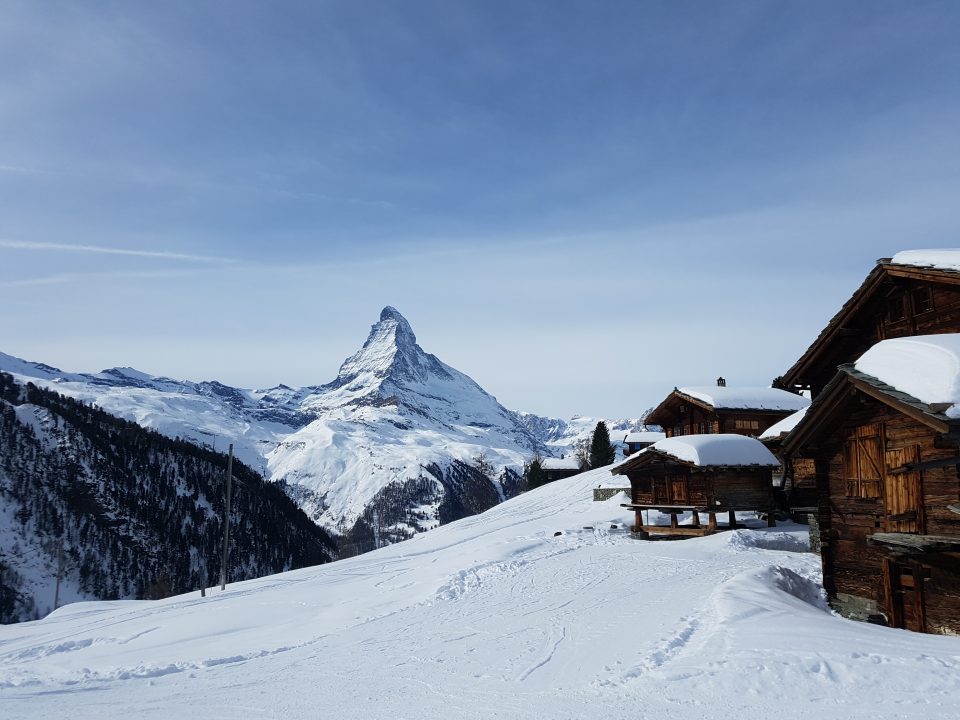 In summer climbers descend on it to try their luck on the peak famous for the deadly first ascent in 1865 by Edward Whymper, in which four of his party fell to their deaths.
And, in the depths of winter the only parties on the slopes are of the aprés variety, where the Moncler-robed and Gucci-goggled set recount their runs at too-cool bar Cervo, interrupted only by nondescript synths from the DJ booth.

From every angle, Zermatt is a stunner, helped by the ever-imposing Matterhorn punctuating every backdrop. European ski villages don't have to try too hard to look inviting, but to have one of the world's most-famous peaks lurking behind your snow-side selfies sets it apart.
Making tracks
I'm certain our piste guide Valerie tired of us requesting yet another photograph "because, don't you think, the Matterhorn looks a little different from this angle?" But she hid it well.
Perhaps it was the twentieth photo stop that prompted her to suggest I follow her down an ungroomed black run named Berter – a challenge I almost immediately regretted accepting as my knees aged a decade as I grimaced down the tree-lined run.
Read more: A long weekend in Lucerne, the lakeside Swiss city of almost unimaginable beauty

A barely panting Valerie saw my plight and knew just the thing for it: schnapps, a sun trap and (yet another) fantastic view of the famed peak.

Our lunch stop Findlerhof was marked only by a path of patrons' skis plunged deep into the snow, an unassuming restaurant among a hamlet of huts, their blackened wood exteriors testament to the frequent sunshine this part of the Swiss Alps enjoys.
End of the line

At the other end of the Glacier Express, St. Moritz offers a more in-your-face version of snow-dusted glamour, in part because of its claim to be the birthplace of the winter ski holiday.
We were told as much within minutes of being whisked from the scenic train terminus beside the resort town's now frozen lake up the hill to the Kulm Hotel St Moritz.
The oft-repeated story goes that in 1864 then-owner Johannes Badrutt made a bet with his English guest in the summer that they would be able to top up their tans in mid-winter if they were to return in snow season. If guests were unhappy with the winter weather they could stay for free, he wagered.
The ones that took up his offer were so impressed they stayed into the spring, Badrutt won his bet and so launched a 155-year tradition of Brits coming to St Moritz to indulge in skiing, skating and curling.
And, according to the view from my balcony, horse racing on the mid-winter ice of Lake St Moritz too.

The suite was certainly plush, but the best seats to look down on this Ascot-on-ice spectacle were poaching in the hotel's hillside and heated infinity pool.
A scene unblemished by squabbling first-class carriage families or aching hamstrings: serenity at the end of the line.
NEED TO KNOW
HOTELS
Kulm Hotel St. Moritz www.kulm.com
Hotel National, Zermatt
www.nationalzermatt.ch
INFO
For more information on Switzerland visit myswitzerland.com or call Switzerland Travel Centre on 00800 100 200 30 or email info.uk@myswitzerland.com; for packages, trains and air tickets sales@stc.co.uk.
FLIGHTS
SWISS offers more than 150 weekly flights from London City, Heathrow, Gatwick (seasonal), Manchester, Birmingham and Edinburgh to Zurich, Geneva or Sion (seasonal). One way fares start from £74 to Zurich and £83 to Geneva. For more information visit swiss.com
TRAINS
The Swiss Travel Pass offers unlimited travel on consecutive days throughout the rail, bus and boat Swiss Travel System network. Prices from £185 for 3 days in second class.
GLACIER EXPRESS
Reservation fee for Glacier Express (on top of the Swiss Travel Pass): 1st and 2nd class CHF43, Excellence Class CHF420
SKI RESORTS
Zermatt lift passes start at CHF79 per day and can be bought online at matterhornparadise.ch
Day passes at St Moritz's Engadin ski areas are around CHF57, book online at engadin.ch