What is City Talk?
City Talk allows marketers to connect directly with our audience by publishing content on cityam.com
Nine UK shares that tick all of Warren Buffett's boxes
By Kyle Caldwell from interactive investor.
Looking for equity-based ISA inspiration? We run through the investment checklist of the Berkshire Hathaway chairman to identify UK shares that pass his stockpicking rules.
American investor Warren Buffett is to the world of investment what Lionel Messi is to football: the greatest of his generation in the profession he works in.
His legendary status stems from his stockpicking success over the long term, with figures showing that his annual returns have averaged around 20 per cent since 1965. Buffett is closely watched by self-directed investors who dissect his annual investment letters for tips and insights on how to become a better investor. Moreover, his annual shareholders meeting is literally the hottest ticket in town, with around 35,000 people attending.
Buffett's success is built on the relatively simple premise of paying a fair price for quality businesses and then holding them, ideally forever. Below we explain the key ingredients he looks for when selecting stocks, and highlight some UK equities that score highly on his criteria.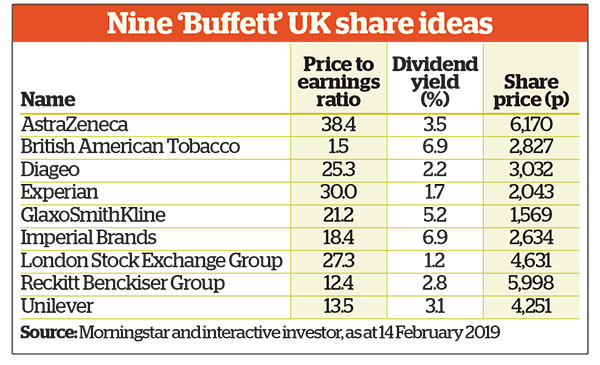 Economic moat
A strong and long-lasting economic 'moat' was described by Buffett two decades ago as the "most important" factor when sizing up a potential investment. To have a wide moat, businesses need to have some sort of edge that keeps competitors at arm's length, such as a powerful product or brand with a loyal customer base, intangible assets, a patent on proprietary technology or the so-called 'network' effect, whereby goods and services become more valuable as more people use them. Mastercard (NYSE:MA) is an example of the latter, as retailers need to offer Mastercard as an option to meet rising consumer demand. In a nutshell, firms with wide moats have durable competitive advantages, and are in control of their own destiny in being price-makers rather than price-takers.
Keith Ashworth-Lord, who has applied Buffett's investment principles to the UK equity market in his CFP SDL UK Buffettology fund, says there are certain key areas to focus on when narrowing down the playing field to find a stock that ticks all of Buffett's investment criteria. "To find an enduring business, the three areas I look at are the human capital skill-set, businesses that are capturing a piece of customers' minds, and those that have a unique product or specialist skills."
As examples of the three 'wide moat' quality buckets, Ashworth-Lord picks out, first, RWS Holdings (LSE:RWS), which offers a translation service: its assets are the people it employs. To play the 'customers' minds' theme he selects Games Workshop (LSE:GAW), which has a very loyal fanbase. Finally, as a business with a unique product or skills, he suggests engineer Rotork (LSE:ROR) and Bioventix (LSE:BVXP), a biotech business manufacturing sheep monoclonal antibodies used in clinical blood-testing.
Another investor who pays homage to Buffett in adopting a similar investment philosophy is Gerrit Smit, partner and head of equity management at Stonehage Fleming Investment Management. Smit, who runs the Stonehage Fleming Global Best Ideas fund, looks for the 'three Ss' to find shares with wide moats: substance, strength and sustainability. "When these three qualities are combined, the chances are you will find a high-quality equity that can generate a high portion of repeat business year after year," he says.
Smit (who offers some international Buffett share ideas that have high levels of repeat business in the box on page 30) owns both Diageo (LSE:DGE) and Reckitt Benckiser (LSE:RB.) as part of a small 7 per cent allocation to UK equities. Given his global remit, he finds better opportunities overseas. Ashworth-Lord, on the other hand, holds 30 UK shares. Fourteen of the companies held at launch are still in the fund.
Ashworth-Lord has delivered stellar performance since launching UK Buffettology in April 2011, trebling investors' money with returns of 203 per cent. A new entrant to the portfolio at the end of last year was Experian (LSE:EXPN), one of the top three global credit checking agencies.
Tech innovation threat
But he stresses that the importance of firms "constantly innovating" has become greater than ever on the back of the huge advances being made in technological innovation. These include robotics and artificial intelligence, which many believe are powering the so-called fourth industrial revolution. "There's always been the risk of a firm being leapfrogged, but it has become more important than it was 20 years ago, as there are a lot of disruptors around that are threatening the way various industries operate," he comments.
This point is echoed by Michael Lindsell, manager of the Lindsell Train Global Equity, who also adopts Buffett's principles in running a concentrated portfolio of high-quality businesses with minimal turnover. He says:
"Trying to understand what tech will do to the shares we invest in is something I devote a lot of time to. Technical innovation is a threat, but it can also enhance existing business models."
Given the fast-changing landscape, data company Morningstar adopts a 20-year time horizon when assessing the moats of stocks. Alex Morozov, European director of equity research at Morningstar, says:
"We are trying to assess whether a business will outperform the cost of capital over this period and fend off competitors. Overall, 15 per cent out of the universe of 1,500 shares we analyse globally achieve this."
In the UK market Morningstar has identified nine shares with wide moats – a low percentage, given that the FTSE All-Share index contains more than 700 shares. The shares are listed in the table below and all are recognisable names, most notably consumer giants Unilever (LSE:ULVR), Diageo (LSE:DGE)and Reckitt Benckiser. Two pharmaceutical behemoths feature, AstraZeneca (LSE:AZN) and GlaxoSmithKline (LSE:GSK), owing to their patent-protected drugs. Elsewhere, Experian and London Stock Exchange also have high barriers to entry.
Shares that look incompatible
But in terms of sustainability – a buzzword that has in recent years become more prominent in fund management – some of the nine names look vulnerable, most obviously the two tobacco giants British American Tobacco (LSE:BATS) and Imperial Brands (LSE:IMB). In response, Morozov says that although "there's a steady trend away from tobacco and a finite life for excess returns for any business, tobacco firms have a captive audience that we think will remain in 20 years' time".
He adds:
"Sustainability goes into the moat assessment, but for some companies it is more relevant than others."
Moreover, some sectors will always fail to make the grade, such as miners. Morozov continues: "These are price-takers of their commodities, rather than being price-makers."
Also in the firing line are drink and food companies, which face the headwind of growing demand among consumers for healthier products. While sales of Guinness and Johnnie Walker whisky are unlikely to be particularly negatively impacted, much to the relief of Diageo shareholders, the health drive does pose a problem for other businesses.
One obvious non-UK listed example is McDonald's. But, according to Smit, who holds shares in the firm, it is important for investors to look under the bonnet in every case. He points out that McDonald's is not just a fast food chain, it is also big in real estate. "Over half of its income is derived from rental income and franchising fees," he says.
International shares that meet Buffett's criteria
For investors on the lookout for non-UK share ideas that tick Bu­ffett's investment checklist, Gerrit Smit, head of equity management at Stonehage Fleming Investment Management, picks out tech and software firms Microsoft (NASDAQ:MSFT)­ and Adobe (NASDAQ:ADBE). He also names ADP (NASDAQ:ADP), which o­ffers online payroll systems to global businesses, and Accenture (NYSE:ACN), which provides IT consulting services. He says:
"Each of these businesses clearly demonstrates a strategic competitive edge that delivers sustainable top-line growth year in, year out."
But perhaps the most obvious route is to borrow Bu­ffett's best ideas by copying his holdings. Each quarter the top 10 investments held in Buffett's company, Berkshire Hathaway (NYSE:BRK.B), are named. The most recent disclosure at the start of November revealed that the top investments are: Apple (NASDAQ:AAPL), Bank of America (NYSE:BAC), Wells Fargo (NYSE:WFC), Coca-Cola (NYSE:KO), Kraft Heinz (NASDAQ:KHC), American Express (NYSE:AXP), US Bancorp (NYSE:USB), Moody's, Goldman Sachs (NYSE:GS) and JPMorgan Chase (NYSE:JPM).
Buffett's words of advice to fund investors
As well as heeding Bu­ffett's stockpicking formula, it is worth taking note of his views on the active versus passive fund debate. The bottom line, according to Bu­ffett, is that "when trillions of dollars are managed by Wall Streeters charging high fees, it will usually be the managers who reap outsized profits, not their clients". Therefore, he concludes that both large and small investors should stick with low-cost index funds. He has instructed the executors of his will to buy an index tracker for his widow, and named as his preferred choice Vanguard's S&P 500 index fund.
Keith Ashworth-Lord, manager of the CFP SDL UK Bu­ffettology fund, agrees that care needs to be taken when assessing how active an active fund is in practice. He says: "While I don't like to denigrate my profession, when it comes to active funds, there are clearly goats and sheep, with the latter not adding much value for investors. As various studies have shown, it is career risk that leads to index-hugging." As with shares, then, it is important to do your research when buying any fund.
This article was originally published in our sister magazine Money Observer.
These articles are provided for information purposes only. Occasionally, an opinion about whether to buy or sell a specific investment may be provided by third parties. The content is not intended to be a personal recommendation to buy or sell any financial instrument or product, or to adopt any investment strategy as it is not provided based on an assessment of your investing knowledge and experience, your financial situation or your investment objectives. The value of your investments, and the income derived from them, may go down as well as up. You may not get back all the money that you invest. The investments referred to in this article may not be suitable for all investors, and if in doubt, an investor should seek advice from a qualified investment adviser.