Londoners buying property outside the capital hits highest rate in eight years
Eye-watering property prices forced Londoners to leave the capital at their highest rate for eight years in 2015, as they spent £24bn on homes outside of the city.
63,000 homes outside the capital were purchased by Londoners in the past year – a two-thirds increase on the 38,000 purchased in 2014 – as house prices continued to skyrocket in the capital.
According to research from estate agent Hamptons International, Londoners spent an average of £375,000 on a new home based beyond the capital.
Hamptons found that while the majority of Londoners were buying properties in the South of England, there has been a growth in the number of houses purchased by Londoners in the Midlands and the North.
Read more: The best 50 areas to live in the UK revealed
Although 53,000 of the new homes were based in the South – 88 per cent of the total – the number of properties bought in the Midlands, the North and Scotland rose by 165 per cent, 90 per cent and 89 per cent.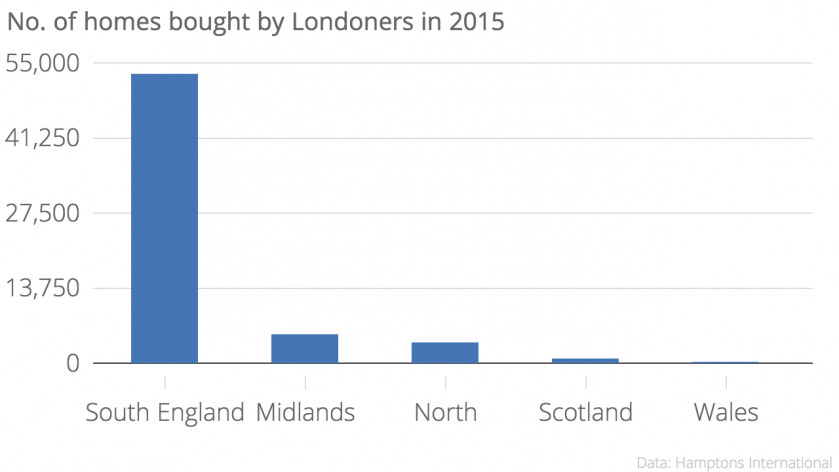 Hamptons' head of research Johnny Morris explained: "Given the flow out of London was suppressed for many years after the downturn, it is likely that there is still pent-up demand from families waiting to make life stage moves. We will see more Londoners leaving the capital in 2016, many prepared to move further afield in search of value for money.
"It is part of the natural life cycle of the capital that households move out as their priorities change. Many of those leaving London are in their 30s and 40s in search of more space and a different lifestyle."
Read more: Half of those living in London want to leave – here's where they want to move to
However it wasn't just second-time buyers looking for more space who sent the number of homes outside the capital bought by Londoners to their highest level since 2007.
In 2015, 11,000 first time buyers based in London chose to purchase properties outside the capital – a 70 per cent increase on last year.
Morris said: "Affordability in London is more constrained than ever, so many who want to buy their first home are considering less expensive areas in the commuter belt."