Lexus GS F review: the fast and furious GS F is an altogether different kind of Lexus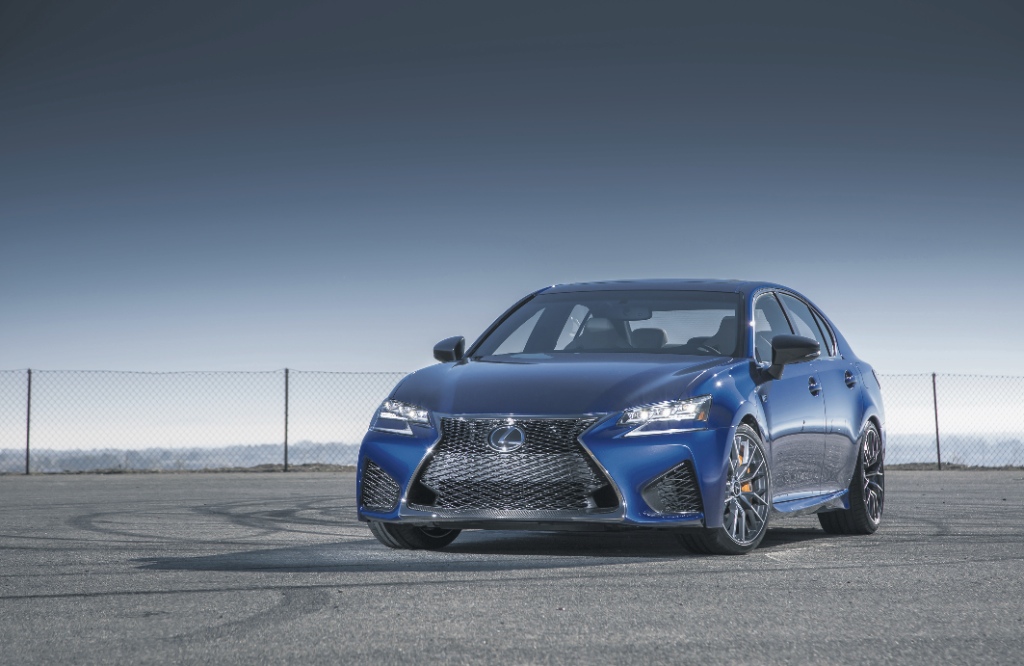 If you think Lexus is all about holier-than-thou hybrids… you're almost right. But, like the accountant who swaps his suit for suspenders at weekends, the Japanese carmaker has a naughty side. Meet the new GS F: a V8-engined super saloon that laughs in the face of rainforests.
The 'F', in case you were wondering, stands for Fuji Speedway, the famous circuit where Lexus honed the car's handling. So it's fitting that we're introduced to the GS F on a race track, albeit one closer to home at Jarama – home of the Spanish Grand Prix until 1981.
Lurking in the pit lane under storm-swollen skies, the GS F could hardly look more menacing; its angular lines appear to have been slash-cut with a Samurai sword. Lexus' jutting 'spindle' grille is framed by gaping air intakes, orange brake callipers hide behind 19-inch alloys and the rear spoiler is naked carbon fibre.
At the car's heart is a 5.0-litre petrol V8 that drives the rear wheels via an eight-speed semi-automatic gearbox. No electric motors, no turbos – just 477 naturally-aspirated horsepower at a heady 7,100rpm. Flex your right ankle and this two-tonne luxury car will hit 62mph in 4.6 seconds (on par with a Porsche 911 Carrera) and a top speed of 168mph.
The V8 awakens with a rumble, then a red-blooded roar as we accelerate out of the pits and towards the first of Jarama's many tight turns. Diving right, an injudicious prod of the throttle sends the car very sideways, very quickly indeed. Lesson learned: on damp Tarmac, the GS F needs handling with care. Fortunately, beefed-up Brembo brakes scrub off speed effectively and, as the circuit dries out, it's clear the uber-Lexus isn't short of grip. It's loud, lairy and fabulously good fun.
The GS F also impresses on our road route, which crawls through the suburbs of Madrid then blasts into the sparsely-populated hills beyond. Here, more traditional Lexus values come to the fore, such as comfort, refinement and light controls. In everyday traffic, only the background burble of that deep-chested V8 is the only reminder that you're driving a GS where batteries aren't included.
Inside, supple leather and Alcantara (artificial suede) swathe the seats and dashboard. It's beautifully finished and, unlike its German rivals at the bottom of this page, standard equipment is generous. Adaptive cruise control, head-up display, a reversing camera and heated/ventilated front seats are all included in the £69,985 asking price. There's also a large 12.3-inch colour screen for sat nav and infotainment. Shame the touchpad controller is so awkward to use.
It may be relatively good value, but the GS F won't be cheap to run. Official fuel economy is just 25.2mpg, compared to 60.1mpg for the GS 300h hybrid. Those four tailpipes also emit their fair share of CO2, meaning a wallet-wilting £1,100 car tax (VED) in the first year, then £495 a year thereafter. At least reliability is assured – Lexus regularly comes top in Which? and JD Power surveys.
So, is the Lexus GS F the new king of the Autobahn? Can this old-school Japanese muscle car really defeat the Vorsprung durch Technik Germans? Not on bald statistics, no. The Audi RS 6, BMW M5 and Mercedes-Benz E63 AMG all trump it for gut-punching turbocharged thrust, and both the M5 and E63 are ultimately more rewarding to drive.
However, in the south-east of England – on crowded roads where you can only use a fraction of its potential – flat-out performance and on-the-limit handling are far less relevant than most motoring journalists would have you believe. The Lexus simply looks and feels more special than its rivals, plus it will be rarer, too. Just 100 are expected to find homes in the UK each year. It's naughty, but very, very nice.
Tim Pitt works for motoringresearch.com