The lawyer who has built his career breaking down barriers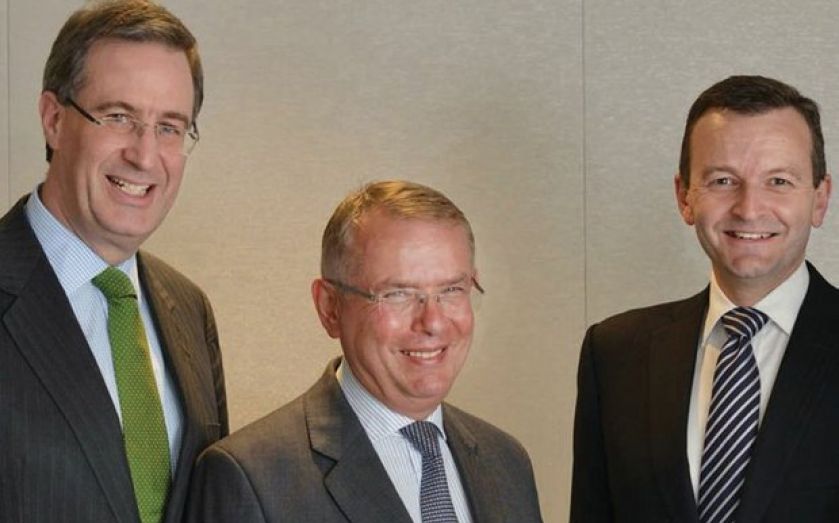 Stephen Kon, the new co-deputy chairman of King & Wood Mallesons, tells Elizabeth Fournier how years at the forefront of European law have left him ready to take on China
LAST Friday, Stephen Kon joined a new law firm, one with a very, very long name. Overnight, the senior partner of London-based SJ Berwin (SJB) became co-deputy chairman of an Asia-headquartered firm with more than 550 partners and revenues of around $1bn. The reason, of course, was SJB's merger with Chinese-Australian firm King & Wood Mallesons, which has just completed.
Despite the growing consolidation across the legal sector, this tie-up stands out for several reasons. SJ Berwin is the first major UK law firm to merge with a China-based rival, making it the only City firm with its headquarters in Beijing and a Chinese qualified lawyer as its global chairman.
The new firm (known as King & Wood Mallesons SJ Berwin across the UK, Continental Europe and the Middle East and as King & Wood Mallesons everywhere else) will also, after a transitional period, see the famous Stanley Berwin name disappear from the doors of the practice he set up in 1982 – though the late legal entrepreneur will keep his presence in the City through Berwin Leighton & Paisner, the legacy of Berwin & Co, another major firm he founded in 1963.
For Kon, it's an exciting time for the firm he joined when it was formed in 1982, and has led as senior partner for the past 18 months. "I think we've created something quite unique," he says, speaking a day before the merger completes from the riverside City offices that will stay as the firm's London base.
"You've got one of the largest law firms in China – seen as a leader in a legal field that's only 20-odd years old, plus a magic circle law firm in Australia with 170 years of history, and then us in Europe and the Middle East – the combination of the new, the older, and SJ Berwin somewhere in the middle is a very compelling proposition."
In the three months since the tie-up was announced, much of Kon's time has been spent getting to know the firm's new managerial team. KWM will be led from Beijing by Wang Junfeng, with Mallesons' Hong-Kong based Stuart Fuller as managing partner and Kon sharing the deputy chair role with Stephen Minns, who works out of Melbourne in Australia. This is in addition to Kon's European responsibilities.
It's a truly global board that's already meant more than a few phone calls at anti-social hours – "they work late and we work early," explains Kon – but one that feels natural for a firm that in the last 30 years has worked its way from just five partners in London to 165 partners across Europe and the Middle East, and in July announced a turnover of £180.1m.
It's also a natural progression for Kon, an antitrust lawyer by trade who cut his teeth practising European law long before the Maastricht Treaty in 1992.
After an undergraduate degree in law and European studies at Sussex University – following his father's academic path – Kon travelled to Bruges to take up residence at the College of Europe, the postgraduate training ground for the European political elite where Margaret Thatcher would later make her landmark speech on the future of Europe in 1988.
From there he completed his traineeship in the City before heading back to school – teaching at both the University of Reading and his alma mater before being tempted back into private practice by Stanley Berwin himself.
"Stanley said he was setting up a new law firm so we talked about me joining to set up the competition practice. At one point he just looked at me and said 'Aren't you bored in academia?' I wasn't, but I made the jump anyway and it's been an amazingly exciting journey."
That was in 1982, and the intervening years have seen him work on some of the most complex transactions in recent history, from the 1997 creation of drinks giant Diageo through the merger of Guinness and GrandMet – at the time Europe's biggest ever M&A deal – to Universal Music Group's £1.2bn acquisition of EMI's recorded music business last year. Both required approval from Brussels, and are part of the huge change in the European legal process that Kon has witnessed during his years in practice.
"When I started in European law – 40 years ago – the barriers that existed in trading with our European partners were very significant," he says.
"Back in 1992 we joined the CBI to go round the country and talk to people about the single market, as part of a very intensive programme of business leaders engaging with industry across Britain."
"That made a fantastic difference to the UK as financial markets opened up, but also led to a huge movement in the competition area that I've done a lot of work in. If someone had told you back in 1992 that a firm would be fined up to €1bn for competition infringements they would have thought you were crazy … all of that was just not on anyone's radar, even in the early 1990s."
Kon was also part of the team that worked on the landmark Datafin case in 1987, which challenged the Takeover Panel's right to be exempt from judicial review.
Though the application ultimately failed, the decision to allow it to go ahead changed the status quo, and has meant that ever since, organisations carrying out public duties have been subject to judicial reviews.
When you're a competition lawyer, relationships with regulators are crucial, and Kon is particularly keen on the so-called revolving door culture that sees lawyers move back and forth between private practice and official bodies.
"Regulators have got a job to do and to varying degrees they do it pretty well – you've got to be able to speak to them openly and engage with them constructively – and on occasions you've got to be prepared to take them on," he says.
"There's more and more of a revolving door and that's a very healthy process – a number of our associates have gone into the OFT or Ofcom, and then at some point they usually come back. Everyone respects the barriers that have to be in place when that movement happens, but equally it gives you a perspective from both sides of the fence."
Having based his career around the legal challenges that crop up as international trading relationships develop, it's no wonder Kon is enthusiastic about the opportunities – and challenges – that the Chinese market offers.
"There's a tendency to look at China and see a great many barriers and impediments to free trade but in fact the Chinese market has opened up very significantly," he says. "I've spent quite a lot of my career looking at how barriers to trade come down … and in China you see some similarities – while it's taking time and the whole legal framework is completely different, in a odd sort of way I can see parallels between what I was doing in the late 80s and early 90s in Europe and what's now beginning to happen there.
It's very exciting and you feel that there's a recognition in government – with George Osborne's recent visit and the Prime Minister expected to go later this year – that there are enormous opportunities going both ways."
The senior partner role that Kon took up last May is a three-year term – and one that he admits, with a not-giving-anything-away smile – is renewable.
He took over the role in the middle of the Universal/EMI deal, and still tries to take on transactional work when he can, though a lot of his time is inevitably taken up with the day-to-day running of a firm – including holding an open-door surgery every month where everyone from the post-room staff to partners can come and discuss their ideas or concerns.
Though Kon's remit has grown post-merger – and he admits the hectic last few months of consolidation have left little room for much else – there's no doubt that he is still full of enthusiasm for the everyday business of law, and for taking the newly combined firm forward – the first step of which will be to open a Riyadh office early next year.
It's an attitude that goes with the territory. "As a relatively young law firm, we made a mark in the City as a start-up 30 years ago," he says. "It's in our DNA to think outside the box and do something different."
KING & WOOD MALLESONS IN NUMBERS
2,700 lawyers
550 partners
30 offices across Europe, Asia Pacific and the Middle East
$1bn combined revenues
CV STEPHEN KON
Education:
Studied law and european studies at Sussex University including a year in Grenoble, then took a post-graduate qualification in European Law at the College of Europe in Bruges.
Career:
Legal traineeship at Simmons & Simmons
1977: Taught at Reading University and the School of European Studies at Sussex University
1982­: Joined SJ Berwin when it was formed to head up the firm's competition team
2012­: Elected senior partner of SJ Berwin
November 2013: Becomes co-deputy chairman of the combined King & Wood Mallesons (and remains Senior Partner of King & Wood Mallesons SJ Berwin)
Family: Married with three daughters