Last week's optimism in the crypto markets has all but evaporated
20 days to go!
Six high-quality discussion panels, three-course networking lunch in the Egyptian Hall, and only 100 tickets available – GET YOURS HERE.
The week in review
with Jason Deane
How the mood has changed in a week.
There was still optimism in the air last week, even after a slight cooling of crypto prices, but that optimism – at least from a trader's perspective – is very much on hold right now. Bitcoin itself is down 16% since last Friday, the date of my last column.
Of course, those who know me also know that this is largely irrelevant to me since I am only really interested in the long term impact this technology will have on the world, especially from the point of view of Bitcoin. I'm not a trader, largely due to the fact I'm rubbish at it.
For now, and for some time yet, we have to just continue clearing up the mess we made for ourselves until the job is done.
There's incredible uncertainty in and around the industry right now and it's hard to avoid the headlines even if you're not involved in it directly.
Silvergate, for example, became the latest casualty of the downturn in the crypto market, announcing that it would "voluntary wind-down and close its crypto friendly bank". Aside from the general slow-down, the increased crack down on the industry in general, especially by US authorities, is creating a few ripples of fear across the board.
At the same time the SEC vs Ripple case is still rumbling on in the background with, potentially, quite serious ramifications for all crypto. Well, except Bitcoin of course. Interestingly, there is little mainstream coverage of this case at the moment and all current commentary is via trade specific outlets.
Regulators are also putting pressure on exchanges like Binance and are pushing others to up their game with such things as proof of reserves.
My position, although it's controversial to serious libertarians, is that I think this is broadly a good thing. We already know what happens if there are no rules, but the question is will the regulators be any better at getting the balance right the other way? Ultimately, we need a sensible average of the two extremes, but time will tell I guess.
In another odd development, first Coindesk and then Reuters reported this week that JP Morgan had cut ties with Gemini, which was immediately denied by the exchange. At time of writing, we still don't know what's going on here. Maybe something, maybe nothing, but it all adds to the uncertainty. And investors don't like uncertainty.
Mind you, if you're looking for traditional safe havens, you're also out of luck, as the world is starting to wake up to the state of the bond markets in general and US Treasuries in particular, something that economists like myself have been worried about for some time. I don't need to go into it here, because this typically blunt comment from Greg Foss sums it up perfectly.
It's still a mess out there, and in some ways is getting worse rather than better for now, so be careful but, for now, have a great weekend!
Fancy £40 in FREE Bitcoin? Well, if you don't yet have a Luno wallet, you can grab yourself a nice little weekend bonus! Simply download the Luno app from the app store and enter code UDDT79 in the rewards tab (or sign up using this link) and, as soon as you buy your first £100 in any crypto, £40 will be added to your balance. That's it! Enjoy!*
*18+, UK Resident, new Luno users only. Exchange transactions excluded.
Yesterday's Crypto AM Daily in association with Luno
In the markets
The Bitcoin economy
*Data can be found at https://terminal.bytetree.com/ 
Total crypto market cap
The total capitalisation of the entire cryptocurrency market this morning was $928.437 billion.
What Bitcoin did yesterday
We closed yesterday, March 9, at a price of $20,363. The daily high yesterday was $21,802, and the daily low was $20,210.
Bitcoin market capitalisation
Bitcoin's market capitalisation this morning was $384.565 billion. To put it into context, the market cap of gold is $12.141 trillion and Tesla is $547.13 billion.
Bitcoin volume
The total spot trading volume reported by all exchanges over the last 24 hours was $37.629 billion. High volumes can indicate that a significant price movement has stronger support.
Volatility
The price volatility of Bitcoin over the last 30 days is 43.66%.
Fear and Greed Index
Market sentiment today is 34, in Neutral.
Bitcoin's market dominance
Bitcoin's market dominance today is 43.06. Its lowest ever recorded dominance was 37.09 on January 1 2018.
Relative Strength Index (RSI)
The daily RSI is currently 28.59. Values of 70 or above indicate that an asset is becoming overbought and may be primed for a trend reversal or experience a correction in price – an RSI reading of 30 or below indicates an oversold or undervalued condition.
Convince your fam: Soundbite of the day
With Bitcoin, [adopters] tend to get heavier allocation over-time, and prioritize saving, reduce spending and get ever-more focused on accumulating. so bitcoin grows even without new users, and new users come fast and in waves too as the enthusiastic adopters can't stop talking.

Adam Back, Founder of Blockstream 
What they said yesterday
An entire ecosystem…
Short and powerful…
"A widely dispersed system can't be shut down"…
Would you like to help spread the adoption and education of Bitcoin in the UK and even stack some Sats while you're doing it? Well, now you can!
The Bitcoin Pioneers community, backed by Barry Silbert's Digital Currency Group, was created to introduce Bitcoin to a mainstream audience in a meaningful way and now has members right across the UK.
We share tips, stories and ideas on how to encourage others to try Bitcoin for the first time. And, thanks to support from Luno, each Pioneer gets £500 of Bitcoin a month to share with beginners, helping them get started.
So, if you're passionate about Bitcoin, why not join today? Click here to find out more!
All feedback on Crypto AM Daily in association with Luno is welcome via email to James.Bowater@cityam.com 🙏🏻
Crypto AM: Editor's picks
Sam Bankman-Fried: A tissue of lies soaked with fake tears?
Three-in-four wealth managers are gearing up for more cryptocurrency exposure
Crypto.com granted FCA licence to operate in UK
Q&A with Duncan Coutts, Principal Technical Architect at IO Global
Jamie Bartlett – on the trail of the missing 'Cryptoqueen'
MPs are falling silent over potential of cryptocurrency
Erica's 'Crypto Wars' handed honours in Business Book Awards
'Let people invest': Matt Hancock makes case for liberal crypto rules
Explained: Why the Treasury is so sold on stablecoins
Fears crypto is used to avoid sanctions 'misplaced,' says Matt Hancock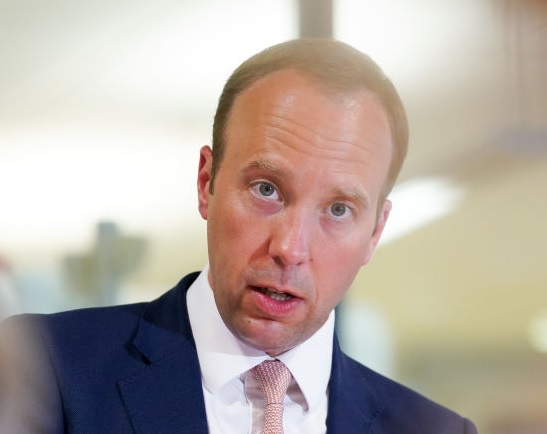 The cryptocurrency fundraisers behind Ukraine's military effort
Crypto AM: Features
Crypto AM: Founders Series
Crypto AM: Industry Voices
Crypto AM: Contributors
Crypto AM: In Conversation with James Bowater
Crypto AM: Tomorrow's Money with Gavin S Brown
Crypto AM: Mixing in the Metaverse with Dr Chris Kacher
Crypto AM: Visions of the Future, Past & Present with Alex Lightman
Crypto AM: Tiptoe through the Crypto with Monty Munford
Crypto AM: Taking a Byte out of Digital Assets with Jonny Fry
Crypto on the catwalk
Crypto AM: Events
Cautionary Notes
It's definitely tempting to get swept up in the excitement, but please heed these words of caution: Do your own research, only invest what you can afford, and make good decisions. The indicators contained in this article will hopefully help in this. Remember though, the content of this article is for information purposes only and is not investment advice or any form of recommendation or invitation. City AM, Crypto AM and Luno always advise you to obtain your own independent financial advice before investing or trading in cryptocurrency.