Film review: Cinderella is kitsch, colourful and just about adequate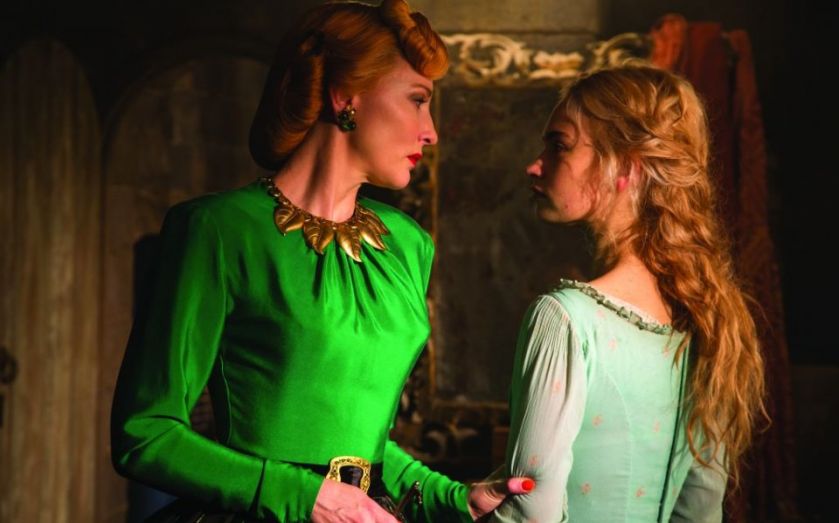 Cert U | ★★★☆☆
The idea of remaking Disney classics is interesting, and when done with spirit and creativity the results can be worthwhile – just check out Glenn Close in 101. Director Kenneth Branagh's pastiche of the 1950 animated classic Cinderella is not a slavish reproduction, but it's sufficiently similar that it still seems rather superfluous. You're basically getting the same old film, without the songs; and while orchestral variations on Lavender's Blue are perfectly pleasant, they're no substitute for Bibbidi-Bobbidi-Boo.
Lily James is nice as Cinderella. Helena Bonham Carter is nice (and kooky, obviously) as the Fairy Godmother. Derek Jacobi is extremely nice (if a bit fusty) as the King. And Cate Blanchett is decidedly not nice as the wicked step-mother. Initially it seems as though there might be an effort to imbue the character with emotional depth and complexity, and although such hopes are quickly dashed, Blanchett's 1940s inflected costumes and acting mark her out as one of the few truly memorable parts of the film. Richard Madden, who played Robb Stark in Game of Thrones, was also nice as Prince Charming, but given his track record it's probably for the best that the film doesn't end with his wedding.
Already released in the US, there has been some controversy surrounding Cinderella's tightly corseted waist and her general lack of assertiveness or feminist values. These complaints may well be valid, but it would be wrong to think the film makes no attempt to reflect contemporary social ideals; the loving relationship between Prince Charming and his father is genuinely affecting, and a welcome departure from the emotionally repressive masculinity that fables traditionally represent.
All in all, Disney's new live action Cinderella is kitsch and colourful, and just about adequate. Of course, if you have children under the age of eight, the quality of the film is immaterial. You will have to see it anyway, because it's preceded by the animated short Frozen Fever, in which everyone's favourite warbling snow queen catches a cold. Unmissable, kind of.
CRITICS' CHOICE: FILM
Mommy: ★★★★☆
A dark, funny thoroughly assured take on the family drama trope.
Suite Francaise: ★★★★☆
A handsome adaptation of the Irène Némirovsky novel Dolce, written during the Second World War
The SpongeBob Movie: ★★★★☆
If you don't get it, you're probably too old