Kings of Leon: Meet fast food entrepreneurs Henry Dimbleby and John Vincent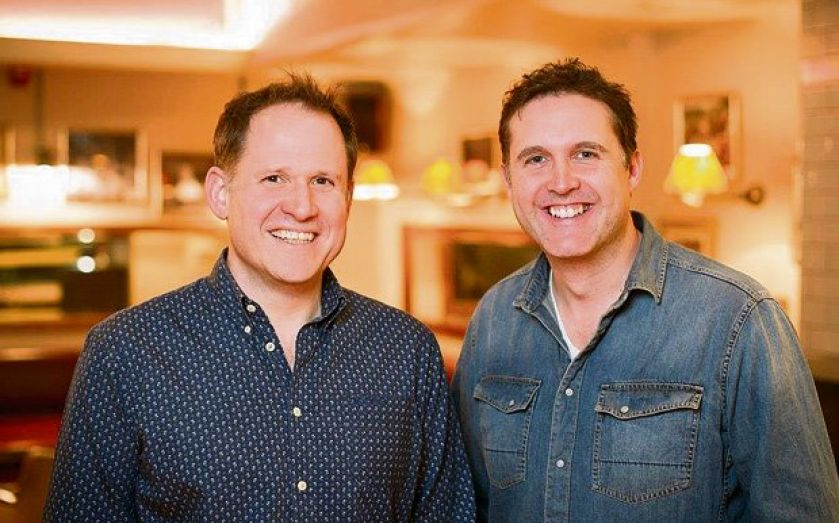 Annabel Palmer talks fast food in heaven with Leon founders Henry Dimbleby and John Vincent
BRITAIN'S foodies have never had it so good. Barely a week goes by without a new fad emerging to whet their sweetbreads (most recently, the rise of American-inspired dipping and Korean cuisine); BBC One's Masterchef becomes ever more delectable as the years go on (this year's final drew in over 5.4m viewers); and food festivals (like Urban Food Fest) are cropping up across the country.
And in London, a plethora of eateries have appeared, catering to City workers' every lunchtime whim. You would be forgiven for thinking that Leon is one such venue – even, perhaps, a pioneer in the market. You would also be wrong. As its founders Henry Dimbleby (son of David) and John Vincent tell me, Leon is in fact "fresh fast food – a McDonalds in heaven".
A FRESH START
Founded in 2004, Leon (named after Vincent's father) now has 18 restaurants and a turnover of £18m. The meeting of minds took place at Bain & Company, where both were "working really hard, getting a bit fat, and doing no exercise". Work trips abroad meant the choice between "chiller cabinets full of cold sandwiches, or KFC". It dawned on them that there was a life outside the City, one that had wellbeing at its heart. From there, Mediterranean cuisine wasn't a giant mental leap. Not only has Harvard University research found that the traditional Med-style diet is associated with a 25 per cent reduced risk of death from heart disease and cancer, but it's also regarded by the masses as one of the healthiest ("along with Japanese").
PICKING YOUR BATTLES
Fast food was the other piece of the puzzle. "There is nothing about fast food that says it has to be unhealthy," says Dimbleby. So they started off with a basic set of principles – healthy dishes flavoured with herbs, spices, cooked with "good" fat, which could be eaten in a hurry if needed. A stretch for two former financial services professionals with a weakness for fried chicken? "Henry's family was well versed in food from a cooking perspective [his mother spent time in the Middle East as a child], and my family was from Italy – and used to eating," says Vincent.
Further, Bain taught them some key lessons, like the importance of thinking about the venture "from space," the strategy toolkit needed for making a business successful, and the need to "choose your battlefields – like only sticking to London, or to the High Street". But they also knew they would have to leave their City education behind them if Leon was to work. Vincent says: "Bain is a rational, structured place and as an entrepreneur, you cannot be too wedded to that. You need to know how to make decisions where the data is ambiguous."
REINVENTING THE WHEEL
Dimbleby and Vincent are so energetic, so excitable, that it's almost impossible to imagine the partners-in-crime having a low point. Forget budget worries or delayed deliveries – surely these two could chuckle their way through any business battle? "When you start a company, you spend all this time strategising. But then you open your doors on the first day," Dimbleby says, "and you realise that no amount of planning will prepare you for your first customer." Indeed, by Day Two, the menu had been reduced by 30 per cent, customers were no longer offered plates, and the choice between white or wholemeal wraps had been scrapped.
"It was inevitable. If we'd just done burgers, we would have been reinventing the wheel. But we were doing something new – it was a massive operational learning curve," Vincent says. And like many entrepreneurs, the pair exploited their network to get investors on board (the company is backed by angel investors and Active Private Equity). But it was a juggling act. "What's interesting about restaurants is that you can't raise money off a plan – you have to get the first site. So you're trying to simultaneously line up investors while finding a location."
Today, they're not too worried about the competition. Where lunchtime bars may "come and go", Leon is a "differentiator. We're not a sandwich company trying to do hot food. We're not in the city centre lunchtime business, we're in the fast food business. That means we have much more likelihood of growing outside London and expanding internationally."
But despite the inevitable enthusiasm about the company's future, Leon has yet to make an impact outside the capital. Indeed, of its 18 stores, only three are outside the city. This may be because finding sites is a constant struggle. For their first restaurant, a "perfect" location on Carnaby Street where they would "be in the thick of the competition," they were almost gazumped by a larger fast-food chain. "In the end, the vendor stuck to his word. Good guy," Vincent says. They're aiming towards another four openings this year and a further ten in 2015 – part of a planned growth spurt. "Leon was designed to be a chain, so the more it has, the more it fits its suit."
ON A MISSION
The pair have just released their fifth cookbook – though I'm told that, despite "selling 100,000 copies of each," from a financial perspective they amount to little more than a nice bonus. So why do it? "Sharing the knowledge is an important part of our mission," Dimbleby says. That's why, in 2013, the pair advised the UK government on school dinners. This was framed around changing food culture – in the home and at school. In part due to their hard work, from September children as young as eight will be taught basic cooking skills and how to combine ingredients to make a balanced meal. "[American author and activist] Michael Pollan did some interesting analysis on the link between poverty and obesity. He concluded that the causal relationship was actually indirect," Vincent says. So if you had a less wealthy family that could cook – it was unlikely to be obese. A richer family that couldn't cook would be. "By teaching cookery, we can fight obesity."
They may be facing an uphill struggle – the UK has higher levels of obesity and overweight people than anywhere in western Europe bar Iceland and Malta. It brings us back to choosing those battles. For the business partners whose daily inspiration is an Abraham Lincoln quote on the office wall, you suspect they'll perservere until they make it. "Oh there have been countless times that John and I have rolled our eyes at one another. But if you want to succeed in business, you don't give up," Dimbleby says.
CV HENRY DIMBLEBY
Company name: Leon
Founded: 2004
Job title: Co-founder
Age: 44
Born: London
Lives currently: Hackney
Studied: Physics and philosophy, at Oxford University
Drinking: Picpoul de Pinet, served so cold that there's a mist on the side of the glass
Eating: Fermented and pickled things. And rubber cheese.
Reading: The Sisters Brothers, by Patrick de Witt
Favourite Business Book: Peak, by Chip Conley
First ambition: To run newspapers
Talents: Forgetting where I parked the car
Heroes: Abraham Lincoln
Motto: Persistence is stronger than failure
Most likely to say: Please come for dinner
Least likely to say: I give up
Awards: Rising Star in the Retailers' Retailer Award (about 100 years ago)
CV JOHN VINCENT
Number of staff: 301
Turnover: £18m
Job title: Co-founder
Age: 42
Born: Enfield, London
Lives currently: Haywards Heath
Studied: History at St John's College, Cambridge
Drinking: Girly cocktails
Eating: Our Leon Thai curry with kale and peanut salad
Reading: A biography of Dennis Bergkamp
Favourite Business Book: The Customer Rules, by Lee Cockerell
First ambition: To become a detective
Talents: Spotting other people's
Heroes: My wife, Prom Queen Katie Derham
Motto: You catch more flies with honey than with vinegar
Most likely to say: I believe in you, let's do it
Least likely to say: That's impossible
Awards: Best fireworks safety poster 1981. The prize was a Sheena Easton album