For young racing driver Jamie Chadwick, this year has gone from 0-100mph in a flash.
Just 12 months ago she was claiming her first race win in the British F3 Championship after two seasons in the competition.
This Sunday she will go in search of the inaugural W Series title in front of a home crowd at Brands Hatch, Kent.
Read more: Stoffel Vandoorne on his time at McLaren, Formula E and Le Mans
The Briton, 21, has led the female-only single-seater series since winning its first race back in May, finishing on the podium at the subsequent four races, which included a further win. Another podium this weekend, or beating nearest rival Beitske Visser, will guarantee her the crown. 
While that would be hugely significant in itself – and earn her a bumper pay packet of $500,000 (£412,000) – the series has also served its purpose in gaining Chadwick greater exposure. It has helped her to take a step toward the ultimate goal: competing in Formula One.
"This year's been great," Chadwick tells City A.M. "It's mad that the W Series is nearly finished, but as a year it's gone a lot better than expected. I think even more in terms of how things have gone beyond the W Series.
"Going into this year I knew I would be doing the series, but didn't know it would have the impact that it has. Also the stuff that's come off the back of it, like the Williams F1 gig and the Aston Martin role as well, it's been fantastic."
Formula One calls
Just two weeks after winning the first ever W Series race at Hockenheim, Germany, Chadwick was signed as a development driver for the Williams Formula One team, which has a history of promoting gender diversity.
Led by deputy team principal Claire Williams, they are the most recent team to have had a woman involved in a race weekend, with Susie Wolff testing the car in free practice in 2015.
Alfa Romeo's test driver Tatiana Calderon has had track time since, but not during a race weekend.
But for Chadwick, who is five years younger than Calderon, the aim is to eventually make it all the way to the starting grid. It would be the first time a female driver has done so since Lella Lombardi in 1976.
"To race in Formula One is the ultimate goal, but the first step is what I've got now, which is an association with an F1 team," Chadwick says. "The next step is to test with them. It's definitely within touching distance, so hopefully it's something we can push for in the next couple of years."
However, as a development driver, rather than a test or reserve driver – a position currently held by Nicholas Latifi – there is still some way to go to bridge that gap.
For now, Bath-born Chadwick's focus has been on learning and gaining experience, as well as competing in other events such as the W Series and endurance races with Aston Martin, for whom the 2015 British GT4 champion was announced as a junior driver in April.
"The main thing I've learnt is how a Formula One team operates," Chadwick says. "As a young driver you would think I would have more of an insight into what goes on in a Formula One team than maybe your average spectator, but actually it's so off-limits.
"To get that experience and immersion within the team and see what the drivers do was so invaluable. But also I get to do simulator development work, so I'm in the factory quite often now, working on the simulator with the engineers and trying to help them where I can, but also bettering myself and referencing myself against the drivers."
Chadwick is used to travelling at speed, but her rise since the turn of the year, in which she also became the first female to win India's MRF Challenge Championship, has accelerated quicker than she could have anticipated.
Role model
When bringing her on board, Williams said she was "a female role model who will hopefully inspire young girls to take up racing", and she has duly been recognised for her achievements this year after being nominated for Sportswoman of the Year by the Women's Sports Foundation – even prior to the W Series finale.
The all-female series came in for criticism at its launch for reinforcing segregation between the male-dominated series it was trying to help women break into, but Chadwick believes it has been a success.
"It had its criticism when it launched, and I can understand where people came from, but honestly, when I first started out with the series I realised it was going to be a great thing," she says.
For Chadwick, improving gender equality in motorsport is "a numbers game"; increasing the talent pool, through initiatives such as the W Series, will mean more women break through to the top tiers of motor racing and in turn spark more involvement. She accepts, though, that more needs to be done to dispel sexism and any association motorsport has with it.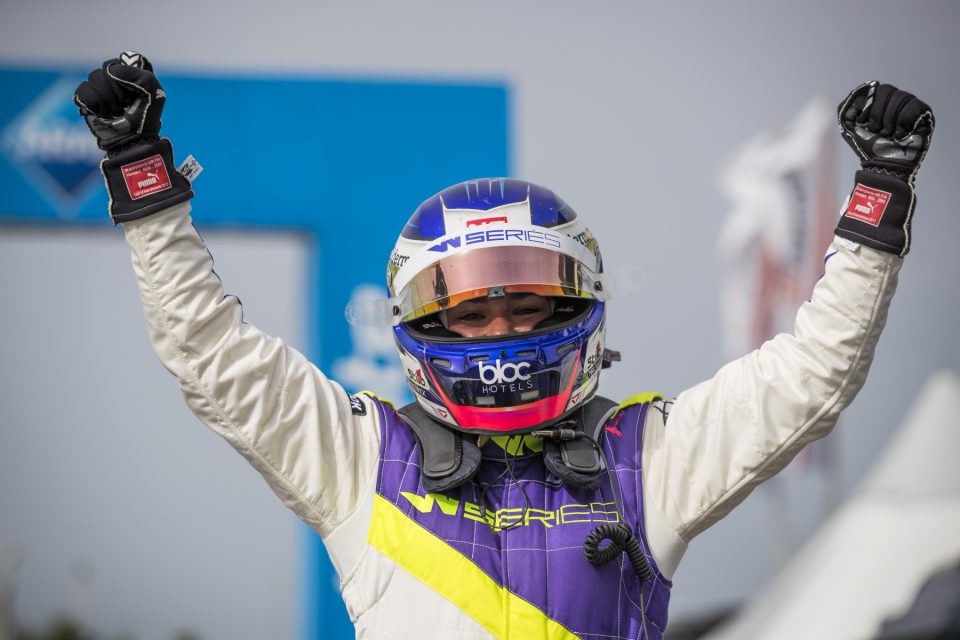 "I haven't really experienced any sexism, I've actually had a really positive experience in the sport, but I know I'm one of few," she says.
"I know quite a few of the other girls have, and I also know it's maybe seen as a sport that would have sexism in it.
"If we can break down those stereotypes by having more women in the sport then that's got to be really positive."
Despite her praise for the W Series, which will award the FIA super licence points required to race in Formula One from next year, she is yet to commit to a second season.
Read more: Formula E five years on: How is the electric racing series faring?
"I'm not 100 per cent sure about next year just yet," says Chadwick. "The W Series is a great opportunity, but it's up for discussion at the end of this year.
"I'm really lucky to have a relationship with Williams and Aston Martin. Whatever I do, I want to be out racing and bettering myself as much as I can."
With the progress Chadwick has already made this year, perhaps the W Series has already provided her with the springboard it was designed to give.