Inflation here, inflation there – when will governments see Bitcoin fixes this?
The week in Review
with Jason Deane
So, finally, the images of the shiny, happy people at the Bitcoin Miami conference have started to fade from my Twitter feed and my FOMO, having reached crescendo levels, has dissipated completely.
Obviously I was disappointed to miss this year, but the workload being what it was, it just wasn't practical. Interestingly this year didn't feel like it had quite the impact it usually does, at least from an observer's point of view. Just as it feels like the markets have been simply ticking over for what seems like forever, the conference mirrored the mood perfectly.
The two things that really stuck in my mind were the Taproot Wizards flossing on stage (which, although lasted seconds gave me instant flashbacks to a certain Ethereum conference dance back in the day and should never be repeated) and a rather passionate speech from Robert F Kennedy Jr, delivered in his unmistakable voice.
There's no question Kennedy was garnering support for his political ambitions and he said all the right things, but there seemed a genuine sincerity there.
As ever, the conference attracted all the top names and with so much content I will admit that I haven't yet seen it all. I hope to get through what remains next week.
Meanwhile, back in the UK, the government were clearly feeling very pleased with themselves when it was revealed that inflation had fallen below double figures for the first time since August last year, down to mere trifle of 8.7%.
The reality is that most people don't really understand how inflation works and will almost certainly read more into this than it means. It's a bit like someone trying to lose weight and this week they've only put on 8.7 pounds and not 10.1. It's not as bad as it could be, but it sure ain't good.
And then there's the real story that lies beneath the numbers. Is it because of government or Bank of England intervention or is it because of global factors and the base effect of comparison to last year?
In fact, the BoE actually uses "core inflation" as it's a real measure. That has actually risen from 5.7% to 6.2% which means more interest rate rises are inevitable, further reducing the chances of the average Joe ever getting ahead of the curve.
Mind you, could be worse.
In the USA, it's now less than a week from the point when the country could, theoretically at least, default on its payments as it yet again needs to borrow more to pay the bills. It's pretty certain that a deal will be reached and the ceiling will simply be raised again – as it always is – but this one is taking it close to the wire and both sides seem to be waiting for the other to blink.
Bitcoin, as the expression goes, fixes this.
In Europe, Russia continues to embarrass itself militarily and the war is almost certainly over for Putin and his cronies who will not come out this well whatever happens from here. They will still inflict death, damage and economic misery for years to come, of course, but the war is now unwinnable and Russia will become the world's latest pariah for decades to come.
This week's humiliation came from Russia itself being invaded by a splinter group made up of its own countryman who apparently simply crossed the border from Ukraine and started wreaking havoc. Crossing borders between two warring countries should, of course, be close to impossible and while this small uprising will almost certainly be quashed, if it hasn't already, I suspect it is just the beginning of the wider decline in control. Hopefully, for all our sakes, the end will come sooner rather than later.
Have a great bank holiday weekend!
New to Bitcoin? Learn all about it here with the Bitcoin Pioneers!
Yesterday's Crypto AM Daily
In the Markets
The Bitcoin Economy
*Data can be found at https://terminal.bytetree.com/
Total crypto market cap
The total capitalisation of the entire cryptocurrency market this morning was $1.111 billion.
What Bitcoin did yesterday
We closed yesterday, May 25, at a price of $26,334. The daily high yesterday was $26,591, and the daily low was $25,890.
Bitcoin market capitalisation
Bitcoin's market capitalisation this morning was $514.016 billion. To put it into context, the market cap of gold is $12.904 trillion and Visa is $467.84 billion.
Bitcoin volume
The total spot trading volume reported by all exchanges over the last 24 hours was $12.728 billion.
Fear and Greed Index
Market sentiment today is 49, in Neutral.
Bitcoin's market dominance
Bitcoin's market dominance today is 47.76. Its lowest ever recorded dominance was 37.09 on January 1 2018.
Relative Strength Index (RSI)
The daily RSI is currently 42.50. Values of 70 or above indicate that an asset is becoming overbought and may be primed for a trend reversal or experience a correction in price – an RSI reading of 30 or below indicates an oversold or undervalued condition.
What they said yesterday
Miners holding…
Would you like to help spread the adoption and education of Bitcoin in the UK and even stack some Sats while you're doing it? Well, now you can!
The Bitcoin Pioneers community, backed by Barry Silbert's Digital Currency Group, was created to introduce Bitcoin to a mainstream audience in a meaningful way and now has members right across the UK.
We share tips, stories and ideas on how to encourage others to try Bitcoin for the first time. And, thanks to support from Luno, each Pioneer gets £500 of Bitcoin a month to share with beginners, helping them get started.
So, if you're passionate about Bitcoin, why not join today? Click here to find out more!
All feedback on Crypto AM Daily in association with Luno is welcome via email to James.Bowater@cityam.com 🙏🏻
Crypto AM: Editor's picks
ChatGPT urges crypto conference panel not to become over-reliant on AI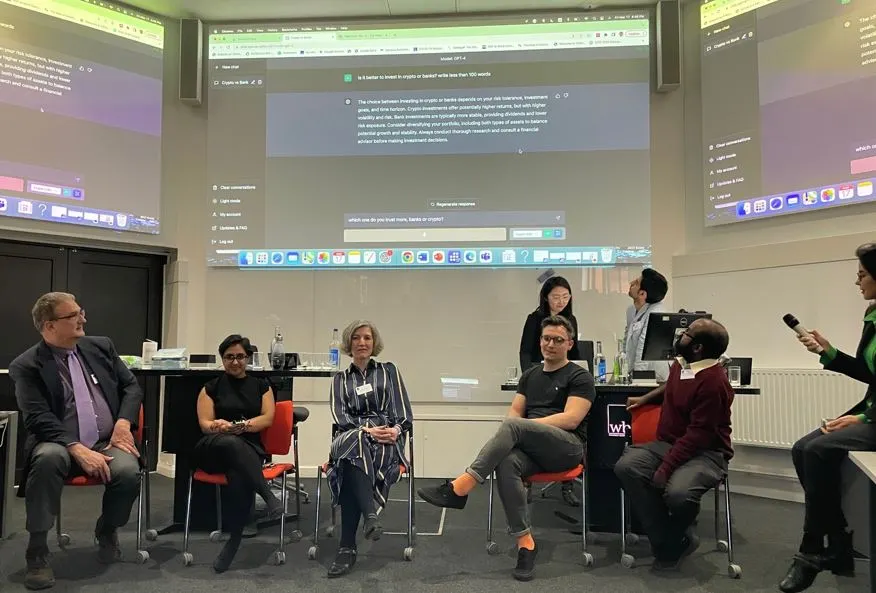 Mt. Gox customers will have to wait until November to recover lost Bitcoin funds
Sam Bankman-Fried: A tissue of lies soaked with fake tears?
Three-in-four wealth managers are gearing up for more cryptocurrency exposure
Crypto.com granted FCA licence to operate in UK
Q&A with Duncan Coutts, Principal Technical Architect at IO Global
Jamie Bartlett – on the trail of the missing 'Cryptoqueen'
MPs are falling silent over potential of cryptocurrency
Erica's 'Crypto Wars' handed honours in Business Book Awards
'Let people invest': Matt Hancock makes case for liberal crypto rules
Crypto AM: Features
Crypto AM: Founders Series
Crypto AM: Industry Voices
Crypto AM: Contributors
Crypto AM: In Conversation with James Bowater
Crypto AM: Tomorrow's Money with Gavin S Brown
Crypto AM: Mixing in the Metaverse with Dr Chris Kacher
Crypto AM: Visions of the Future, Past & Present with Alex Lightman
Crypto AM: Tiptoe through the Crypto with Monty Munford
Crypto AM: Taking a Byte out of Digital Assets with Jonny Fry
Crypto on the catwalk
Crypto AM: Events
Cautionary Notes
It's definitely tempting to get swept up in the excitement, but please heed these words of caution: Do your own research, only invest what you can afford, and make good decisions. The indicators contained in this article will hopefully help in this. Remember though, the content of this article is for information purposes only and is not investment advice or any form of recommendation or invitation. City AM, Crypto AM and Luno always advise you to obtain your own independent financial advice before investing or trading in cryptocurrency.