How badly will coronavirus hit UK house prices in 2020?
Property experts hope a stamp duty holiday and relaxed lockdown restrictions will protect UK house prices from a sharp coronavirus fall this year.
At the height of lockdown, experts predicted that UK house prices could fall by as much as 10 per cent this year due to the impact of coronavirus.
However, chancellor Rishi Sunak attempted to breathe new life into the property market by raising the stamp duty threshold from £125,000 to £500,000 until the end of March 2021.
According to the latest research by Rightmove, enquiries to agents for homes priced between £400,000 to £500,000 have surged 49 per cent since the stamp duty holiday announcement.
Only in April Rightmove had warned there was "not a functioning housing market" after buyers could not visit houses during lockdown.

And the dramatic economic hit has also made people more wary of making big purchases.
The coronavirus blow came just as UK house prices began to recover from uncertainty caused by Brexit at the end of 2019.
And property prices posted an annual fall for the first time since 2012 in June. They slipped 0.1 per cent year on year following a 1.8 per cent climb in May.
Nationwide data also showed values dropped 1.4 per cent month to month, with an average price of £216,406. Data published by Halifax showed that UK house prices fell for the fourth month in a row in June.
What will happen to UK house prices in 2020?
So can the stamp duty holiday protect UK house prices from coronavirus?
Here's what economists predict will happen in 2020:
RICS: Fewer surveyors expect drop
A June survey by the Royal Institution of Chartered Surveyors (RICS) found a net balance of minus 12 per cent of respondents expected prices to fall in the coming three months. That compared to minus 43 per cent when respondents were asked in May.
The survey also found that buyers started to return to the market in June.
A net balance of 61 per cent of RICS members reported a rise in new buyer enquiries in June following a result of minus 94 per cent the previous month.
Halifax: Further falls 'likely'
UK bank Halifax welcomed the government's stamp duty cut.
However, most recently it announced that prices fell at their sharpest quarterly rate since 2009. And the property market's value sank for four consecutive months for the first time since 2010.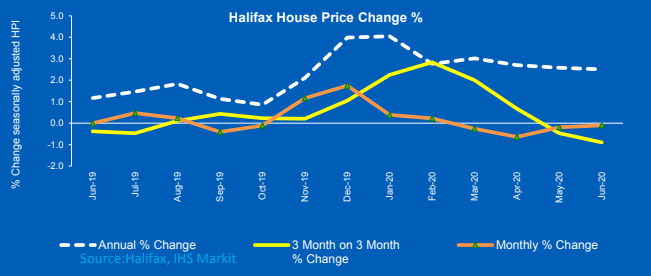 The bank expects further UK house price falls in the second half of the year.
"It's hard to look past the downward risks to prices over the medium-term," IHS Markit economics director Paul Smith said.
"On balance further price falls seem most likely in the second half of the year."
EY: UK house prices face -3% fall
EY Item Club predicts UK house prices could fall around three per cent by the end of the year. That's an improvement to its previous forecast of a five per cent drop.
Chief economist Howard Archer said Sunak's decision to increase the stamp duty threshold would provide some "near-term support to housing market activity".
"However, the EY ITEM Club suspects the upside for the housing market will be limited due to challenging fundamentals for consumers," he added.
UK house prices' fall could become more pronounced in the final months of the year, Archer predicts. That is when the UK could approach a cliff-edge end to its Brexit negotiations.
"There is likely to be a rise in unemployment," Archer added. "[This] will not only adversely affect the fundamentals for house buyers, but also lead to caution when people are thinking about buying a house."
Savills: London could fall -2%
Estate agent Savills predicts prime central London house prices will fall two per cent this year before returning to growth from 2021.
"It is clear that many overseas buyers are yet to return to the market," Lucian Cook, Savills head of residential research, said.
"The pandemic has chipped away at the wealth of those who buy in these rarified markets and, given the impact on the global economy, weakened the prospects of global wealth generation," he added.
"So, while we expect London to continue to attract safe haven investment as the market reopens fully, the rate of price growth will be slower than in previous upturns."
Santander: House prices to fall -6%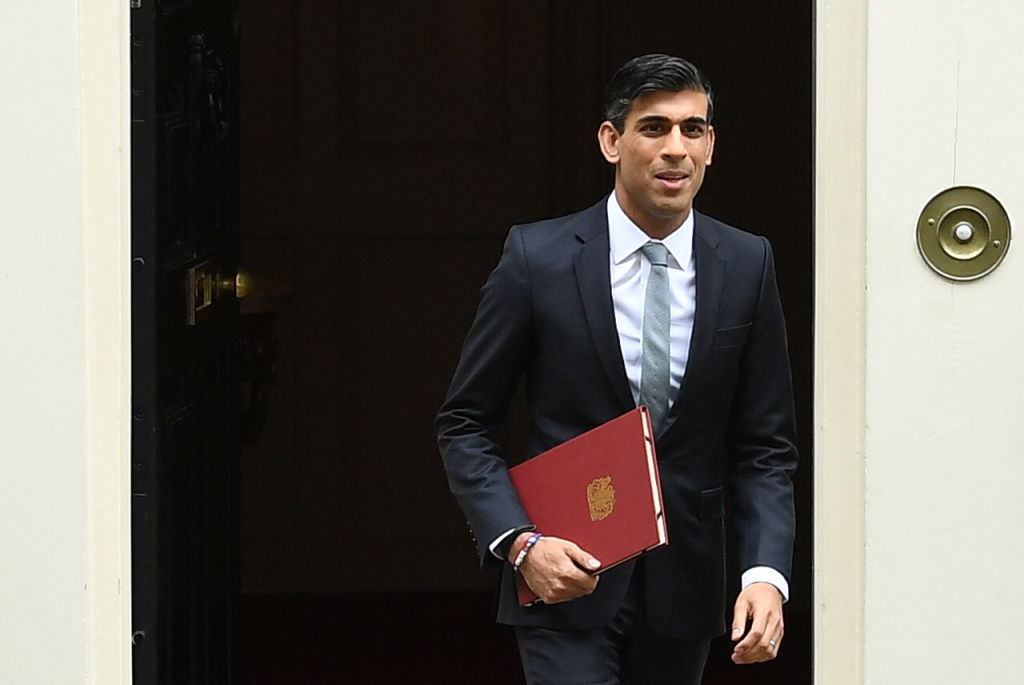 Santander's base case scenario predicts a six per cent drop in UK house prices this year.
The base case scenario would be a "short sharp recession" in the first half of the year. Then the bank predicts a slower recovery over the rest of the year and into 2021.
Brexit negotiations could lead to further uncertainty and dampening growth, the bank warned.
An upside scenario, which would involve a more comprehensive Brexit trade deal being negotiated, an extension to the negotiation process, or a Covid-19 vaccine, house prices would drop by 0.1 per cent.
Knight Frank: Prices to slump -7%
Knight Frank predicts UK house prices will fall seven per cent this year. They will then recover to grow three per cent next year.
It forecast prime central London property prices to drop by five per cent. But they could bounce back in 2021 with growth of eight per cent.
House prices in prime outer London locations are also expected to drop five per cent in 2020. A more modest two per cent growth rate is forecast for 2021, the estate agent said.
Barclays: House prices to rise 0.06%
Barclays' baseline scenario is house price growth of 0.6 per cent this year, recovering to two per cent growth in 2020.
The bank's expected worst point is a house price drop of 1.5 per cent, it said in its half-year financial results.