House market cooled in April with prices falling £5,000 from record March
House prices in the UK fell 1.9 per cent in April, as buyers and sellers renegotiated terms under the impression the stamp duty holiday saving would no longer be on the table.
In April, the average house price in the UK stood at £250,772, nearly two per cent or around £5,000 lower than in March, according to data from HM Land Registry.
House prices have rocketed in the last year, as the stamp duty holiday spurred buyers to move in the hope of making tax savings.
Though April represented a fall in the housing market, house prices remained 8.9 per cent higher than they were a year ago, up approximately £20,000.
In London, house prices fell two per cent in April, with similar falls seen in the South East (-2.3%) and the South West (-2.3%).
Scotland saw the steepest price falls, down 4.1 per cent in April from March, followed by Yorkshire and The Humber (-3.7%).
Only Wales and the East of England saw price rises, up 0.6 and 0.3 per cent respectively.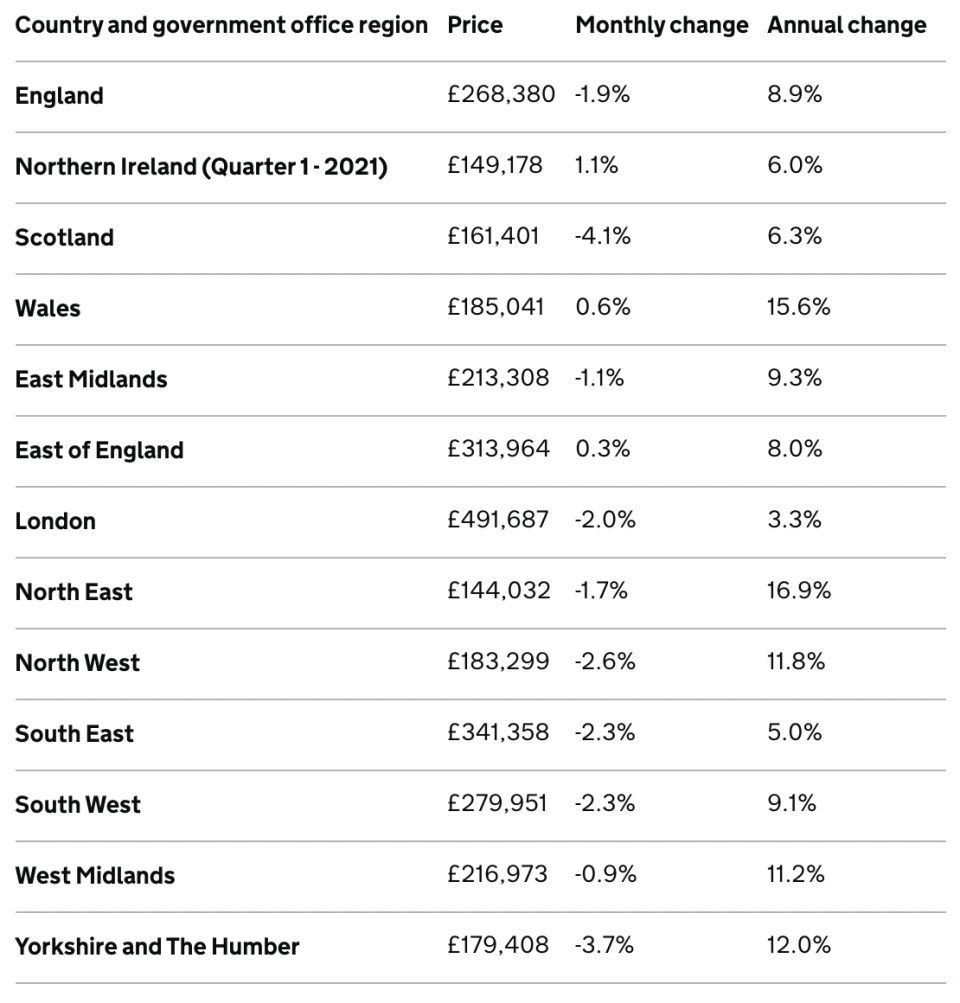 'Not a market crash – but a correction on the way'
Managing director of Barrows and Forrester, James Forrester, said the fall was likely in response to the original stamp duty deadline, as buyers and sellers renegotiated terms under the impression a saving was no longer on the table.  
"However, it's far from the market cliff edge that many naysayers had predicted and so it's fair to say we can put any fears of a market crash in the wake of the extended deadlines to bed," he added.
The stamp duty holiday was initially supposed to end on 31 March, however the government made the decision to extend the tax saving to the end of June, with a tapering off system in place until September.
Matthew Cooper, founder & managing director of Yes Homebuyers, said the dip could give an indication of what is to come later this year, when the stamp duty holiday comes to an end.
"Almost a full house of regional monthly house price declines in the wake of the original stamp duty holiday deadline gives a good indication of what awaits the market at the backend of this year," he said.
"A correction is on the way and we can expect to see a weary market start to show signs of house price fatigue as early as next month, following the initial wind down of the stamp duty holiday."