Hitchcock's studio exudes theatrical chic as new home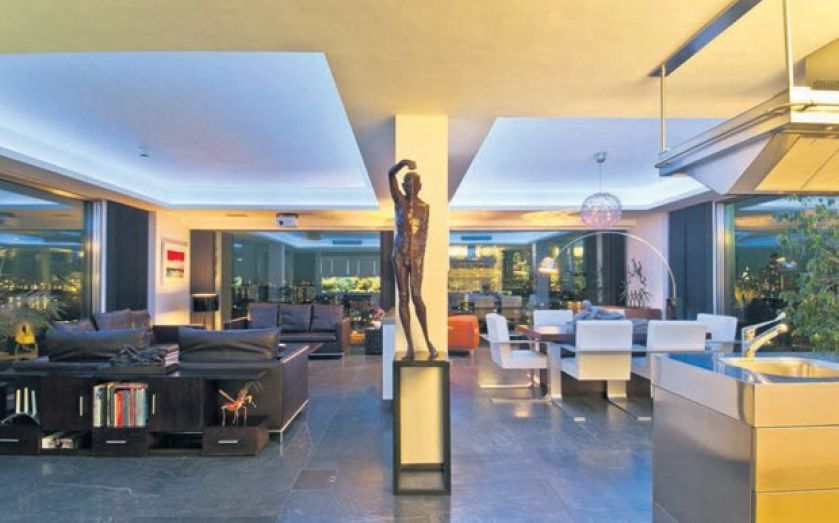 Melissa York goes behind the scenes in Hoxton to discover what's become of a former film set
WHAT do you get when you combine the legacy of Alfred Hitchcock's film studio with one of the most dramatic views over London? Answer: Gainsborough Studios West, based alongside Regent's Canal in Hoxton. Everything from its rooftop terrace to the aquarium installation has a touch of theatricality about it.
Estate agents Savills is currently selling a three-storey penthouse where Hitchcock's classic The Lady Vanishes was shot in 1938. The space was home to Gainsborough Pictures, which also made Marcel Varnel's British comedy Oh Mr Porter! along with a series of melodramas based on popular female fiction of the 1940s. The studio was closed in 1951 and laid derelict apart from the occasional artistic performance.
Islington's Almeida Theatre Company hosted two epic Shakespearean productions starring Ralph Fiennes, and a Hitchcock season in the space in the early 2000s. Soon afterwards, the studio was incorporated into four residential buildings of the same name around a square featuring a huge, semi-submerged sculpture of Hitchcock's head by artist Anthony Donaldson.
"The history is a point of interest, certainly," says Adam Smith, from Savills' Islington office, "and there may be some people out there more into that kind of thing than others. But I don't think it affects the price very much, you couldn't command a premium for the history.
"The sculpture in the courtyard is the only nod to its past, but it's pretty impressive. The frontage leads down to the canal and Hoxton's a great place to be right now. You could walk into the City in no time and it's just incredibly convenient."
All that remains of the sharp suspense can be found in the edgy, contemporary architecture designed by Munkenbeck and Marshall whose other work includes Bermondsey Square and Alexander McQueen's studio and offices in Farringdon. Spread over the 11th, 12th, and 13th floors of one of the buildings, the unique appeal of this apartment lies in its spectacular vantage point over the city. The apartment's design certainly makes the most of it with six terraces that take up as much space as the inside of the apartment. Both double bedrooms have space to wander outside, two more can be found on the floor below, and the top floor is home to a 500sqft roof terrace with a 360 degree view.
From the hot tub, you can take in the City including the Walkie Talkie and The Shard, the Olympic Stadium and the 02 Arena in the east, and St Paul's Cathedral and the Barbican in the west.
"The panoramic views are its selling point," says Smith. "It's the best roof terrace I've ever seen. You can see from the east to the west of the city so you can have your breakfast on one side as the sun comes up and your dinner on the other side as it goes down."
Smith says he sees its new owners as a particularly stylish couple with unusual tastes. "They've been living in a period house for the past 40 years, the children have moved away, and now they're after something for the two of them that's a bit different."
Viewings can be booked from Savills Islington by calling 020 7226 1313