Crazy markets, Night Tube called off and Jeremy Corbyn goes off the rails: Here's what got us talking this week
It was the week in which everything got a bit trippy: the markets went bananas. The South Bank went psychedelic. Someone discovered a Nazi train full of gold (allegedly). And after 60 years of rivalry, Burger King finally proposed a truce with McDonald's…
What got us talking
1. Up, down, up, down…
Who said August was sleepy? Global markets spent the week merrily lurching about: first they experienced their biggest falls since the worst days of the financial crisis, before creeping back up – then they fell again. And on Thursday, the FTSE gained a cool £60bn. Dizzy yet?
Monday's crash may have compared to some of the worst of all time – but China was quick to respond, cutting interest rates. In the west, though, no one's quite sure what this means for interest rates – although one US central banker said it makes a September rate hike "less compelling". No kidding.
It's China's Lehman Brothers moment, said Cross Border Capital boss Michael Howell. But perhaps that's too simplistic. As this mind-boggling visualisation shows, the global economy is a pretty complex place…
2. The Tube
The good news was that two 24-hour Tube strikes due to take place this week were called off as a "gesture of goodwill" by unions – although ever the optimist, RMT has proposed two new dates. The bad news was that to let the unions negotiate properly, Transport for London (TfL) postponed the launch of the Night Tube. Meanwhile, a restaurateur had threatened go on a one-man crusade against striking workers….
We can only imagine the frustration of Boris Johnson, for whom the Night Tube project was supposed to act as a kind of legacy. Here's a timeline of how Johnson's dream turned into a nightmare.
3. Corbyn came unstuck
Is that the sound of Jeremy Corbyn's campaign grinding slowly to a halt? The popularity of the unlikely Labour leadership favourite began to ebb this week, after he made a suggestion straight from the 1970s – and was promptly lampooned on social media.
And while Harriet Harman was courting controversy by threatening to purge thousands of potential voters from the leadership election, City A.M. used Labour registration data to find out whether dastardly Tories really were infiltrating the party, bent on manipulating the vote to their own evil ends. The result? Well – we wouldn't want to ruin the surprise…
4. We all realised we needed some R&R
What with the markets going berserk and the bank holiday fast approaching, it was hardly surprising that a survey found more people are feeling burnt out.
Is it a coincidence the number of people applying for licenses to open distilleries has risen? We think not. Although it turns out when City workers fancy a change, many are simply choosing to move very slightly further East, transferring their skills out of finance and into the tech sector instead – here are the top 10 startups they want to move to.
Still, if it's dosh you're after, stay in the City. Official figures published this week showed the finance sector is still the place to be if you want a decent bonus – by a massive margin.
5. The bank holiday arrived
It's the last bank holiday before Christmas – so expect the usual mix of traffic jams and public transport engineering works to ruin your fun. If you're going somewhere nice over the weekend, check out our (lengthy) list of train travel disruptions – including strikes on First Great Western services.
Still, the good news is that petrol will be cheap, despite the rise in oil prices over the last couple of days – and some bank branches will actually be open.
Finally, if you're jetting off for a short break but haven't bought your currency yet, here's why leaving it until you reach the airport is a terrible idea.
Chart of the week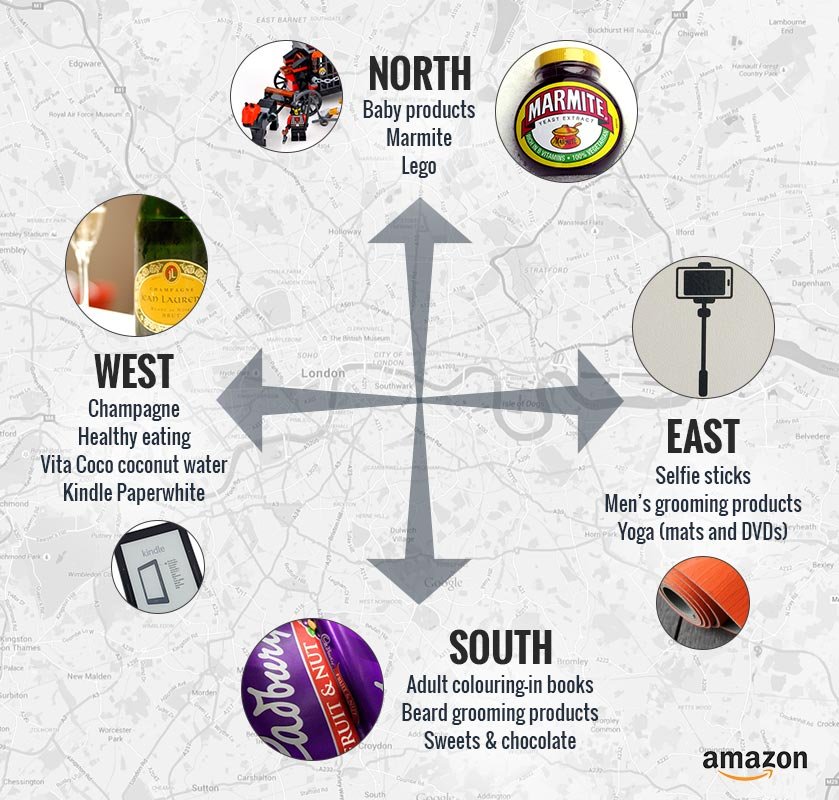 Yep, we're a city of stereotypes: while east Londoners tend to buy selfie sticks and men's (aka "beard") grooming products, those in the west prefer to quaff champagne. Here's what Londoners are most likely buy, according to Amazon.
Leisurely reads
The government's list of dissolution peerages was almost universally panned, with most dismissing it as a list of government cronies. We were more worried about where the business people were. Peerages are supposed to be awarded to those who are experts in their field – if the government wishes to build closer ties with the private sector, why is it so badly represented?
Eyebrows were raised in the retail sector when Morrisons bought a portfolio of 50 former Blockbuster stores back in 2013. Now it turns out the supermarket's decision to buy them and convert them into a chain of "M Local" convenience stores was made in haste. Here, we look at the circumstances behind the decision – and the lessons its rivals can learn.
The UK's fintech sector has spawned 17 of Europe's 40 tech "unicorns". Could Earthport, which aims to simplify the "outdated" cross-border payments infrastructure, be the next one? We met chief executive Hank Uberoi to find out.
Great reads from elsewhere
Thought London's property market was pricey? Try moving to Hong Kong, where the densely-packed apartments have been labelled "severely unaffordable", says the New York Times, which explores the inverse effect high house prices are having on architecture in the city. "These places are investments," explains one inhabitant. "You are not happy because the building offers you good design. You are happy because you buy something, and the next day it increases one per cent."
It's the "least romantic book ever written about dating"- but "Date-onomics: How Dating Became a Lopsided Game" may go some way to explaining why educated women find it so hard to find men to date. The Washington Post interviews author Jon Birger. If you're a single woman with a PhD, look away now…
When details of millions of Ashley Madison members leaked, reports suggested most female profiles were fake – but was that really true? Gizmodo's Annallee Newitz crunched the numbers – and discovered that not only did real women represent a tiny fraction of the membership, but also that "Ashley Madison was a far more dystopian place than anyone had realised".
The last word