The Great Gig in the Sky: We hiked for two days to hear the world's highest music festival
The hills are alive with the sound of… my heavy breathing. I nervously inch my way along a slippery glacier while clinging onto a steel cable, the only lifeline preventing me from plunging hundreds of feet into the rocky abyss below.
I am high up in the craggy and unyielding Dolomite Mountains in the Trentino region of northern Italy where, along with around 50 German and Italian hikers, I'm spending two days trekking over snow-capped peaks on a pilgrimage to enjoy a festival called the Sounds of the Dolomites.
Every year for the past 24 years, during the summer months, Trentino hosts classical and jazz musicians from all around the world at this UNESCO World Heritage site. The musicians will play on an impromptu stage in a natural amphitheatre formed of rocks as concertgoers enjoy an al fresco musical experience like no other.
But there's a catch: to attend the concert, we are to spend two days hiking with backpacks between ancient mountain huts known locally as rifugios, a cross between a wooden ski chalet and a youth hostel, originally set up to provide emergency shelters to mountaineers from the 19th century.
There's no doubt that walking is the best way to explore the Dolomites. Trentino, whose population consider themselves closer to Austrians than Italians, offers a range of hiking options. You can choose the Brenta Dolomites and eastern Trentino, the wild Lagorai chain and the Fassa and Fiemme Dolomites through two huge circuits undertaken in stages.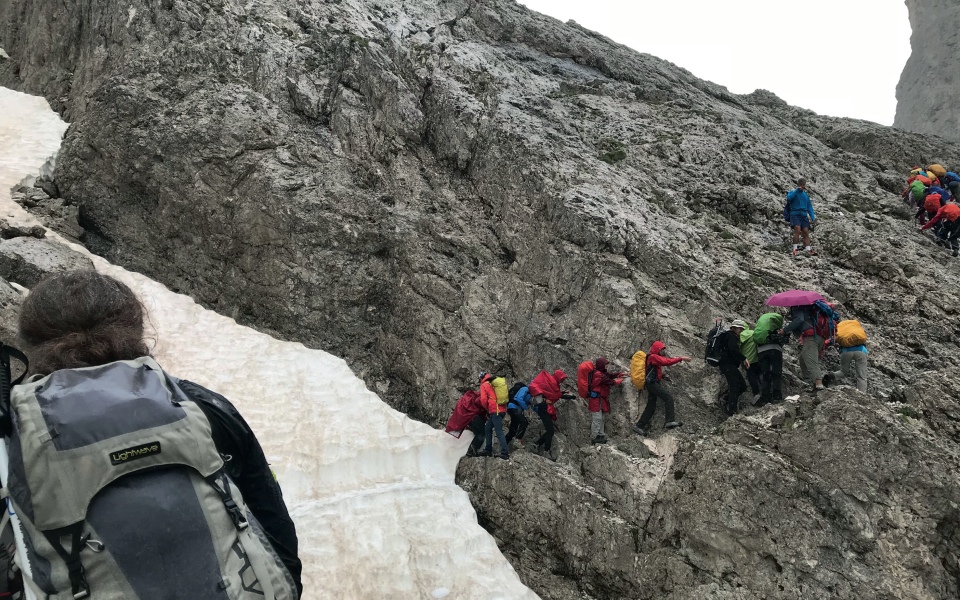 The two networks of well-maintained footpaths (part of an amazing 5,000km of signposted footpaths in Trentino) pass by no less than 143 mountain huts, and there is a small army of mountain guides ready to provide all the support you need over the more challenging glaciers and crevasses.
Our route of choice is the Palaronda Trek, which has a five-stage "hard" circuit and a four-stage "soft" circuit, both of which start and finish in San Martino di Castrozza, a charming town at 1,450 metres above sea level, in the heart of the Paneveggio woods in Pale di San Martino Nature Park.
The town has about 500 inhabitants, and is part of the municipality of Primiero San Martino di Castrozza, in the Alta Valle del Primiero. It was discovered in the 19th century by English and German mountaineers who were enchanted by the Pala mountains, which turn pink every day at sunset. San Martino di Castrozza is a small Alpine town that has inspired artists like Arthur Schnitzler and Richard Strauss.
As we assemble at the base of Rosetta cable car, our guides hand out packed lunches, water and sunblock as we are given a final briefing about our route, with the imposing black peaks of the Pale di San Martino mountain range looming over us.
To add to the surreal experience, one of our party has a priceless 17th century cello strapped to his back in a bright red case. It belongs to international cellist and composer Mario Brunello, who for years has been involved in a pilgrimage of his own – the search for locations where music can be enjoyed in its purest form, at the top of a mountain.
He's undertaking the trek with Maurizio Zanolla, aka Manollo, an international mountaineer and one of the world's leading free climbers. I ask Mario what prompts a top-class musician and Bach expert to clamber over rocks to play violin concertos to a bunch of hiking enthusiasts.
"There is nothing other than you and the silence, and I have learnt a lot from it," says Mario, who, in addition to the Dolomites, has also performed in the Sahara desert.
Part of his artistic mission is to introduce musicians to the power of playing outdoors, an activity he believes helps them find a more authentic voice. "When there is no acoustic you need to find your sound and go with it. You need to work to make your instrument sing."
Later on, as we sit atop a mountain munching our sandwiches with nothing more than the haunting strains of Bach's Cello Suite No.1 in G wafting over our heads, I can see the appeal in being entertained by our own personal maestro without coughing and mobiles ruining the performance (there's no Vodafone reception here).
Another unique aspect of our trek is staying in the mountain huts. In Trentino there are 146 rifugios dating back several centuries and they guarantee a truly authentic mountaineering experience. While the rifugio offers a bar and restaurant, lights are out at 10pm as the early hours are the best times to set out on a hike before it gets too hot. This is no trip for party animals.
While the buildings may be rudimentary, the hospitality is far from it. In the first chalet, Rifugio Pradidali, we were greeted with plates of warm bread and tasty cured meats, local cheeses, wild mushrooms and olives served up with beer and wine.
As we check into our second hostel we're reminded of the mountain's treacherous nature. Two climbers are airlifted off by helicopter. They had slid down a glacier before falling into a crevasse, but miraculously escaped serious injury.
The TV went ignored as hikers made their own entertainment, sharing travel stories and singing along to a guitar. And with no light pollution from the cities, the view outside of the Milky Way is a stargazer's paradise.
It's an early start with breakfast served at 6am the next day before we've packed up our sleeping bags and are back on the trail. Somehow the hiking seems a lot easier on the second day as we rediscover the austere beauty that has attracted foreign travellers and alpine excursionists for centuries.
Our journey takes us to the Pale plateau, the mysterious stone wasteland suspended at an altitude of over 2000 metres above sea level, forty square kilometres of naked rock cut through with deep clefts.
As we check into our second hostel we're reminded of the mountain's treacherous nature. Two climbers are airlifted off by helicopter. They had slid down a glacier before falling into a crevasse, but miraculously escaped serious injury. The next day, our numbers swell to 1,000 as enthusiasts arrive by cable car to hear a concert by Mario, marking the start of the festival.
Feeling fit from my two-day trek, I am sorry to take the cable car back down the mountain, although the prospect of sleeping without a snoring roommate has its appeal.
Our final meal is at the delightful Hotel Centrale where we enjoy local specialities including "Delizie Trentine" with smoked trout from the Trentino valleys.
The bar also has the biggest collection of homemade grappa I have ever seen. It seems only fitting to finish this holiday on a high.