Google Nest Hub Max review: The best smart home hub you can buy
Last year's Nest Hub placed the Google Assistant at the centre of the connected home, integrating a voice-activated speaker and display into a single device. It brought together disparate smart home services from competing companies – lightbulbs, locks, cameras and thermostats – into one easy to use dashboard, so you could control your house from your kitchen and pretend you were piloting a two-bedroom starship.
Where it lagged behind the competition (namely Amazon's Echo Show) was in Google's decision not to include a camera, a design choice made to allay privacy concerns around a gadget that would often be pointed right at your bed.
As the name implies, the Nest Hub Max is a bigger version of the previous Nest Hub, ten inches rather than seven and with a louder pair of stereo speakers, but the chief upgrade here is the addition of a camera. This is used for more than just making and receiving video calls. The Nest Hub Max can recognise the faces of different family members as they walk past the device, to display things like personal reminders, upcoming flights, potential delays to a commute and calendar appointments all without having to touch or say anything.
When it's not in use the Nest Hub Max becomes a photo frame, displaying an intelligently curated selection of your most recent pictures
The Nest Hub Max can function as a home security camera, using your phone's GPS to determine when you're out of the house and alerting you whenever it detects motion. The camera enables some basic gesture controls too, allowing you to pause and resume podcasts, videos and music by raising your hand. Gestures are most useful in the kitchen, when your hands are covered in all manner of gunk and it might be rude or inconvenient to use your voice.
Read more: Google Nest Hub review: The touchscreen-equipped smart speaker is a dashboard for your connected home
The wide-angle camera also tracks you during video calls, so you can move around the room and always be in frame. And for those still concerned about privacy, a switch on the back of the screen cuts power to the camera and mic.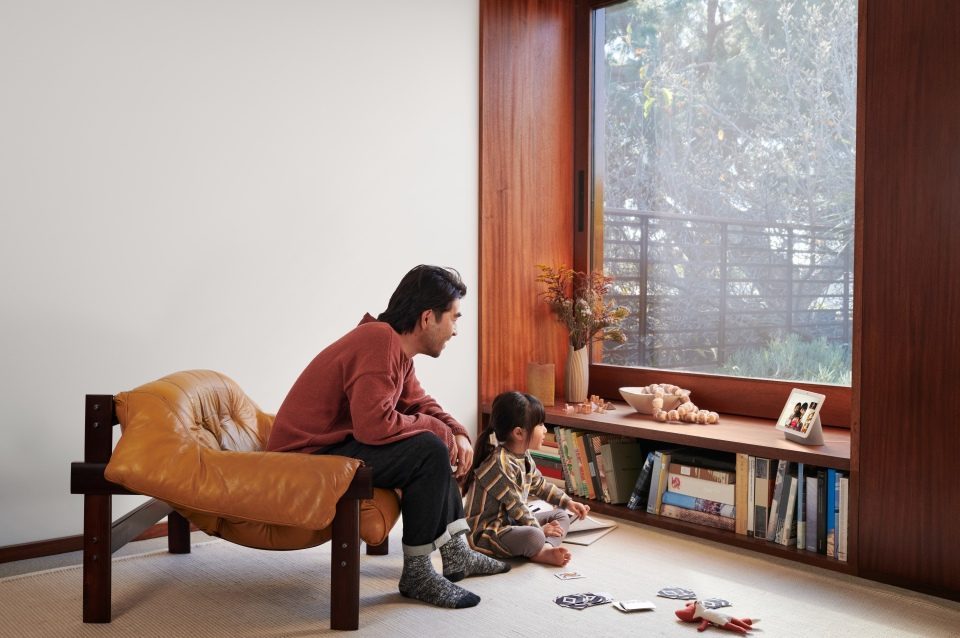 When it's not in use the Nest Hub Max becomes a photo frame, displaying an intelligently curated selection of your most recent pictures from Google Photos. A sensor in the frame detects ambient light levels, and subtly adjusts the display to make your photos look as though they're printed on paper rather than on screen. It's a convincing effect, and a thoughtful way to keep pictures of friends, family and past adventures in rotation.
Bigger and louder, the Nest Hub Max also comes with a new £219 price-tag to match. Its predecessor is £100 cheaper, and is the better value proposition for users who aren't interested in the camera, or who'd prefer a more petite device. For everyone else, this is as smart as home hubs get.
★★★★★
store.google.com
£219