Fitness challenge: four years on – The new fitness techniques that helped turn our Life&Style editor into a gym bro
Four years ago I wrote an article about getting fit. For 10 weeks I went to the gym a lot, gave up booze, ate well, and got a hearty spray tan. I looked pretty good, in a 'didn't-quite-make-it-to-the-final-round-of-applicants-for-Love-Island' kind of way.
People still ask about it. For a while the story would appear on the list of most viewed articles on the City A.M. website. Someone once walked up to me at the gym and said the piece had inspired them. Inspired them.
After the 10 weeks, of course, I went back to drinking beer and eating cheese, but I'd supplement it with a couple of sessions a week at the gym, sometimes with Harry, the personal trainer who coached me through the original article. Every session he'd tell me about new research into nutrition, better ways to keep yourself motivated, clever techniques to help prevent injury.
With the four year mark approaching, I decided to do it all again – this time for 18-weeks – to see what new tricks I could learn.
Setting goals
Back in 2014, I had no idea what kind of results I could expect. This time, I knew roughly what I wanted to achieve; rather than getting leaner, I wanted to put on some size. Deciding this before I started was a big help – it gave my sessions structure and purpose, a feeling that I was working towards something specific and tangible.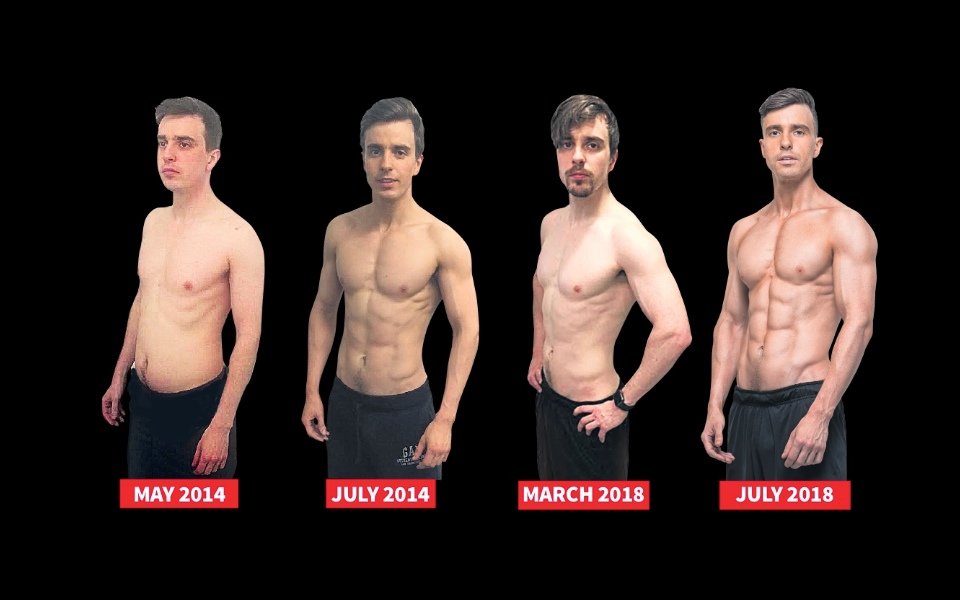 What changed?
In 2014, the fitness world was obsessed with protein, so my diet for those 10 weeks was massively skewed in favour of protein-heavy foods. Along with cutting out alcohol, the reduction in carbs meant the fat I was carrying quickly dropped off. But it was a real chore.
Over the years, attitudes to nutrition have changed, and this time I focused more on calories – specifically eating lots of them. For three months I was trying to consume over 3,000 calories a day (I didn't stop drinking, so some of these were alcohol), which was a far more pleasant way to live.
Motivation
Attempting to train my wandering mind was the toughest part. Throughout the 18-weeks, Harry and I came up with various strategies to trick me into going to the gym.
I set up a calendar on my phone that turned green on days I'd been – and I loved seeing all those days turn green, as if it were an achievement in itself rather than a meaningless few kilobytes on a Google server.
I forced myself to go to the gym every week-day evening, even if that meant stopping at the 24-hour PureGym at 10pm after the theatre. After a while, I'd naturally gravitate there in the way I might once have idly wandered to the tube, or across the road to the pub.
I also found tracking my progress using a Boditrax machine (which scans your body for fat, muscle and water content; there's one at most good gyms) was useful, not so much for the information itself but because it held me to account. You can't lie to the machine about skipping a meal. The machine knows.
Get help
As well as daily and weekly goals, it helped to have a target to aim towards. Harry arranged for a photographer to come in and take pictures of all of his clients, which also introduced an element of competition (on a side note, it's amazing what some good lighting and a spray tan can achieve).
The most valuable thing the first 10-week regime taught me was the confidence to train alone. But even with that knowledge, I wouldn't have sustained this long, intensive period of exercise without a personal trainer.
Look for someone who's willing to do more than spend an hour a week with you – someone who will check up on your progress, ask about your diet, set you daily, weekly and monthly goals, fire over a motivational WhatsApp every now and then. Also try to convince your mates or partner to go with you to the gym – any help makes the whole thing far less painful.
How did it feel?
Going to the gym five or six times a week isn't easy. It eats into your social life. You find yourself talking about the gym, and hanging around with other gym people. But, like last time, I found myself missing it when I couldn't go, craving that post work-out rush, indistinguishable from the gym bros I've always instinctively avoided. By the end, I would nod at the other losers working out until 11pm every night of the week. They were my people now.
Towards the end of the 18 weeks, I picked up an injury – I'm the kind of person who picks up gym injuries now – and, unable to put much weight on my right shoulder, spent the final month compensating with extra cardio sessions, losing a bit of weight instead of putting it on. For the final two weeks I cut the amount I was eating to around 1,000 calories a day, dropping as low as six per cent body fat on the day of the photo shoot. "Is this even healthy?" I asked Harry. "Define healthy," he replied. "Do you feel healthy?" I did.
What next?
The day of the shoot, someone sent me an article from The Onion with the headline: "Bodybuilder Strong, But Now What?" In it a bodybuilder asks himself "Do I just keep lifting heavier and heavier things? Do I use my strength to murder someone? God, I look so scary now. I guess I'm just locked into this never-ending cycle of weightlifting until I eventually die."
I can relate to this – what now? I guess I can do it all over again in another four years, by which time I'll be 40 and a few paces along my inexorable path towards the grave. Until then I'm going to sit back and watch reruns of all the Love Island episodes I missed because I was in the gym the whole summer.
• To book an appointment at Harry Thomas's brand new Tower Bridge gym visit no1fitness.co.uk or call 020 7403 6660