Peppa Pig brings home the bacon: Entertainment One share price rises after raising profit expectation
The figures
Full-year earnings are expected ahead of forecast for the Peppa Pig maker sending shares as much as 10 per cent higher in early trading.
Entertainment One's TV business grew 36.8 per cent for the nine months to 31 December, offsetting a 13.5 per cent decline in its film business.
Peppa Pig, the children's TV show, is on track to deliver year-on-year sales growth of 100 per cent, ahead of expectations, and is on track to deliver $1bn in retail sales across the globe, helped by a US and Asia expansion of the brand.
A new deal with Amazon will bring Entertainment One's shows to Prime Instant Video in the UK and Germany.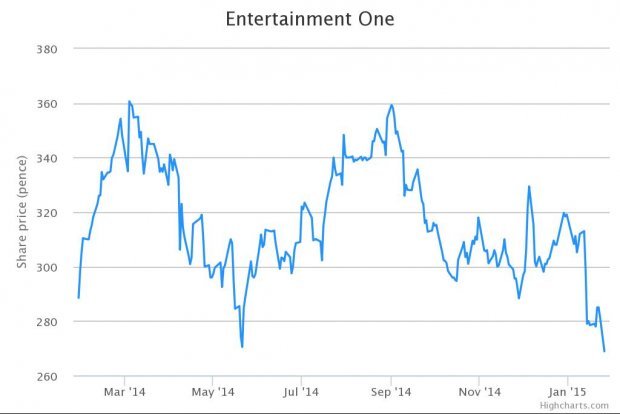 Why it's interesting
Entertainment One wants to double its earnings in the next five years.
Declining box-office takings as cinema-goers head elsewhere have created a difficult market. Entertainment One has managed its costs and long-term film production to account for this, improving gross margins and keeping profit in line with expectations, although it does expect the global box-office to improve.
Walmart will begin selling Peppa Pig products from Spring this year, as will US retailer Target, while its launch in South East Asia has been strong. Peppa Pig's world domination is only set to grow.
Its acquisition of a stake in US production company Mark Gordon, maker of hit shows such as Grey's Anatomy, signals investment in the stronger TV side of the business. While it increased its debt facility to finance this, it expects adjusted net debt to earnings before interest, taxation, deprectiation and amortisation leverage will be two times at the end of the current financial year but falling in future years as the business generates positive free cash flow.
What Entertainment One said
The outlook for the remainder of the year is positive for the Group. Management looks forward to the end of the year with confidence, with full-year earnings anticipated to be ahead of expectations.
Management anticipates a more sustained improvement in the global box office and also expects television markets to continue to evolve with demand for high quality, exclusive content growing from both traditional broadcast networks and digital platforms. With expertise in both content creation and distribution, eOne is well-positioned to benefit from this long term trend.
In addition, Peppa Pig goes from strength to strength both in established markets and newer territories, and our presence in territories globally is providing a strong platform for our wider Family portfolio.
In short
Peppa Pig's worldwide success and entry into new markets and positive developments elsewhere in the business have put Entertainment One ahead.