As Britain goes to the polls after a six-week election campaign that we can all agree has felt much longer, there is one ray of light guaranteed to cheer up the election-weary public: dogs at polling stations.
Read more: Follow the General Election 2019 live with our blog
With three elections in four years, Britons have had plenty of chances to take their canine companions along to polling stations recently, and posts captioned #dogsatpollingstations are now a mainstay of election day Twitter.
Although political pooches are allowed to join you in polling stations they have to be kept under control and cannot disrupt proceedings, so it's important to ensure that your dog is not overwhelmed by the beauty of the democratic process.
Larger animals such as horses can be brought along to polling stations, but have to be tied up outside.
Even politicians and celebrities are getting in on the #dogsatpollingstations fun today, and we'll be keeping this page updated throughout the day with all of the best democratic dogs.
If you want your canine friend to be featured, send a photo of them outside your polling station to news@cityam.com and include "election dog" in the subject line. Don't forget to tell us their name! We will also feature other pets, so there are bonus points for novelty.
Main image credit: Sarah Key

5.15pm Final polling station pooches
Alright folks, it's time our final dogs at polling stations of the day. Thank you to all our readers who sent in pictures, you've made an election-weary news team very happy.
We leave you with Crash, a majestic and democratic Dalmatian…
And last, but very much not least, here is SANTA PAWS!
4.37pm Yet more dogs!
This is Bailey – a candidate for the "Labourdor Party", says owner William Zurawel.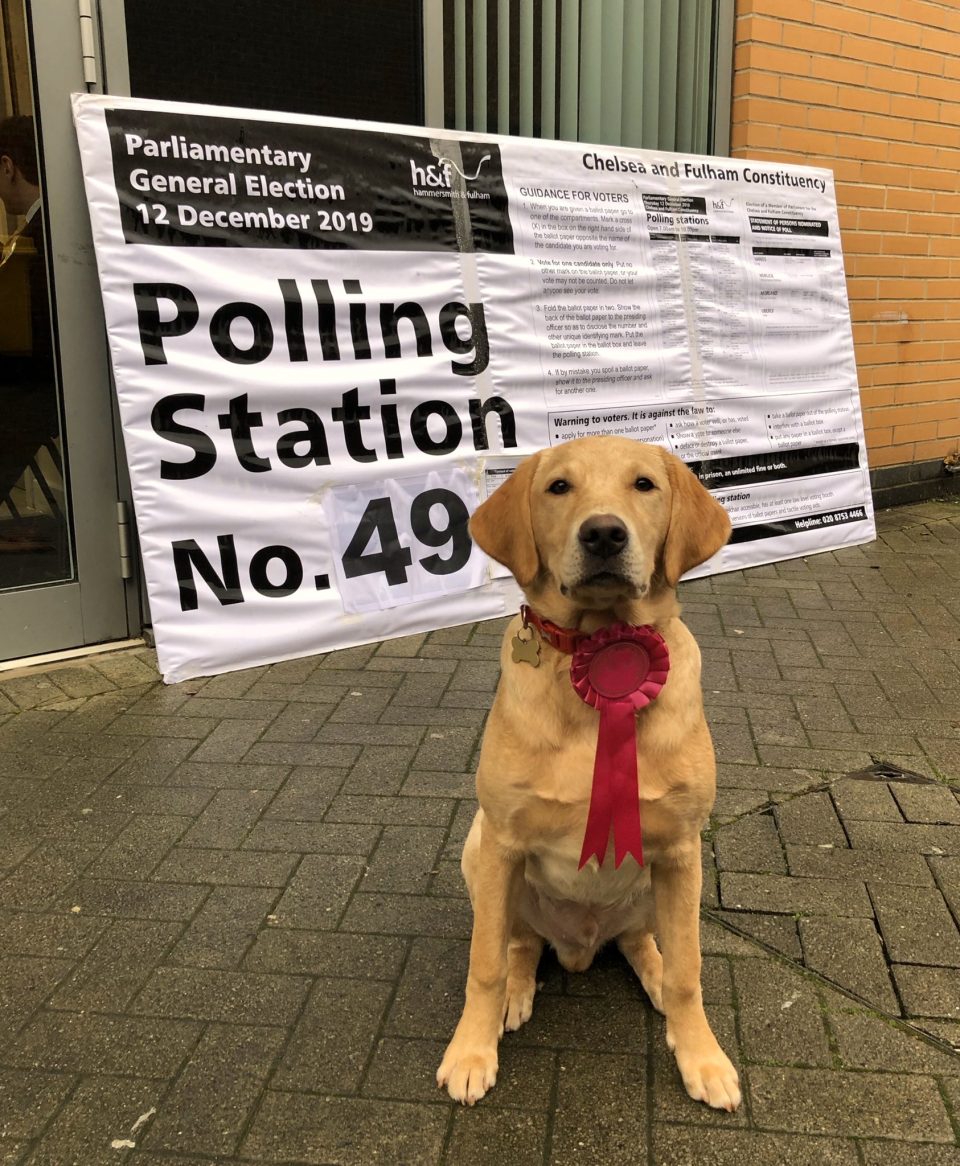 I may be biased because she is my family's dog, but I think our next entrant is very cute. This is Pippi, pictured keeping warm in her favorite jumper outside a polling station in Northumberland.
She is refusing to look at the camera because she is so fascinated by the wonders of the democratic system.
3.25pm Dog in a snood
This is Jack, who is wearing a snood. A snood! For a dog! What a stylish way to keep warm while doing your bit for democracy. Thank you to Sarah Key in Loughborough for sending this picture in.
3.14pm MORE DOGS
Continuing our canine tour of the country, here is a very alert looking pup in Northumberland, who looks like he's preparing to bark at passersby to remind them to vote. Good dog.
And closer to home, here's a cute sausage dog waiting outside a London polling station who seems like they've had enough of this election already. We sympathise.
2.51pm Racing to the polls
Not content to let dogs have all the fun, horses are muscling in on the democratic action too.
Some voters have opted to travel to the polling station on horseback. Sadly, as mentioned above, horses are not allowed inside polling stations so their trusty steeds have to be left outside in the rain.
We don't have any information about these particular horses' political allegiances, or their thoughts on the first past the post system (We know. We're sorry.)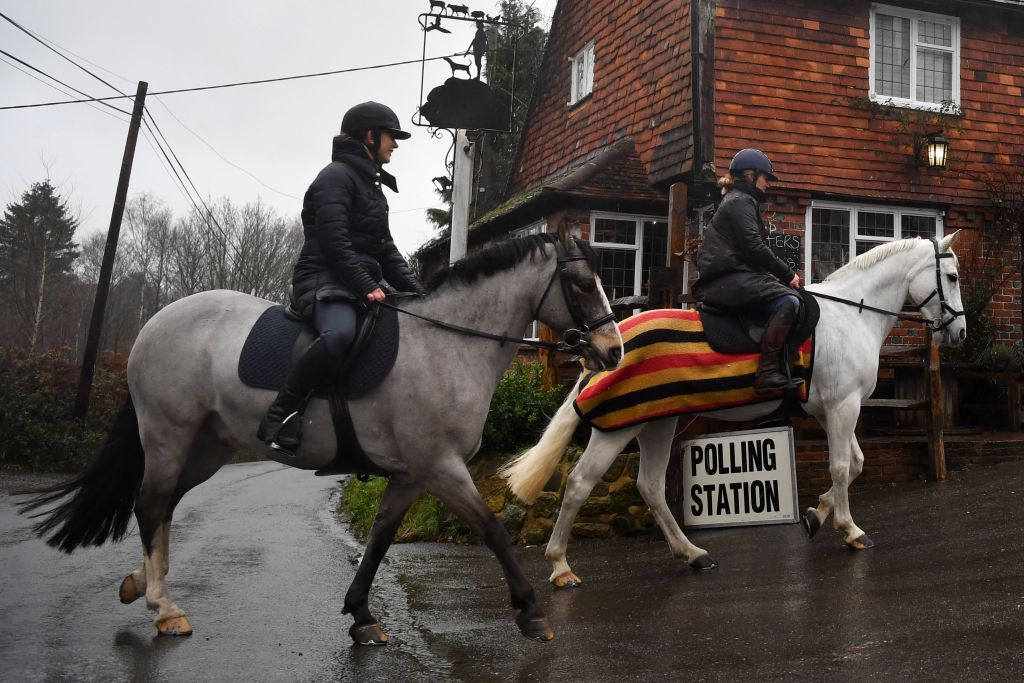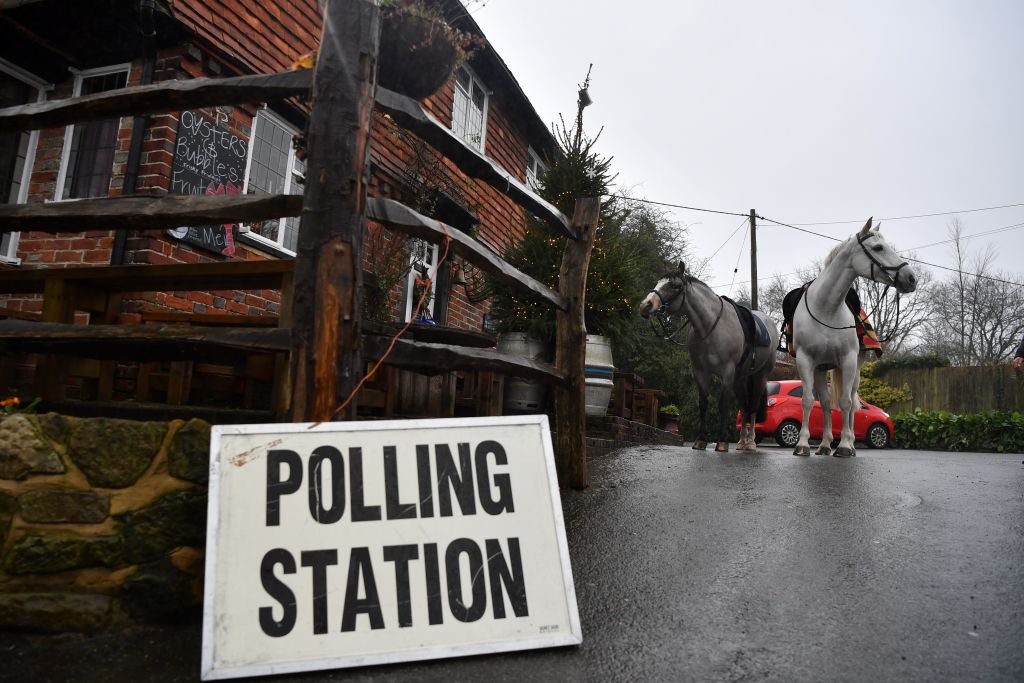 2.14pm More readers' dogs
Thank you so much to our lovely readers who've been sending in snaps of their dogs at polling stations.
Here's Bess the Labrador. Owner Richard Swann says Bess was "doing her bit" in Bromley today.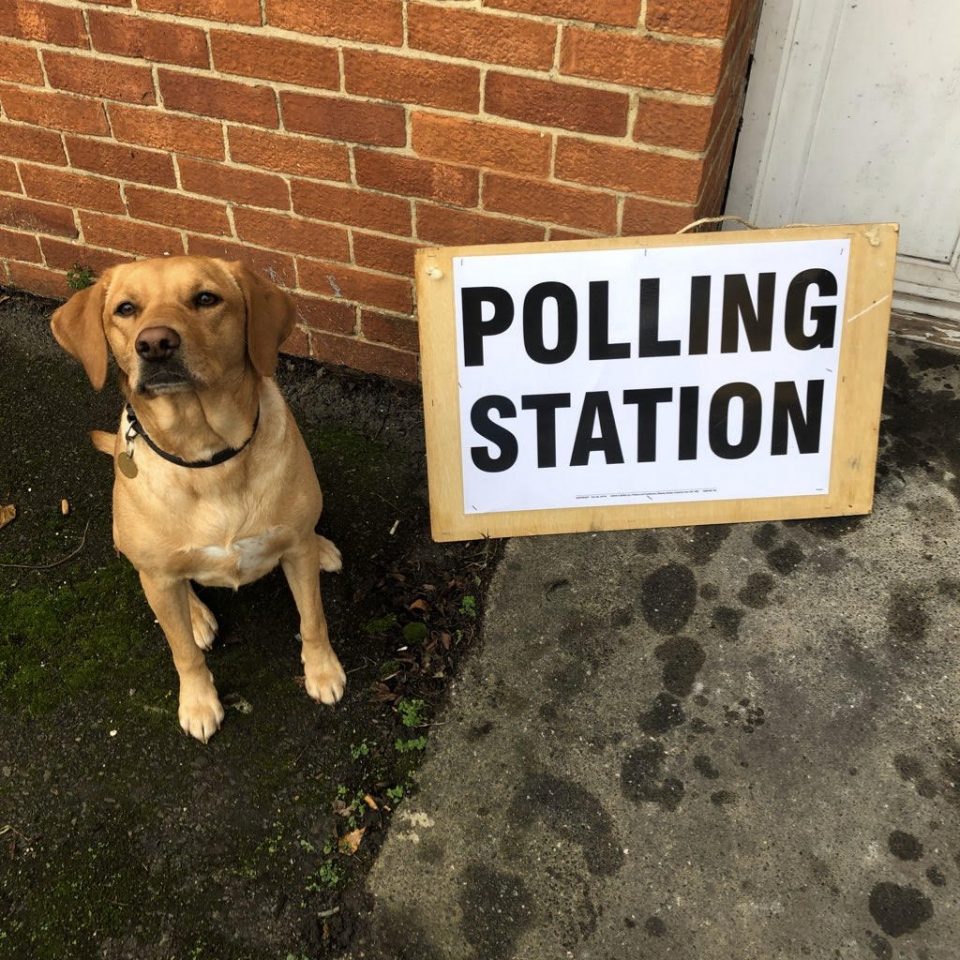 And here's Rosie, a German Shepherd owned by Michael Austin.
Here's Alfie, a cockapoo owned by Emily Robb in Chelmsford. Alfie even dressed up to match his polling station – very smart!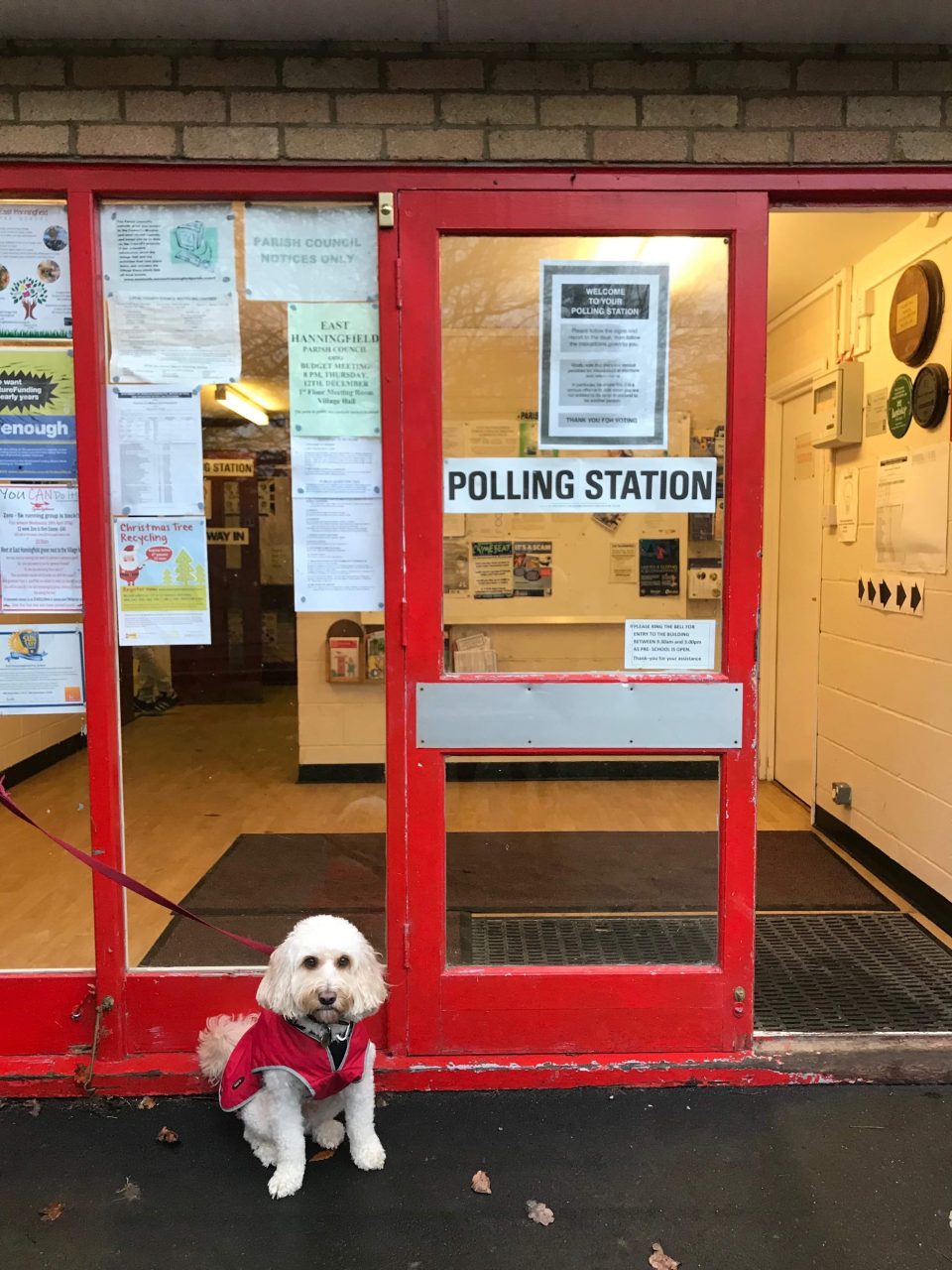 1.05pm Hacks' hounds
Important news: BBC journalists Norman Smith and Nick Robinson both have very cute dogs, and they brought them along when they cast their votes today.
12.01pm Roundup: politicians
We've already seen the Prime Minister and Mayor of London taking their dogs to vote, and former leader of the Scottish Tories Ruth Davidson is getting in on the action.
Here's Davidson's dog Wilson looking rather mournful:
He may not have a dog, but Liberal Democrat Ed Davey didn't let that stop him joining in the election day fun. Instead, he posted a picture of his guinea pig, Carrot.
Can you top a guinea pig? Send your political pet pictures to news@cityam.com
11.35am Galloping to the polls
Here's our first horse of the day, courtesy of Wiltshire Council. Although we do support any horses with causes, we're afraid we can't endorse these puns…
But don't worry, we haven't forgotten about the main event: the dogs. Here's a beautiful hound outside a Hartlepool polling station.
However, this pooch did not seem to have much respect for the electoral process…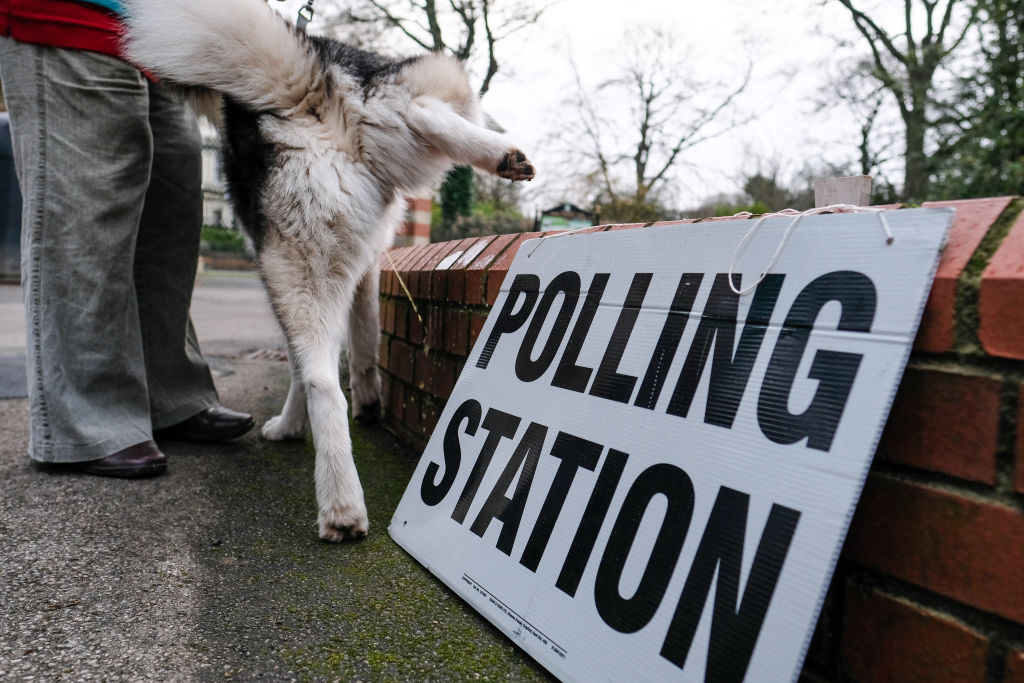 11.20am Epsom & Ewell and Dulwich village
Many thanks to reader Simon Lock for sending in this picture of his golden retrievers Hattie and Luna at Epsom & Ewell polling station early this morning.
Canine turnout also looks strong in Dulwich Village this morning, with Kate Turner posting a picture on Twitter of eight dogs tied up outside the polling station.
9.01am: Boris Johnson brings Dilyn to polling station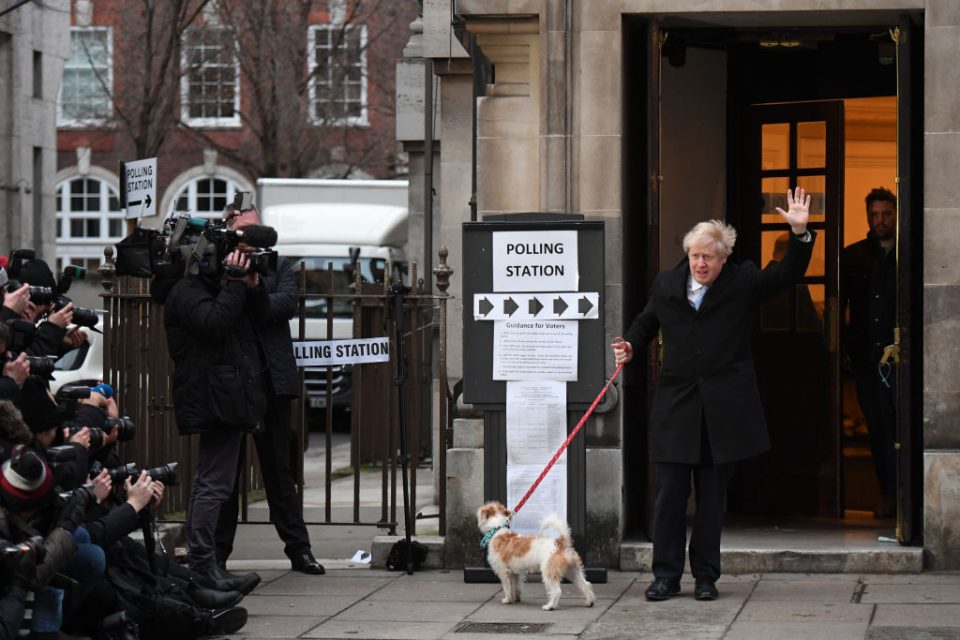 Prime Minister Boris Johnson cast his vote this morning accompanied by his Downing Street doggo, Dilyn. Meanwhile London mayor Sadiq Khan came to cast a vote for Labour with Luna the labrador.

It's not just dogs taking part in the electoral fun. Here's a fox snapped outside a Battersea polling station this morning:

And if your dog is worried about the rain forecast for most of the country, here's some fashion inspiration to help them brave the bad weather to trek to the polls: