Ed Warner: The row over sport banning Russian players will be even bigger in 2023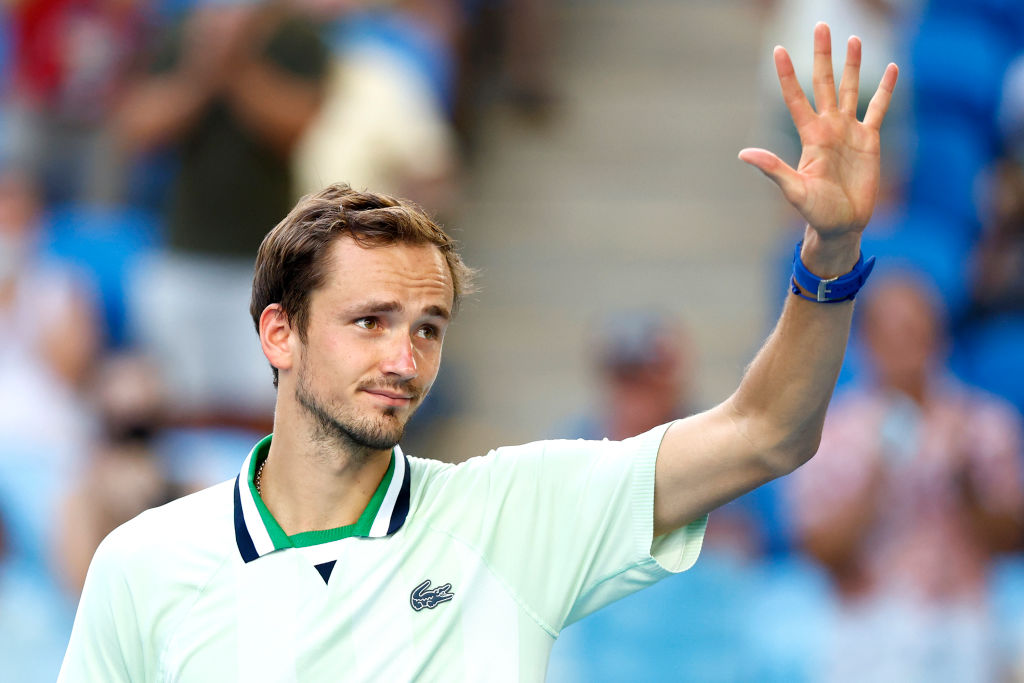 Wimbledon will be here before we know it. Expect the debate about banning Russian and Belorussian stars to start soon.
The tug of war over the two bellicose nations' participation at next year's Paris Olympics and Paralympics has already begun. Schisms within sports and between their leaders and politicians are inevitable.
Last year, backed (or if you prefer, pressurised) by the UK government, the All England Club barred the likes of Daniil Medvedev from Wimbledon, which had its ranking points removed as a result. I applauded them at the time, and see no reason now to change that view.
Contrary to the naysayers' arguments, the tournament did not suffer a mass exodus of big-name players more anxious about their global rank than the prize money and cachet on offer in SW19.
Within the All England's committee room, however, things have been reported to be fractious, with its leadership under fire for failing to hold onto the Championships' ranking status. The fear is that they could get away with a ban once at short notice, but not for a second time.
As the war in Ukraine continues with little prospect of a resolution any time soon, so the chances of a U-turn increase. Britain is on its second PM since last year's ban and the zeal to exert pressure on Putin's regime through sport may well have abated in favour of commercial pragmatism.
It's fair to say that the International Olympic Committee is anxious to see Russia in Paris. The only uncertainty is how keen president Thomas Bach is privately to see its flag flying rather than the country's athletes competing under a banner of neutrality.
The sports that make up the Games, however, have adopted a range of stances, some quite a way from the IOC's. Things could yet get messy.
World Athletics, responsible for the marquee Olympic sport, has granted neutral status to a string of Russian athletes who it deems to be clear of the cloud of state-sponsored doping that has hung over the sport.
But because of the Russian invasion of Ukraine, it does not currently allow them to compete in major events on the international circuit.
The qualifying period for Paris in most athletics disciplines begins on 31 July. Russian athletes who have passed through the anti-doping filter could struggle to find competition opportunities that allow them to qualify.
If they do, they may then be subject to an ideological battle between the IOC and World Athletics before their ability to run, jump or throw in Paris is decided.
The French government will already be seeing a massive public relations challenge heading its way. Where will it position itself if Ukrainian athletes decline to compete against 'neutral' Russians and Belorussians in Paris next summer?
Can it stand up to the IOC? The UK's conundrum over bans from a fortnight's worth of tennis is as marbles to medicine balls by comparison.
Man marking
My new year reading included Expected Goals by Rory Smith. It wasn't quite the book I expected, but no less enjoyable for that.
Instead of explaining why it is that teams up and down the league ladder now insist on playing out from the back when they haven't the talent to emulate Manchester City and inevitably come a cropper, Smith tells the stories of some of the outsiders who have attempted to inject data analysis into the heart of football.
There are more tales of frustration than success, and a sense that what the author was unable to see within the top clubs is where the real interest lies.
Hard to disagree, though, with his conclusion that the arms race has moved from the mind-numbing grind of data gathering to its interpretation. Worth a read, if only to be able to be able to huff when pundits mention xG.
I was more taken with an interview with Nigel Redman in The Telegraph last weekend. England Rugby's performance director talks through the painstaking process over two years of identifying Steve Borthwick as the replacement for departed head coach Eddie Jones.
His team constructed a global coaching index that assesses over 250 coaches worldwide. Redman claims to have interviewed 67 himself as part of the process.
"Are we looking for the best coach? Or the coach that is available? Nothing was taken for granted because I don't know what it takes to coach England. I'm not an expert here," said Redman.
No doubt the coming Six Nations will lead to knee-jerk judgements on the appointment of Borthwick, but the thoroughness of the search is a credit to Rugby Football Union CEO Bill Sweeney and will in time prove an interesting test of data gathering and analysis in a sphere of sport often driven by gut and emotion.
Suited booted
What might Geoffrey Boycott think of the RFU's hiring strategy? Three times in a column this weekend he referred to the 'suits' at the England and Wales Cricket Board.
The chair and CEO in question are both new in post, and happen to hail from cricket's most successful county. Sport leadership has long been held back by such a "show us yer medals" mentality among former players.
The elephant and the flea
More nonsense from MPs on sport. This time it's the turn of the Public Accounts Committee, which used a 28-page report into grassroots sport and physical activity to thrash Sport England.
I'm no apologist for the quango, although organisations I chair have been grateful recipients of its funding over the years.
I'll also be the first to agree with the committee that there has been no meaningful participation legacy from London 2012 – and suspect there won't be one from the Birmingham 2022 Commonwealth Games either.
But to chide Sport England for only a modest rise in the nation's fitness is delusional in overlooking the multiple societal forces driving inactivity and poor health.
"Sport England should, by June 2023, write to us with details of the barriers for the least active groups, and what action it is taking to address them to ensure people have the motivation, confidence and opportunity to participate in physical activity," MPs said in the PAC report.
The annual cost of NHS England is around £160bn; Sport England spends a little over £300m. Will any government ever grasp the nettle and treat physical activity as a means to reduced care costs worthy of genuine integration into its overall health strategy?
Until one does, MPs will continue to be able to feel good about scoring their cheap points.
Ed Warner is chair of GB Wheelchair Rugby and writes at sportinc.substack.com