Crillon-le-Brave: Cycle one of the Tour de France's most feared routes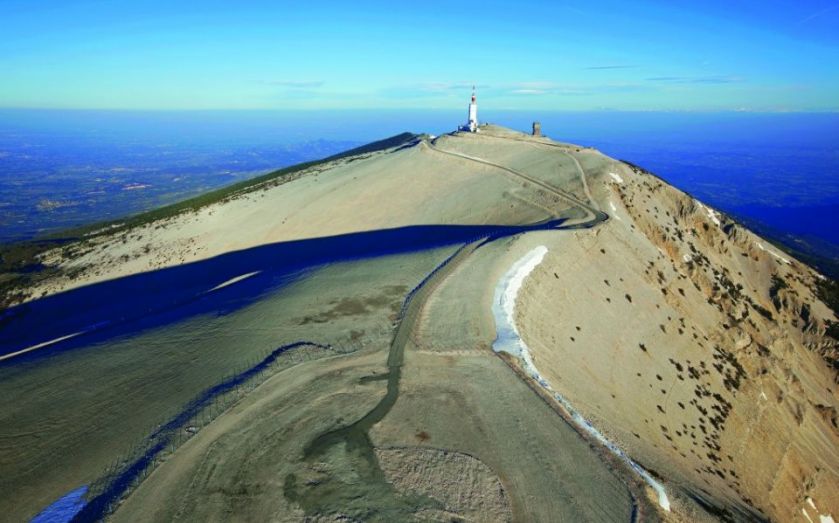 The wonderfully named Crillon-le-Brave is a picture postcard Provencal village that lies at the foot of the Mt Ventoux. The village suffix – le Brave – was added by Henry IV in the 14th century in honour of his swashbuckling general Louis des Balbes de Berton de Crillon. He was apparently "the brave of the brave", which is the opposite of how I feel as I stand beside my bike at the foot of the 1,912m mountain, quivering at the thought of having to cycle up it.
The four-day trip sounded so appealing when it first popped into my inbox a few weeks ago. A long weekend of cycling in Provence, based at the luxurious – and by that I mean luxurious – boutique hotel Crillon-le-Brave. All standards of cyclist are catered for, I was assured, and with the confidence of a London commuter (my bike is so basic its flashiest parts are a kick-stand, ding-dong bell and child seat), I signed up.
This inaugural cycling weekend is the brainchild of the hotel's owners, Peter Chittick and Craig Miller. Before they went into the hotel business 25 years ago, they ran cycling tours around Europe and this showed in their knowledge of local routes through olive groves, vineyards, lavender fields and their knack for finding a great place for lunch (inevitably at the top of a hill). But it's their ability to seamlessly and sensitively manage a group of strangers (cyclists & non cyclists) that proved key to the success of the weekend. The size of the group is purposefully capped at around 25 to prevent the hotel becoming over-run with middle-aged, lycra clad bodies; a tactful concession to other hotel guests.
Peter and Craig manage the bike rental if required and provide official timing equipment (no cheating on this one). I requested the lightest piece of carbon fibre available, having seen the seriously expensive kit my fellow guests had brought.
The weekend is geared to appeal to the pleasure-pain seeker in all of us. The pain is delivered by the lung-busting climb of Mt Ventoux, the pleasure from the hotel spa, the food and the gold-standard service of this wonderful place. Each day has a ride with varying levels of intensity, each evening a meal of delicious locally sourced cuisine. Pigeon served with a pumpkin puree and onion sauce – food fit for an athlete. Predictably, as the group relaxed into the trip, the Vacqueyras from the nearby vineyard also flowed more freely.
Mt Ventoux itself is simple rather than spectacular. At 1,912m, it isn't that high, and it has none of the majesty of the Matterhorn or the imposing might of Mont Blanc. But with 1,600m of vertical elevation, over 22kms of unrelenting gradient, it's hard going. In fact, it's considered to be one of the most fearsome climbs in the Tour de France.
Intriguingly Mt Ventoux lays claim to being the first mountain to have been climbed for pleasure in 1336 by Italian poet, Francesco Petrarch. Apparently Petrarch's observations on how he felt climbing Mt Ventoux even lead some to claim that it marked the beginning of the Renaissance, no less. So would it be as pleasurable over 650 years later on a bike?
A modest start turns nasty after about 5km, at which point the next 10km are at an unrelenting average gradient of nine per cent until you emerge from the tree line and, mercifully, things flatten out a shade for a few kilometres. The final 1km is perhaps the cruelest, with the gradient rising to 10 per cent. A poignant reminder of the arduous nature of this physical challenge – as if any were needed – is the memorial to British professional cyclist Tom Simpson who died attempting the climb during the 1967 Tour de France.
Once at the top, the agony of getting there disappears, and I'm immediately filled with an immense feeling of achievement, elation and camaraderie with my fellow cyclists. Walter from El Paso, Texas, easily in his 60s, had flown in because Mt Ventoux had been on his "bucket-list". Mils from Belgium was treating himself to this weekend for his 67th birthday. Mike and Cindy from San Francisco (eventually) cycled their tandem to the top.
A non-cycling member of the party merely shakes her head in bewilderment at our collective foolishness. Why put yourself through all that pain when there's a perfectly good massage at the hotel spa followed by a beautifully prepared lunch served on a terrace overlooking a gorgeous autumn scene in Provence? I guess she had a point. The hotel is a delight; a higgledy-piggledy collection of seven different buildings with umpteen nooks, crannies and terraces.
The hotel feels restorative. It has distilled the good-life of Provence – outstanding local food, great wine and a leisurely pace – and added service and luxury. Peter and Craig's passion for cycling made them love Provence and they have created an environment that allows guests to embrace this, whether wannabe pro cyclist or complete amateur; walker or pool-sider.
This place is good for the soul. If I had to find fault I could moan that the wifi coverage was patchy. It's very much an adult's hotel as opposed to a family getaway. And if you want nightlife forget it.
Having set a less than record breaking time for my climb up Mt Ventoux, I am now committed to returning next year.
Tom Simpson
British professional cyclist Tom Simpson tragically died on Mt Ventoux while riding the 1967 Tour de France. He is fondly remembered by cycling communities around the world.
NEED TO KNOW
FLIGHTS:
Crillon-le-Brave is about 75 minutes drive from Marseille. There are three British Airways flights per day from Heathrow.
ACCOMODATION:
Prices range from €970/£770 for single occupancy and €1,370/£1,088 for two people sharing a Superior room including dinner and breakfast each day during the three night cycling weekend.
To book, email reservations@crillonlebrave.com, or telephone +33 (04) 90 65 61 61.