Lord Mayor's Show 2014: Crowds line the City to see Alan Yarrow take over from Fiona Woolf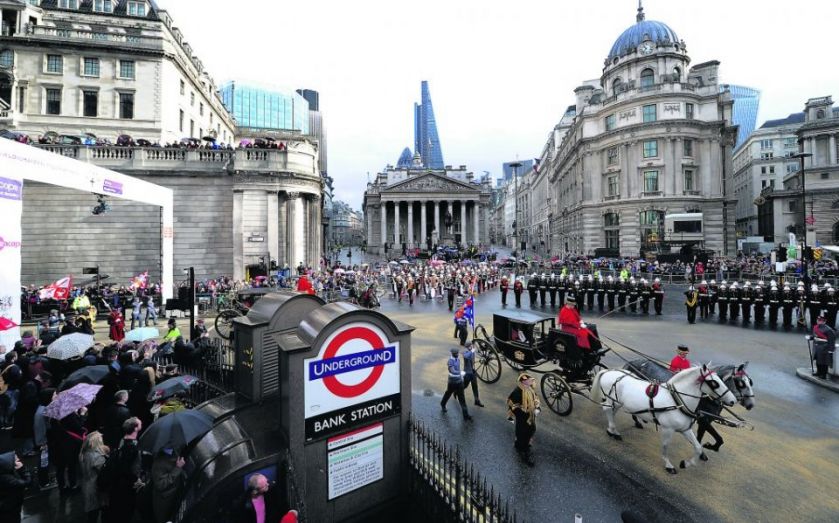 Thousands of people lined the City's streets on Saturday to enjoy the 799th Lord Mayor's Show.
The spectacle saw new Lord Mayor Alan Yarrow sworn in to take over from outgoing mayor Fiona Woolf. It also included marching bands, military formations and various carriages and walking performers.
Before boarding his golden carriage, the Lord Mayor travelled down the Thames on QRB Gloriana, the barge on which the Queen travelled during her Diamond Jubilee flotilla. It made its way to St Katharine Docks, where the Lord Mayor disembarked for the start of the street parade. The show was originally a river pageant, but has been on land since 1857.
The rain held off as the Lord Mayor's carriage left from its start point at Mansion House at 11am and snaked up to St Paul's, where Yarrow received a blessing, before signing an oath of allegiance at the Royal Courts of Justice.
Some 500,000 spectators watched the three-hour procession, which included 7,000 participants, 180 horses, 140 vehicles and 19 bands.
Travelling ahead of Yarrow in a separate carriage was the City of London's copy of the Magna Carta, which delighted spectators ­– particularly the bewigged judges outside the Royal Courts of Justice.
The Magna Carta was issued in the same year as the Show began and will be celebrating its 800th anniversary through a series of commemorative events in 2015.
"I have been Pageantmaster for 23 years and there has never been a more special show than this," said Dominic Reid, the Pageantmaster of the Lord Mayor's Show.
"Having the City's own copy of Magna Carta as the centrepiece is a fantastic opportunity for us to open the global celebrations of the 800th anniversary… and its central importance to the rule of law and the establishment of human rights."
The show finished at around 5.15pm with a fireworks display over the Thames, which lit up the skies between Blackfriars and Waterloo Bridges, despite the heavy rain.