Checking into Lord Byron's old love nest, Durham's Seaham Hall
Now's an excellent time to go to Durham and the surrounding countryside, finds Adam Bloodworth
WHERE: Incredibly posh students, a massive Cathedral, and music blaring from behind stately walls to signify where the studying is absolutely not happening. The northern city of Durham can feel subsumed by southern students, but go on a weekend to get more of a local feel and it's really rather lovely.
WHAT TO DO: I spent a night at the Forty Winks hotel to soak up the city before heading a 20
minute drive towards the coast, to the remote beaches that inspired Lord Byron, for a stay at Seaham Hall. Both hotels are signifiers of how Durham's hospitality scene is flying as high as those cathedral turrets right now. At the Forty Winks, beautifully decorated rooms overlook the Cathedral, and at Seaham Hall, they're experimenting with their first ever tasting menu. We tried it and it's worth travelling north of Watford for. But more on that later.
I sauntered around in a dressing gown and read Byron's Don Juan to my bemused friend over a glass of champers. (She loved it, I'm convinced.)
STAY: Forty Winks is a pristinely decorated and intimate townhouse. So intimate, in fact, it's worryingly easy to wander around like you own the place. Yes, those are my Cathedral views from the bedroom window, and that's my chaise longue to relax on, thank you very much. I'll stay here forever, if you don't mind? Actually, we had to get a move on, as we had a room booked at Seaham Hall, one of the plushest properties in the north.
Lord Byron would agree: he stayed here while courting Ada Lovelace and one morning I took a walk down Lord Byron's Walk to the nearby beach in homage to the literary great. The Ada Lovelace Suite is allegedly where Byron wooed his lover, but we had an Executive Suite with sea views. One night I sauntered around in a dressing gown and read Byron's Don Juan to my bemused friend over a glass of champers. (She loved it, I'm convinced.)
Take time to enjoy the hotel's grand hallway entrance, which has been given modern design touches but mostly just feels exactly like the sort of lobby Lord Byron would have hung around in, with endlessly high ceilings and a sweeping staircase for photo opportunities. The Dining Room, the hotel's main restaurant, is celebrating the launch of a rather delicious tasting menu. We ate next to a portrait of the Lord himself, next to a brilliantly high window. The menu changes with the seasons and currently features tempura of Shetlands halibut and duck a l'orange. It's a little slice of Mayfair in Durham.
THE SPA: When you aren't eating, head to the spa. Guests traverse a wooden boardwalk over water to get there. If that sounds dramatic, that's because it is. The boardwalk leads to indoor and outdoor pools, my favourite of which is a steaming hot outdoors spot.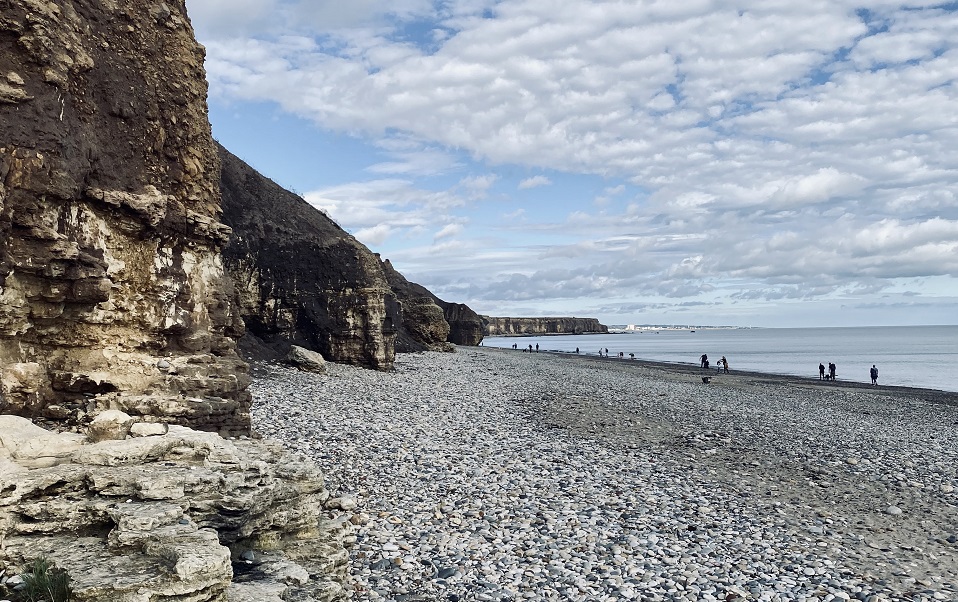 OTHER THINGS TO DO: Don't forget to walk around the grounds, where benches provide great perspectives of the 17th century property. The beach is also a five-minute walk away. Look for shiny pieces of glass that have been rounded by the sea. A glass factory used to inhabit this stretch
of the coastline and over 100 years later locals are still finding colourful shards. One local man told me about 'multis': rare pieces of glass that have been dyed two colours rather than just one. Find one of those and the locals will forever be proud.
Love Seaham Hall so much that you don't want to leave? Three Residences with sea views on the hotel's grounds are up for sale, offering Londoners a permanent, year-round countryside escape.
Visit Seaham Hall yourself
LNER goes from London to Durham, book at lner.co.uk; rooms at the Forty Winks start from £180; rooms at Seaham Hall start from £295; seaham-hall.co.uk and 40winksdurham.co.uk