Brits want to stop the boats, but they also want closer trade ties with the EU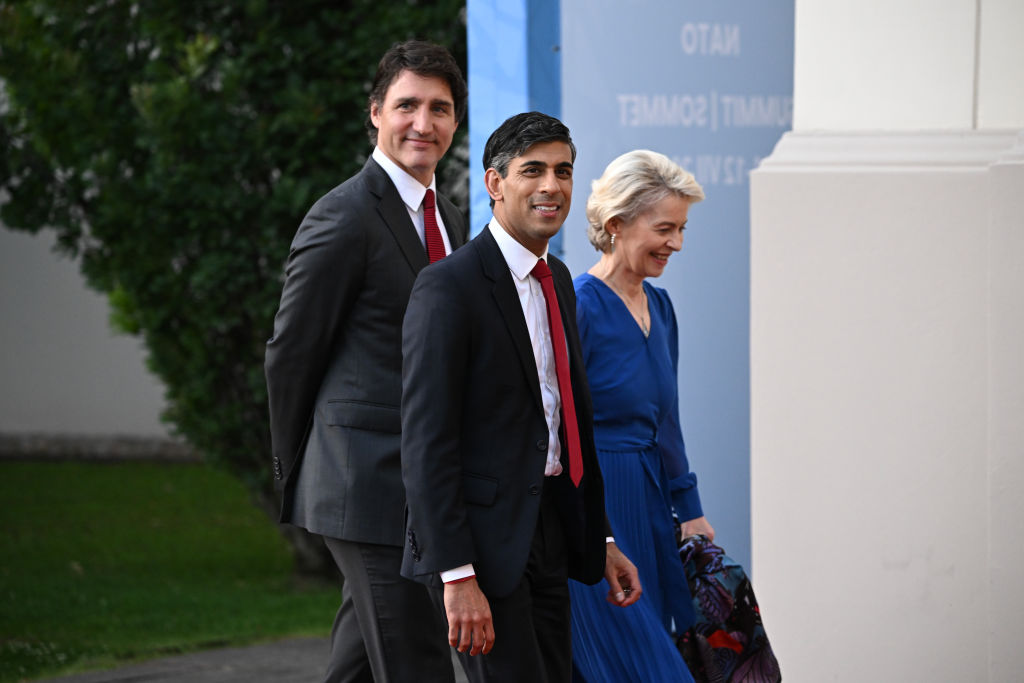 Sunak's new laws to stop illegal immigration via boats on the Channel is overwhelming popular among voters, but those same people also want a warmer relationship with Europe, writes Eliot Wilson.
Foreign policy almost always has a whiff of politically ionised air. Experts, whether real or self-appointed, can flourish, and this means that it can be quite difficult to establish what the electorate actually thinks.
Since 2019, the British Foreign Policy Group, a think tank, has carried out an annual survey of public opinion on foreign policy and global affairs, in an attempt to fill this significant lacuna. It is instructive to examine the data and pick out one or two major issues on which the government might be more attuned than it has so far.
We left the European Union formally more than three years ago, but the wounds remain exposed. But what do people actually think about our relationship with the EU? Of those surveyed, 61 per cent wanted to see trade barriers between the UK and the EU lowered, a figure which barely diminished—still at 58 per cent—when elicited only from those who had voted Leave. It is often now claimed that buyers' remorse has set in on the Leave side of the referendum fight, and that, by implication, a future poll would see a majority desire the resumption of the UK's membership. Given the diabolical and close nature of the referendum itself knowing exactly what people think is important.
It is not as simple as a majority of the electorate wanting to undo Brexit. I suspect these data suggest something more sophisticated, an acknowledgement that something changed irrevocably when we left the EU but that our departure should not mean we do not seek a warm and mutually beneficial relationship as time goes on. Like any bad break-up, for a while it can be too raw to consider, but in the end you must co-exist.
The UK's departure from the Single Market was always going to mean some kind of tariff regime for a while. The EU had to see us suffer for a period, if only to discourage others. While the UK imports £430bn of goods and services to the EU, there is £340bn going the other way. These big numbers suggest a degree of mutual benefit, and it is in all parties' interests that we begin to forge a freer market. Yet the idea of simply rejoining the EU is a policy to which even the Liberal Democrats will only subscribe under very specific conditions, and which has rarely commanded a majority in the opinion polls.
The BFPG survey results suggest that our political leaders need to reset their approach. The EU needs to stop being our reflexive whipping boy; instead, both sides must draw breath, accept the current situation, and look to a new, closer relationship in future, rather than one which is simply held up against the status quo ante for comparison. That is what finds majority support in the survey, and the government would benefit from rethinking EU policy through that prism.
The other timeous observation from the survey is on the emotive subject of "stopping the boats". Last week, amid rancour and legislative bloodshed, the Illegal Migration Act 2023 was given Royal Assent. Its passage through Parliament was a nasty business characterised by bad faith and insults, but support among the electorate for the legislation stands at 54 per cent, with only 23 per cent opposed to it. This gives the lie to the opposition's depiction of a country united in outrage at the cruelty of the flint-faced Tories: the act may have its flaws, but there is clearly a desire for something to be done to address the flow of illegal migrants across the Channel. It is interesting to note, in terms of dealing with this problem, that public trust in France has fallen from 55 per cent to 46 per cent in the past year. Less entente cordiale, heading more towards entente froide.
The government talks a great deal about "the will of the British people". Here is some hard evidence of what they actually want. Rishi Sunak may, as time goes on, find he has done himself some good by pressing on with the Illegal Migration Act, even if it has to be refined; his next task, or perhaps that of an incoming Labour government next year, is to find a way to reboot our relationship with the EU.
We need to get beyond a sour and suspicious period and accept our new reality, but find friendly and creative ways to improve on that baseline: we have chosen a future of legislative independence and sovereignty but we are still close neighbours with close economic ties. That really does seem to be the will of the British people.