Bolt undecided on 2017 title defence in London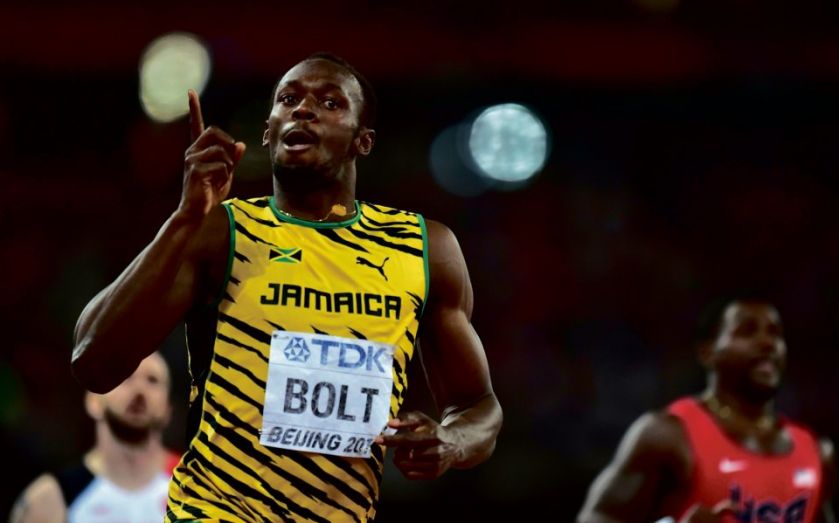 SIX-TIME Olympic champion Usain Bolt admitted he is undecided on whether he will defend his twin sprint titles at the 2017 World Athletics Championships in London after securing 200m gold in Beijing yesterday.
Bolt won his fourth successive 200m world crown by defeating American rival Justin Gatlin, just as he did in the 100m on Sunday, in the Bird's Nest stadium with a time of 19.55 seconds – the fastest this year over that distance.
The 29-year-old finished 0.19 seconds ahead of Gatlin, who has served two suspensions for drugs violations, while Britain's Zharnel Hughes ran a personal best 20.02 to finish fifth in his first major final.
"I really want to run at London but I think the sport is not as fun as it used to be, it's more taxing," said Bolt. "I can't enjoy it as much as I want to because I have to sacrifice a lot more.
"It's 50/50. I tell my coach I want to, and he says if I really want to and I'm serious we can do it, but if he thinks I'm not serious he is not going to let me do it. We will see if I'm serious when the time comes."
Bolt's celebrations were interrupted when he was unintentionally knocked to the ground after a cameraman lost control of the Segway with which he was trailing the Jamaican. But his jubilation could not be subdued having clearly being irked by Gatlin's comments in the build-up to the second leg of their duel.
"Why I really celebrated was because Justin Gatlin said earlier in the week that he was going to bring out something special for the 200m," added Bolt, who has not lost at a global championships since 2008.
"I was like 'yo, you don't talk about my 200m like that' so I had to prove to him that I am No1.
"It was never a doubt to me. Maybe I doubt a lot of people, but I never doubt that I will win my 200m. I wasn't worried. I knew I had to run the first 150m hard.
"After that, I looked across and I could see that Justin Gatlin was tiring and then it was never in doubt I would win the race."
Anguilla-born Hughes, a training partner of Bolt, said: "He is a legend. I even doubted him a bit but he knows what to do, so credit to him and congratulations to him."