Bitcoin market spots a green light at the end of a long and dark tunnel
Crypto at a glance
There's a splash of green across the boards this morning, as most major cryptocurrencies recover from recent losses.
Bitcoin is up two per cent over the last 24 hours, currently changing hands for around $32,500 and still within a now-very-well-established-indeed-thank-you-very-much range between $30-40k. Ethereum is also up, rising four per cent to $1,950 and pushing back to the $2,000 level it held for so long until Monday.
Today's big gainer is Solana (SOL), which is currently up almost 10 per cent to $30. The 14th largest cryptocurrency by market cap is a blockchain that was designed for highly scalable decentralised applications (dApps). It's still down more than 14 per cent over the past seven days.
The switch to positive price movement corresponds with a rise across traditional markets, with analysts crediting assurances by Federal Reserve Chair Jerome Powell that he's still not seeing "substantial further progress" on an economic recovery. This could signal that the US central bank will keep monetary stimulus going for the time being.
The big story to watch out for today is the long-awaited introduction of a new Bitcoin law into Paraguay's legislature. The bill follows a wave of excitement surrounding Central and South America's interest in cryptocurrency, which was sparked by El Salvador's recent decision to make Bitcoin legal tender. There's no suggestion that this bill will go to similar lengths, Congressman Carlos Rejala, who is presenting the bill, told Reuters that: "It is a bill of digital assets and it differs from that of El Salvador because they are taking it as legal currency and in Paraguay it will be impossible to do something like that."
Announcing the Crypto AM 3rd Birthday Unlocking Summer Party at Boisdale of Canary Wharf on Wednesday July 28…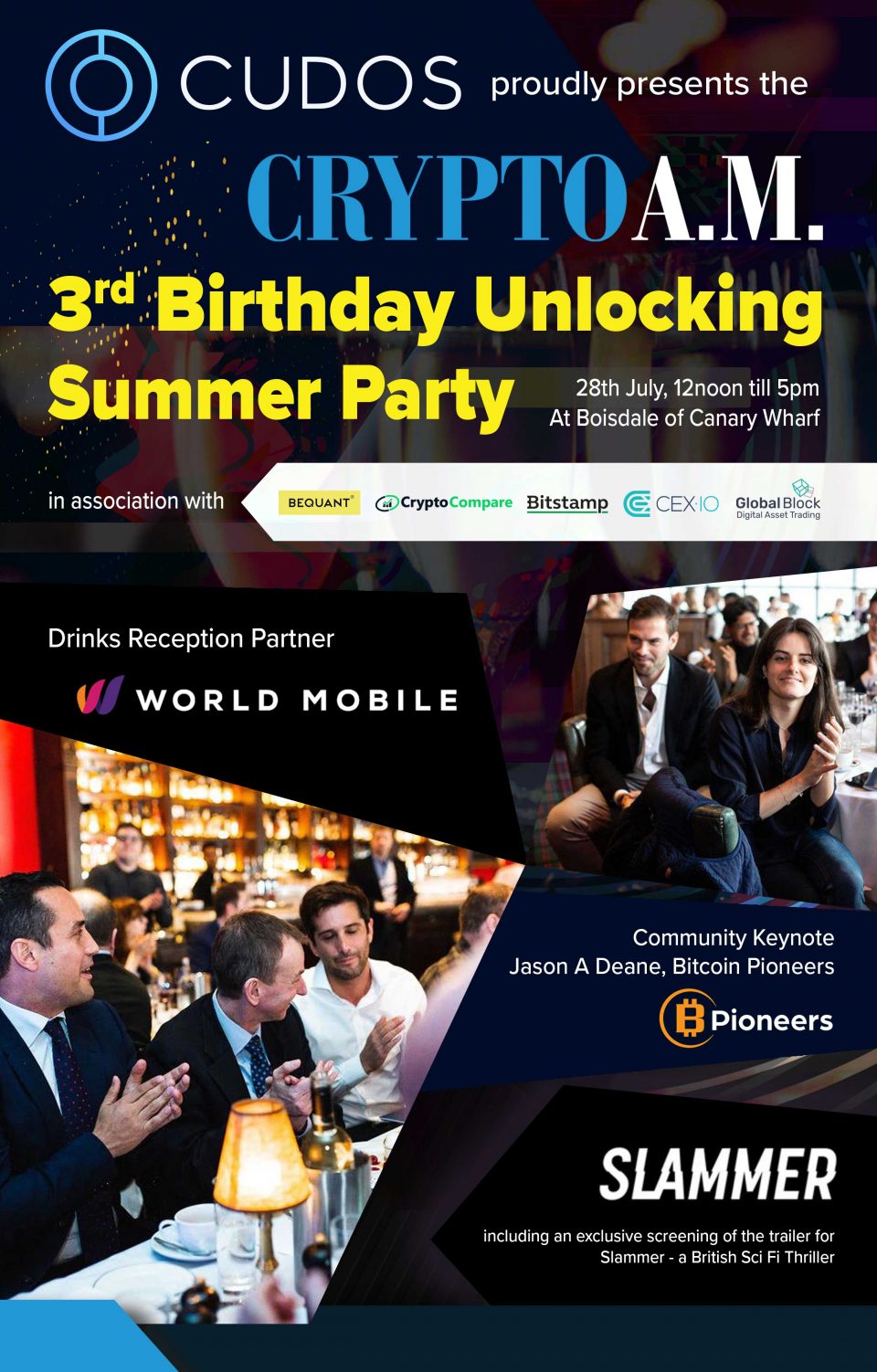 I am delighted to announce that the Crypto AM 3rd Birthday Unlocking Summer Party is a go!
An amazing champagne drinks reception followed by a three course summer lunch washed down with beautiful Mirabeau Azure Rosé! Followed by the chance to finally catch up and network with the community to the intoxicating beats of a Mediterranean beach club.
There will be a main keynote from Matt Hawkins, Founder & CEO of CUDOS, a community Keynote from Jason A Deane of Bitcoin Pioneers and a panel discussion around the 'State of the Crypto Union' moderated by Crypto AM contributor Alex Lightman.
I'm also delighted to announce that Ted Byron Baybutt the Director of British Sci-Fi Thriller 'Slammer' will be exhibiting an exclusive screening of the trailer to the film. He's bringing his film crew so who knows? Attendees might end up featuring in the film.
I'm hugely grateful to our partners CUDOS, World Mobile, BEQUANT, Bitstamp, CryptoCompare, CEX.IO & Bitcoin Pioneers whose generosity is enabling everyone to attend free of charge.
I am holding 10 tickets for readers to attend – if you'd like to apply please email me directly with your name, company and contact details explaining why you'd like to attend. I will let the lucky applicants know who they are next Wednesday. My email address is James.Bowater@cityam.com
Would you like to help spread the adoption and education of Bitcoin in the UK and even stack some Sats while you're doing it? Well, now you can!
The Bitcoin Pioneers community, backed by Barry Silbert's Digital Currency Group, was created to introduce Bitcoin to a mainstream audience in a meaningful way and now has members right across the UK.
We share tips, stories and ideas on how to encourage others to try Bitcoin for the first time. And, thanks to support from Luno, each Pioneer gets £500 of Bitcoin a month to share with beginners, helping them get started.
So, if you're passionate about Bitcoin, why not join today? Click here to find out more!
All feedback on Crypto AM Daily in association with Luno is welcome via email to James.Bowater@cityam.com ??
Yesterday's Crypto AM Daily in association with Luno…
In the markets
The Bitcoin economy
*Definitions and insights can be found at https://bytetree.com/insights/
Total crypto market cap
The total capitalisation of the entire cryptocurrency market at time of writing is currently $1,329,963,200,956.
What Bitcoin did yesterday
We closed yesterday, July 14 2021, at a price of $32,822.35, up from $32,702.03, the day before.
The daily high yesterday was $33,061.40 and the daily low was $31,639.12.
This time last year, the price of Bitcoin closed the day at $9,192.84. In 2019, it closed at $10,895.09.
Bitcoin market capitalisation
Bitcoin's market capitalisation at time of writing is $610.47 billion. To put it into context, the market cap of gold is $11.641 trillion and Facebook is $985.69 billion.
Bitcoin volume
The total spot trading volume reported by all exchanges over the last 24 hours was $19,977,822,169, down from $20,653,257,032 yesterday. High volumes can indicate that a significant price movement has stronger support and is more likely to be sustained.
Volatility
The price volatility of Bitcoin over the last 30 days is 62.83%.
Fear and Greed Index
Market sentiment today is 20.
Bitcoin's market dominance
Bitcoin's market dominance today is 46.36, Its lowest ever recorded dominance was 37.09 on January 8, 2018.
Relative Strength Index (RSI)
The daily RSI is currently 42.10. Values of 70 or above indicate that an asset is becoming overbought and may be primed for a trend reversal or experience a correction in price – an RSI reading of 30 or below indicates an oversold or undervalued condition.
Convince your Nan: Soundbite of the day
"We want the regulators and banks to also participate so that Paraguayans or foreigners can operate with these assets legally, because we know that illegal transactions exist here and in other countries. We want to be a crypto-friendly country."

– Carlos Antonio Rejala Helman, the Deputy of Paraguay
What they said yesterday
New Spike Lee joint…
New Paraguay joint…
New money joint…

Crypto AM editor's picks
Bitcoin resurgence in next six months could be massive, says intelligence report
A life of photography on the verge of stepping into the blockchain ring
Coinbase gets green light from German regulators
Nukkleus acquires London based Match Financial
Binance given the boot by UK financial watchdog
Ripple outpacing Bitcoin among UK crypto investors
Crypto AM: Longer Reads
City AM Markets: What is Decentralised Finance (DeFi) by Aave
Crypto AM: Conversation with James Bowater
Crypto AM: Market View in association with Ziglu
Crypto AM: Technically Speaking
Crypto AM: A Trader's View with TMG
Crypto AM: Mixing in the Metaverse with Dr Chris Kacher
Crypto AM: Visions of the Future, Past & Present with Alex Lightman
Crypto AM: Talking Legal
Crypto AM: Spotlight
Crypto AM: Founders Series
Crypto AM: Industry Voices
Crypto AM: Tiptoe through the Crypto with Monty Munford
Crypto AM: Definitively DeFi
Crypto AM Parliamentary Special
Part one of two – April 2021
Part two of two – April 2021
Crypto AM Events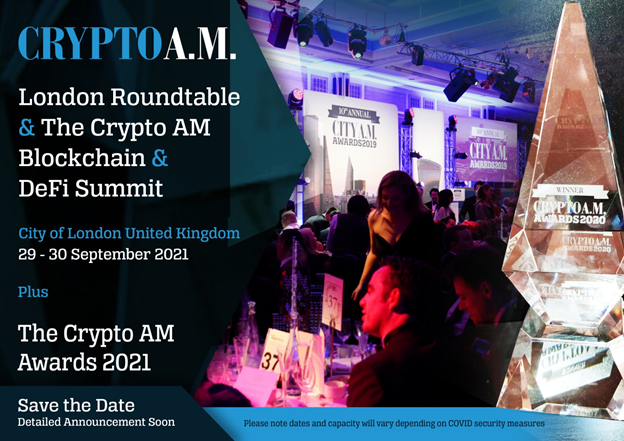 Cautionary Notes
It's definitely tempting to get swept up in the excitement, but please heed these words of caution: Do your own research, only invest what you can afford, and make good decisions. The indicators contained in this article will hopefully help in this. Remember though, the content of this article is for information purposes only and is not investment advice or any form of recommendation or invitation. City AM, Crypto AM and Luno always advise you to obtain your own independent financial advice before investing or trading in cryptocurrency.
All information is correct as of 08:00 BST