The more things change, the more they stay the same.
England start another Ashes series against Australia at Edgbaston on tomorrow with different names at the top of the batting order, but names who are grappling with the age-old problem of scoring runs.
Since Andrew Strauss retired in August 2012 England have used 18 different players as openers in Test matches. Just one – the man who partnered Strauss for the final years of his career and inherited his captaincy, Alastair Cook – can be considered an unqualified success.
Read more: 'It's not just a nostalgia trip': The Edge director Barney Douglas on his new England cricket film
Cook, who himself retired from international cricket last year to exacerbate the problem, is one of just three to have averaged over 32 in that period, with the other two underlining the extent of the slump.
Joe Root was an unenthusiastic opener who moved down to his preferred No4 position in 2016 and will now bat at No3, while Jack Leach propelled himself to the top of the averages by virtue of a miraculous 92 as nightwatchman against Ireland last week.
Some have been given longer runs than others, some have slid down the order and found success, and a few might still come good. But each of the other 15 names has endured familiar failings.
The Ashes represents an opportunity, albeit a difficult one, for Surrey's Rory Burns and Jason Roy to buck the trend and break the curse.
Improvements needed
Burns was deservedly picked following a run of remarkable consistency in the County Championship which saw him pass 1,000 runs for five successive seasons, but like many before him he has struggled with the step up.
The unorthodox left-hander averages just 22.28 from 14 innings so far and has been desperately out of form recently, going 15 first-class innings without passing 50 – a sequence which includes his brace of sixes against Ireland last week.
Roy, meanwhile, followed an inauspicious start at Lord's with a fluent 72 at No3 in the second innings to offer hope he can translate his one-day international prowess into the longest format.
England's all-rounder-heavy middle order is certainly a strength, but when you consider Joe Denly's uncertain position – now at No4, instead of No3 – England simply need improvements at the top. The hosts' perennial issue is an area which won't have gone unnoticed by Australia's battery of six fast bowlers.
"Australia will look to target that top order," former Australia fast bowler Glenn McGrath tells City A.M.
"If they can get on top of them early in the series then that can have a massive impact in keeping them down.
"I think this series is not going to be won by the bowlers, but by the batsmen. Whichever team fares best against the quality bowling attacks will win it."
Fuller length
While the batting line-ups of both sides are struggling with inconsistencies, the fast bowling looks strong across the board, with England's prize assets Jimmy Anderson and Stuart Broad facing off against Australia's array which includes Pat Cummins, Mitchell Starc, Josh Hazlewood and James Pattinson.
It's all about using the conditions, according to McGrath, who took 563 wickets in 124 Tests for Australia.
"In my first series over here in '97 we bowled a little bit too short in the first Test at Edgbaston and England won convincingly by nine wickets," he says.
"But then we spent two hours the next day off our long run bowling a fuller length – the right length in England – and then we were away [and won 3-2].
"You need to have a bit of experience and be able to adapt to it very quickly, because if you don't and you bowl an Australian length over here you're not going to be successful."
Australia know all about the need to bowl fuller. Starc (18) and Hazlewood (16) took wickets in the 2015 Ashes in England, while Peter Siddle, with Essex, and Pattinson, at Nottinghamshire, have learned the ropes on the county circuit.
Even withstanding England's top order woes, the tourists are going to be have to bowl out of their skin to surpass the all-time leading Test wicket-taking fast bowler Anderson and Ashes hot streak specialist Broad, who will be supported ably by Chris Woakes, Jofra Archer, Olly Stone and Sam Curran.
Cricket in the spotlight
Australia have not won an Ashes Test at Edgbaston since 2001 – the year they last won the urn away from home – and while an England win in Birmingham followed by a walkover may be desired, a close contest could be exactly what cricket needs to build on the euphoria of the hosts' World Cup win.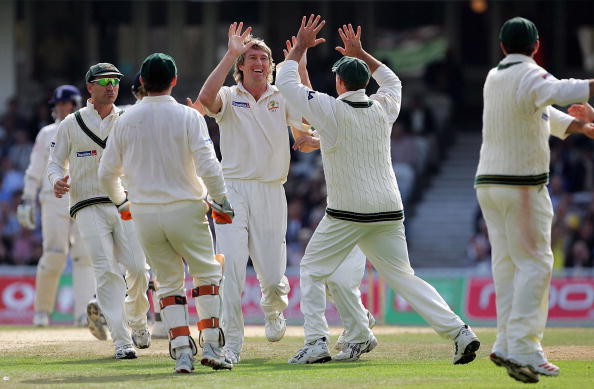 "In the 2005 Ashes series people were coming up to me in the street and saying that they normally don't watch cricket but now they can't miss a ball of it and were absolutely loving it," McGrath says.
Read more: England cricket chiefs must build on remarkable World Cup win
"For me that's a massive win for the game because we need people coming into the game, watching it, enjoying it and coming to Tests, which is still the ultimate."
Topping the World Cup could prove impossible, but the Ashes can ensure cricket remains in the spotlight for the rest of the summer.
Glenn McGrath is working with online trading broker ThinkMarkets to encourage more young people to get into sport through the Think2020initiative. For more information please visit www.thinkmarkets.com
Main image credit: Getty Images