Analysis: An epidemic of political relevance deprivation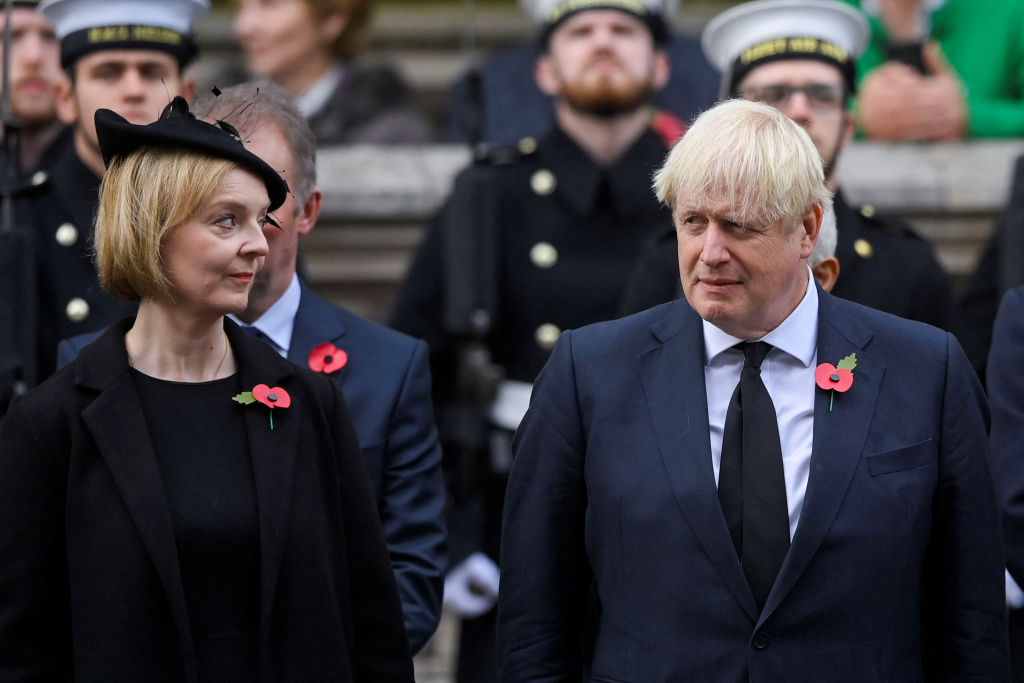 Liz Truss's 4,000 word essay, Matt Hancock ironing a tie and Boris Johnson's American ambitions. Comment & Features Editor Sascha O'Sullivan on the politicians desperately clinging on to relevance.
When Theresa May stepped down as Prime Minister in 2019, it didn't break any records. It was the fifth time in history Britain had had five living former prime ministers wandering the streets.
The resignations of Boris Johnson and Liz Truss both broke records, taking the number of former premiers to seven.
And that's before we think about all of the people wandering around talking about when they were once Secretary of State for so and so department.
Over the weekend, Liz Truss wrote a 4,000 word essay in The Sunday Telegraph defending her economic strategy of cutting taxes in order to create some semblance of growth in the UK.
The former Prime Minister claimed she felt "compelled" to stand for the leadership and had not plotted any ascent to no10 in the near-future during her tenure as Foreign Secretary in Boris Johnson's cabinet.
Whether or not we believe that the paparazzi style entourage following her around tours to Russia and other nations were a mere coincidence, and not some sort of ploy to gain name recognition within the party, one thing is clear of the now fallen leader: she's not leaving politics and she's desperate for a come-back.
She will once against defend her strategy this evening in an interview with The Spectator, and is expected to challenge Rishi Sunak's government on China later this week.
Elsewhere, Boris Johnson, in his typical style, "refused to rule out" running for US President (he has American citizenship and was born stateside) and has started popping up Fox News arguing advocating for Western allies to send more arms to Ukraine.
Tony Blair, meanwhile, has dedicated an entire institute to his own name and is oft-rumoured to be whispering into the ear of Keir Starmer.
Last year he held a kind of convention for the centre-left, with whispers suggesting he might even launch a Macron-style centrist party.
Thankfully they turned out to be false.
The only Prime Ministers who have retained their dignity are Gordon Brown and Theresa May, who seem relatively content with their lot, albeit the latter makes a pretty dollar on the speaking circuit. Both launch the occasional political intervention, but neither have sought to create a kind of celebrity cult behind their names.
Elsewhere in the relevance-starved political circles, Matt Hancock, the former Health Secretary, has written a book, starred on "I'm a celebrity, get me out of here", and is now, inexplicably, ironing shirts on Tik Tok for the clicks like some washed-up stay-at-home girlfriend influencer.
Now, whether or not you agree with Liz Truss, there is a place for former leaders in the Conservative Party. There is also a place for the kind of economic doctrine she subscribes too, if there wasn't she never would have been elected leader and the number of SW1 think tanks hatching similar policies would not exist.
But her essay was not really about tax cuts, it was about her and the desire to be remade in British politics.
This won't be the last we hear of her, unless of course Matt Hancock decides to do something useful and turn those pandemic-busting skills into a vaccine for the relevance deprivation influenza sweeping Westminster.