A race like no other: 120 miles of Scottish wilderness in unparalleled luxury
A race like no other. That is what the organisers of the brand-new Highland Kings Ultra aim to bring to Scotland next year: four days of running through the wilderness combined with unparalleled luxury.
Tucked away in the green hills west of Glasgow, 40 ultra-runners will be invited to take part in the race, which is scheduled for April 2022.
The organisers, sustainable tour operator and outdoor adventure business Primal Adventures, told City A.M. they plan to organise "the most exclusive, luxury wilderness ulta-marathon ever to be held in Scotland."
So let's get down to business: what does that entail?
Fourty serious runners will be challenged to cover 120 miles during four days in April of next year. And after having sprinted through the mud and rain, your recovery station of choice will be luxury retreats and the best food the Highlands have served in a long time.
Sounds like you? Then keep on reading.
Scotsman Matt Smith, the founder of Primal Adventure who has a military career spanning over two decades, explained that "each athlete will receive support from world leading coaches and nutritionists, speedboat transfers and luxury accommodation on Scotland's most iconic island, as well as the comfort of athlete lounges to recharge."
In a snapshot
The four-day route itself is inviting enough to give this challenge a go. Starting on day 1 in Dalness, runners complete a full marathon on forest tracks, well-trodden paths and quiet country roads before they reach Dalmally where they'll spend the night.
Up early the next day, it's a further 32 miles via undulating terrain, sheep tracks, forest tracks and quiet country roads. One of the day's highlights will be reaching Loch Fyne, or the 'Loch of the Vine/Wine' in Gaelic, which extends 40 miles inland from the Sound of Bute, making it the longest sea loch in Scotland.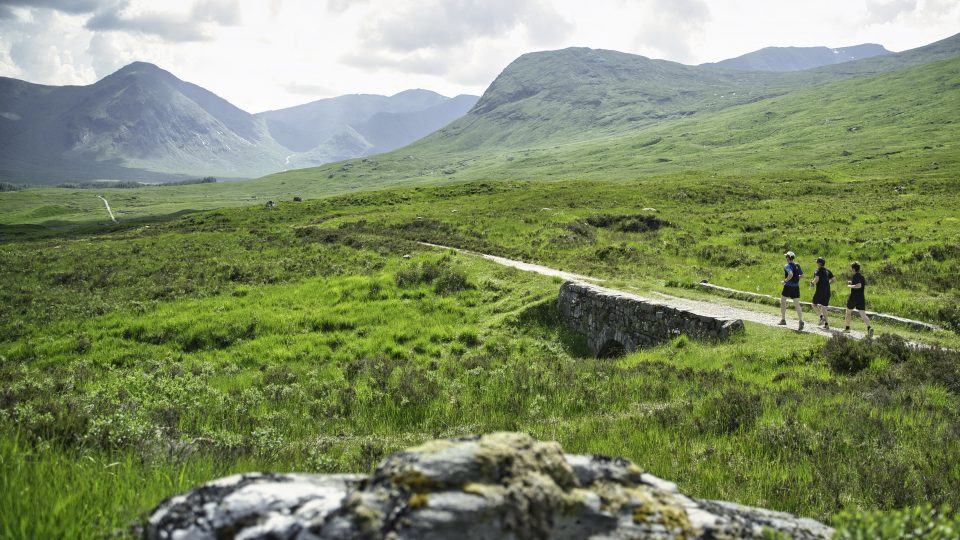 ---
After a good night's rest, it's back on the road for day three, which involves 34 miles of smooth surface via sweeping road and coastal paths. Things could not get any more scenic than this part of the trail, particularly when runners start approaching Cowal, one of the remotest areas in the west of mainland Scotland.
The fourth day may seem less challenging but don't be fooled: but with a total ascent of 6,000 feet on a rough surface the fun only starts now. Be prepared for coastal paths, steep mountain climbs, boggy underfoot in places and fast forest tracks. By now runners have crossed over to the Isle of Arran, one of Scotland's true gems.
Personal journey
For those who decide to take part, the event starts much sooner than April of next year. In fact, their personal journey will begin this October when the future Highland Kings are taken under the wings of some serious names within the ultra-running community.
Firstly, there is Ultra Running World Champion Jon Albo, who is also an ultra-skyrunning world champion and two-times winner of the Skyrunning World Series.
Secondly, personal coaching will also come from Anna-Marie Watson, an ex-army dedicated ultra-runner and coach, who has had a string of results including first lady at the Oman by UTMB.
Based on a specialist training program, the runners will prepare for what may be their most challenging event ever.
"Therefore the programs are individually designed around a participant's psychological condition and developmental needs," Smith said, who has challenged himself in hostile, non-permissive environments across the globe for more than two decades.
"The event will be a true physical challenge for athletes, [but] will deliver comfort and luxury rarely associated with endurance events," he added.
---
Sir Ranulph Fiennes
The event will culminate in a gala dinner, with a chance to hear stories from British explorer and holder of several endurance records, the legendary Sir Ranulph Fiennes.
If that name does not ring a bell, Sir Ranulph is arguably the world's greatest living explorer: a record-breaking adventurer and the only man alive ever to have travelled around the Earth's circumpolar surface.
So what are some of the characteristics Sir Ranulph looks for when selecting people to take part in a challenging expedition or race like this one?
"A single word: motivation," Sir Ranulph told City A.M. "People who can motivate themselves. Someone who does not give up. Someone who keeps going."
"And when that weak voice comes into your head, someone who keeps faith, not necessarily a religious faith, but a method to deal with that weak voice," he said.
That's exactly what the organisers are looking for: no quitters, people with an appetite for running 120 miles of Scottish wilderness in four days.
Are you up for the challenge? More information can be found here – City A.M. readers are invited to use the password 'HighlandKings2022'.