Tesco PLC reports earnings its first-half results on 2 October. The UK's largest supermarket group is expected to report earnings of 7.5 pence per share, up 17.2 per cent on the year, while revenues are set to remain flat at £31.7 billion. Pretax profit is forecast to be £944 million.
Tesco's outlook is clouded by the difficult comparatives with last year's strong performance. 2018 was a warm year, and while 2019's summer had some pockets of warm weather, the overall sales performance is not likely to be as strong. Instead, the message will be very much 'steady as she goes'. Ireland may provide a cushion to poor performance in the rest of the UK & Ireland division, but the European arm will suffer from a difficult period for Poland. Competitiveness is still the key for Tesco, and this is achieved by further progress in price and quality in its core grocery operations.
For UK supermarkets, the Brexit issue will not go away. A no-deal exit at the end of October seems unlikely now that parliament has passed the Benn amendment preventing such an outcome and an extension will, it seems, result that extends the process until the end of January. But the companies must continue to plan for the possibility of major disruption, and be aware that a sudden rupture could hit consumer spending and cause a drop in sterling that would push up prices of imported goods.
It is this fear that is holding back Tesco shares, which have otherwise done quite well so far this year, gaining 20 per cent versus around 9 per cent for the FTSE 100. If a deal is done, then the outlook clears and supermarkets become more attractive. Certainly, with Tesco trading at 13.5 times forward earnings, well below its five-year average of 17.6 and one of the cheapest valuations in over five years, there is plenty of room for increased growth and a re-rating in the shares.
How to trade Tesco earnings
Tesco usually sees an average move of 6.05 per cent on results day, according to previous price movements. At present options pricing points towards a 5.05 per cent move. Of 21 analysts covering the shares, 14 are 'buys', six are 'holds' and one is a 'sell'. Tesco has beaten earnings estimates in five of the last eight updates, and beaten revenue forecasts in four of the last eight.
Tesco shares: technical analysis
Tesco shares have rallied hard this year, moving from a low around 185p to peak at 250p. However, since the end of April they have drifted lower, and two rallies in June and August have failed to break above 242p. Thus we may have the makings of another sell-off if the price cannot push higher. A pullback may target 220p or 210p, the low from late August.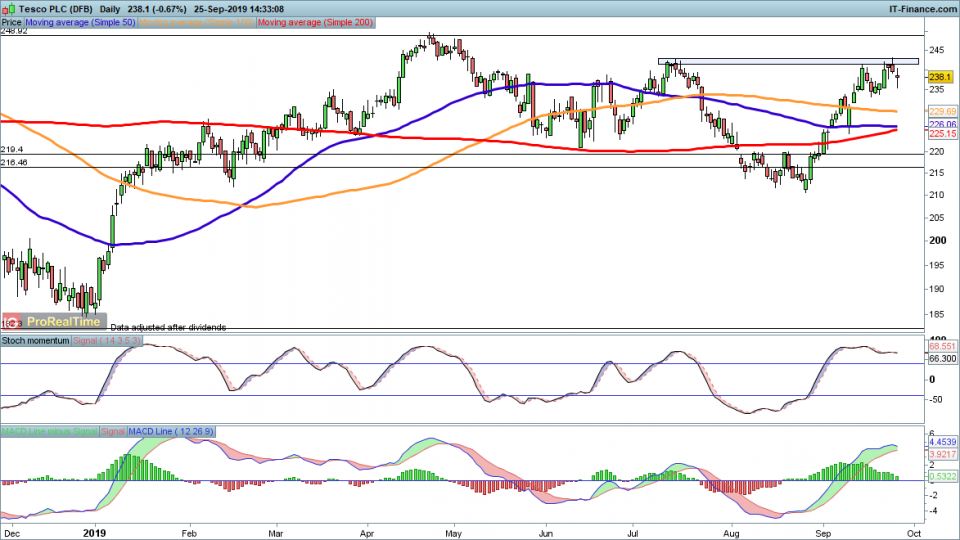 Tesco is cheap, but faces headwinds
Tesco shares are not expensive, and indeed at present are fairly-valued. But Brexit presents one major reason for caution, while a second is that the company has yet to articulate a compelling plan for growth beyond sprucing up its core retail arm. While the shares are up for the year, progress has stalled since May, muddying the technical outlook.