Why the Bawah Reserve in Indonesia is your must-visit hotel hideaway
"If you want attention, just lower your coconut," grins the enthusiastic, affable young man who's just showed me and my boyfriend to our villa. I don't lower my coconuts for just anyone, but it turns out he's telling me how my Do Not Disturb sign works, Bawah-style: it's a pulley system attached to a coconut shell which dangles outside the front of the handsome, bamboo-walled, teak-floored structure which we're to call home for the next few days, now that we've landed in Indonesia.
As low-tech as this system sounds, it turns out to be typical of this new, eco-friendly resort, composed of a cluster of six tiny private islands, which are also a designated marine conservation area. Located within Indonesia's Anambas archipelago, 150 nautical miles north of Singapore, they're so small that they were only discovered by chance. And not because some unfortunate, Robinson Crusoe-type was swept there by a storm; more prosaically, it was when Singapore-based, British shipping entrepreneur Tim Hartnoll came across them while yachting around the area – as you do.
Apparently uninhabited for decades, if not longer, thanks to a lack of fresh water, these striking, dark green, jungly hillocks were ripe for thoughtful, sensitive development. After arranging to lease them from the Indonesian government, Hartnoll oversaw the instalment of the likes of reverse osmosis machinery, which desalinates water; a long landing jetty connecting to the biggest island, where coral was moved where necessary and replaced by hand to avoid upsetting the delicate eco-system; a permaculture garden where they produce their own vegetables, herbs, and, er, compost; and thirty-five luxurious beach, garden, and over-water suites.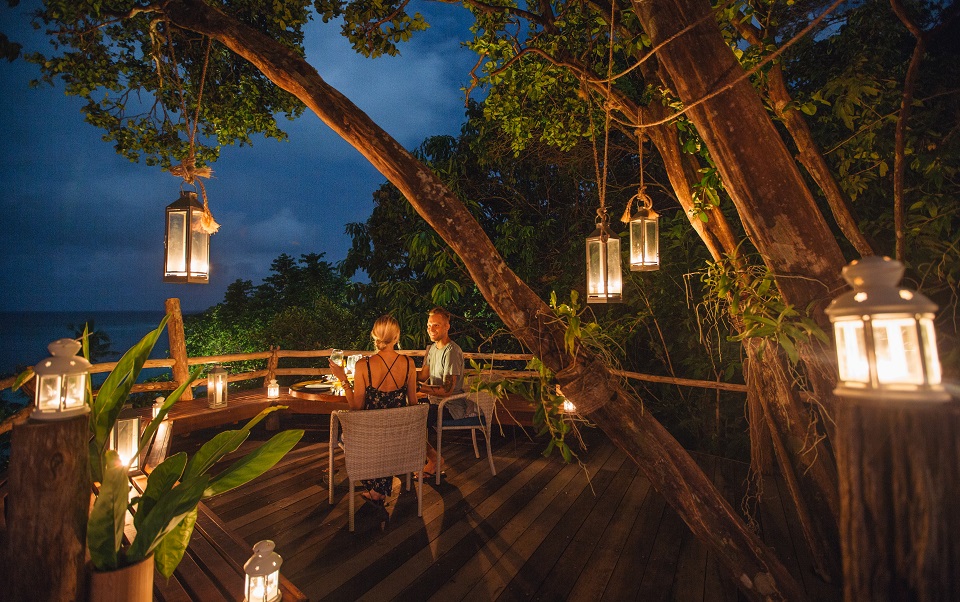 These share design features such as decks constructed from leftover wood, covetable recycled copper bathtubs and sinks and a profusion of accessories, like lampshades, hat stands and tables, made from the likes of rattan, rope, driftwood, and shells. The water supply for all of these is heated by solar panels. Construction took nearly six years, and facilities on the main island include a small spa, two bars, the casual Boat House restaurant, where you can dine barefoot while sitting on a swing, and the more formal Treetops, where, as the name suggests, you are eye-level with the foliage.
Of the bars, the Grouperi is at beach level, next to a jade green infinity pool, and Jules Verne isreachable by a staircase which spirals right up into the trees. Bawah's most brilliant concept, however, is that once you have paid the slightly eyewatering price – the starting rate per night is just north of a grand and a half – everything else is included, as well as your transfers: by ferry, then, excitingly, by seaplane, from Singapore. Everything, that is, except alcohol, although most of this is kept at reasonable, London-level, prices (props to the South American couple we journeyed over here with, however, who stocked up on duty free Champagne and Chilean Malbec beforehand). So that's as many meals, and as many courses, as you can eat, which, when the food is freshly made from as many local ingredients as possible, is almost more of a challenge rather than a suggestion; a whole host of watersports, from kayaking to stand up paddleboarding and catamaran sailing; activities from island cruises, to picnics on a deserted beach; and a daily spa treatment at the deeply chic Aura, which looks like a Viking longhouse if it were designed by Prada.
If you are worried that you might get bored of going to a spa and having a blissful, dreamy massage or relaxing facial every day, I can unequivocally tell you no; no, you will not. Even my boyfriend, who is to attending spas what I am to watching Premier League football, gets addicted worryingly fast, debating whether he needs an 'Inner Reset' (full body massage with oils' or, ahem, the 'Explorer's Relief' (relax – it's just a neck, back and shoulder rub). Were we the type of people to get up with the sun, we could also do yoga on the sprawling pavilion to the sounds of Indonesia's birdsong and the sweet scent of flowers in the air; it's almost enough to make me wish we are.
Some fish have the disinterested gaze of the commuter, some swim with purpose, and some lazily flap one fin before hurrying up with both. I particularly love the ones which look like they've been dipped in petrol, shining with bright, iridescent colour
Life settles into a hazy, drowsy, pleasurable routine. Beaches? There are thirteen of them, including the one our garden suite, which looks like a posh safari tent, all canvas roof and bed draped with white net curtains, overlooks. One morning we try the picnic-on-a-deserted-island concept. Delivered there by skiff, the beach we land on is facing completely the opposite way from the main resort, so frolicking au naturel is practically compulsory. I say practically; I prudishly keep my bikini firmly on, which is just as well as soon afterwards we're waved at by a friendly passing kayaker. That could have made eye contact over dinner later…awkward.
Later in the day, we stir ourselves for a snorkelling trip to the aft of another of the islands. Under the sea's surface, all is coral reef, and the utter delight of exploring this underwater universe lasts far longer than the hour or so we spend actually doing it. Sea turtles and blacktip sharks can be spotted here (unfortunately not by us), but the profusion of other neon coloured, striped, spotted, big, small, and downright microscopic-sized sea life keeps us absorbed. I'll never get bored of poking my nose into fishes' private lives as they traverse the sea bed; some have the disinterested gaze of the commuter, some swim with purpose, and some lazily flap one fin before hurrying up with both. I particularly love the ones which look like they've been dipped in petrol, shining with bright, iridescent colour. And I absolutely adore the variety of types of coral, which range in type from the delicate, spindly kind you see printed on posh wallpaper, to massive lumps which look like brains, or cauliflower, alongside others which resemble oyster mushrooms, or frilly anemones… No wonder people buy aquariums.
The downright adorable staff address everyone by name, and clearly want you to have the best time possible, ever. How can you not, when the sea fringing these islands is a startling, clear turquoise, and some of the food is fished straight from nearby waters, and the black, velvety sky at night reveals an endless set of the most twinkling stars you've ever seen? When the seaplane arrives on the day we're due to leave, I almost consider hiding the pilot, Captain Mike's, keys. Bawah, it's been a (leisurely) blast; I'll dangle my coconuts for you any day.
Visit Indonesia yourself
Abercrombie & Kent offers four night trips to Bawah Reserve in Indonesia with two nights in Singapore en route. They will plan your flights and transfers too. abercrombiekent.co.uk. For more info, visit bawahreserve.com
Read more: Why Turkey's south western beaches are taking flight this spring
Read more: Doing Portugal's Algarve the smart way, at Pine Cliffs Resort