WH Smith shares rise nearly six per cent on consensus busting dividend
WH Smith is trading stronger on slightly better numbers and a higher dividend this morning. The retailer reported strong growth in profits for the year ended 31 August (release).
In an announcement on Wednesday the company revealed that profit before tax was £108m, up six per cent from £102m in 2012. Group profit from trading operations were £122m up four per cent from £117m in 2012. More activity on the high street led to an increase in trading profit to £56m a rise of 4 per cent from £54m in 2012.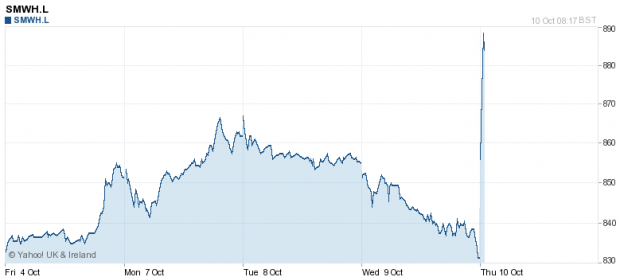 Earnings per share saw an increase of 15 per cent to 68.5.The final dividend proposed was 21.3p, up 15 per cent from 2012. An ordinary dividend per share 30.7p up 14 per cent form the previous year.
The company also announced a £50m share buyback, having completed the £50m share buyback announced in August 2012.
Commenting on the results, Stephen Clarke, chief executive said:
We continue to deliver on our strategy with a strong performance and good profit growth in both businesses. Travel increased profit to £66m and in High Street profit increased to £56m. The Group remains highly cash generative enabling us to invest in our businesses and in new opportunities, whilst returning cash to shareholders, including a further £50m share buyback announced today.

Looking to the year ahead, we continue to plan cautiously in an uncertain environment, however we are a resilient business and are well positioned for continued growth in both the UK and internationally.
The figures for the group were, however, not entirely positive. Total sales were down five per cent with like-for-like sales down five per cent. Travel total sales were flat with like-for-like were sales down four per cent and high street total sales down seven per cent. The group has also increased target cost savings to £22m over the next three years