Week in Sportbiz: Mexican stand-off over Club Necaxa NFT; press conferences overshadow French Open; English football in distress
From NBA Top Shot to Christian Fuchs, the march of the NFT in sport has looked unstoppable. 
Until now, that is. Mexican football chiefs this week put the brakes on the plans of Club Necaxa to become the world's first sports team to sell an ownership stake using blockchain technology.
Club Necaxa, whose shareholders include former Arsenal star Mesut Ozil, model Kate Upton and actress Eva Longoria, announced plans to sell a one per cent stake through an NFT auction – opening bid: $1.3m – later this summer.
But the Mexican Football Federation (FMF) has been quick to rein in Club Necaxa, warning that it alone could approve any change in ownership.
"In accordance with our regulations, membership certificates may not be transferred or modified under any figure other than the express approval of the assembly of the MX Liga and confirmation of the executive committee and/or the general assembly of the Mexican Football Federation" the FMF said.
The FMF's stance is a blow to serial sports investor Al Tylis, who led an eclectic consortium in buying 50 per cent of Club Necaxa earlier this year.
Tylis, who also owns stakes in Swansea City, Major League Soccer's DC United, said the NFT auction was "absolutely a way to generate interest in the club".
Where the FMF is concerned, Tylis can consider it job done.
Shop til you're dropped at the French Open
The subject of press conferences has overshadowed the tennis at the French Open this week – and not only because of Naomi Osaka.
Just 48 hours after Osaka's shock withdrawal, former Wimbledon champion Petra Kvitova followed suit after suffering a freak ankle injury during media duties.
On top of all that, one journalist raised eyebrows by admitting he was dialling in to Alexander Zverev's post-match video press conference from a supermarket.
While Zverev saw the funny side, French Open chiefs did not and banned the reporter, Briton Jonathan Pinfield, from the rest of the tournament.
After some profuse apologies from Pinfield, organisers relented and reinstated his credentials.
Football: coming home or going to the dogs?
With excitement building for Euro 2020 and flush from Chelsea's Champions League success, English football is enjoying something of a high.
But there is bad news around the corner, according to a new survey by insolvency specialists Begbies Traynor.
Its 2021 Football Distress Report found that almost half of the 72 clubs in the English Football League showed early signs of distress – up 94 per cent on 2020.
Covid-related measures such as rights issues, loans and deferred payments have eased short-term fears but "created a deceptively rosy picture", the report warns.
"Although these measures have been successful in securing the short-term survival of clubs and pushed the threat of administration further down the road, the cumulative effect is to build up a wall of debt that will have to be serviced and ultimately paid off," said Gerald Krasner, partner at Begbies Traynor.
"The escalating symptoms of early financial distress are a very real signal that for many clubs the full financial effects of Covid are yet to be fully felt."
Olympic director's cartoon side-hustle
While Covid forced athletes to put their Tokyo 2020 plans on hold, it has afforded others in the Olympic movement time to embark on side projects.
Former International Olympic Committee director Michael Payne, for instance, has spent lockdown indulging his love of cartoons.
The result is Toon In!, a coffee table book of more than 1,200 sketches that tell the story of the modern Olympics.
It includes work by Los Angeles Times cartoonist Jim Thompson – including a topical effort below – and can be bought here. All profits go to charity.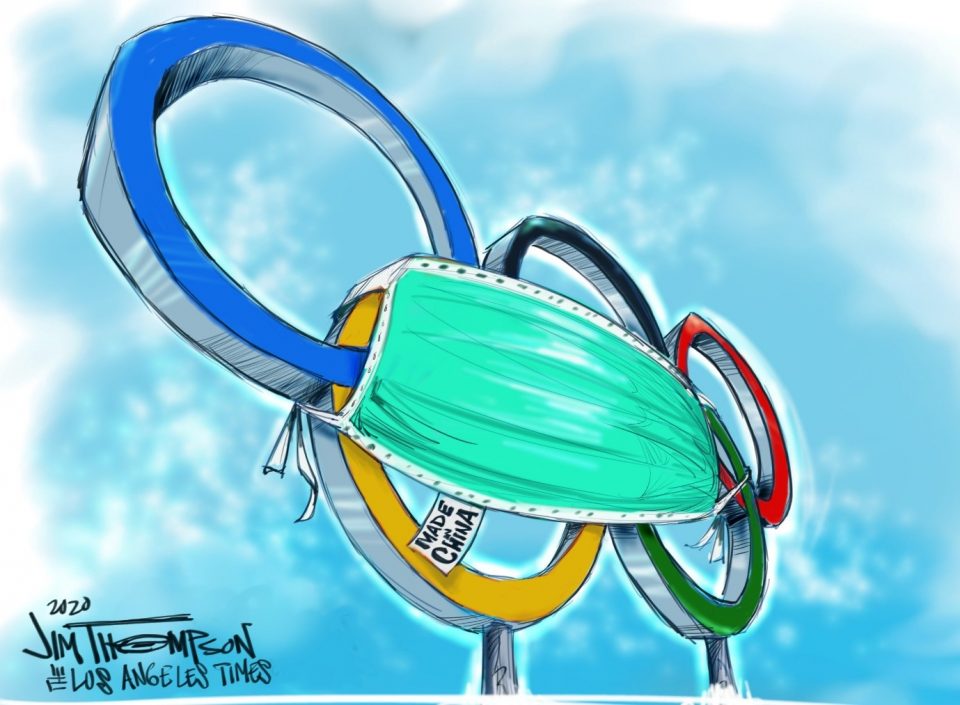 Tokyo 2020 fears: A Japanese reader writes
Today marks 50 days until the Tokyo 2020 Olympics are finally due to begin, yet many in Japan wish they wouldn't.
A Japanese reader contacted City A.M. and asked us to convey the fears of ordinary citizens in our coverage of the build-up to the Games.
Former London resident Reina Shimada cites 80 per cent opposition in opinion polls, very slow vaccine rollout and the ongoing state of emergency in Tokyo.
She adds: "Tokyo Olympic organizers are seeking at least 200 doctors and 500 nurses for the events. They also require quite a lot of hospital beds for the athletes, which means that Japanese patients who need intensive care won't be able to have beds during the Olympic Games.
"This summer's Olympics should be cancelled. Otherwise, the situation could be worse than it's ever been."