Web-3 e-commerce platform PhygitalTwin teams up with Dr Robin B on unique collection
Following in the digital steps of mega-athleisure names such as Nike and Lululemon; the London-based, Web3, sustainable design studio and e-commerce platform, PhygitalTwin has developed the world's first-ever 'phygital' athleisure collection – 'FitRX' – in collaboration with health and fitness expert Dr Robin B.
The limited drop will be available to purchase on Tuesday February 14 for a limited period of time, as the metaverse looks to disrupt the $380 billion global activewear market.
This debut collection, including seven phygital and six digital-only unisex outfits, is emblazoned with a vibrant body-forming digital print that runs through every style.
A veteran of Burberry, Reiss and Kilgour, Louise Laing – the founder of PhygitalTwin – was shocked at the waste and climate impact of fashion. 30% of goods produced are never sold, amounting to 5% of the world's landfill, making the fashion industry the second biggest sectoral climate criminal.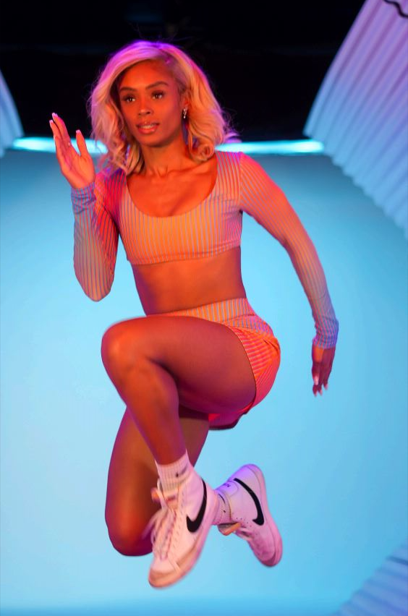 By developing a digital-first, on-demand influencer rather than a traditional retail channel, Louise has created a solution that traverses metaverse to 'real life' and back again.
Phygital fashion combines both physical and digital garments, AR filters and wearables. Launching on Tuesday February 14, customers can head to the PhygitalTwin website to experiment with their digital wardrobe with brand-new AR filters and a digital rendering service where they can see themselves wearing one of the pieces in the collection.
In a fashion first, customers will know how the garment will fit their body before ordering it online for their home. And basking in the Valentine Phygital love, shoppers will also have the chance to refresh their physical wardrobe with a limited-edition piece from the debut collection, specially curated to transform their workouts.
By purchasing the physical piece, customers automatically receive a complimentary digital collectible that grants them immediate access to the VIP Membership. Once part of the VIP community, there are benefits not available anywhere else including an exclusive Dr Robin B cooking and workout video, discounts, priority access to future drops, customisation opportunities and much more.
Pushing against the typical production process of fast fashion, the FiTRx debut collection is also the first of its kind that has been sustainably curated and will be made and printed on-demand, creating zero waste.
To amplify the truly Phygital Experience, PhygitalTwin has partnered with Exclusible, the leader in digital luxury to expand the possibilities of both the physical and digital universes by having a party in the metaverse space with their metaverse partner W3rlds, which promises to rewrite a new chapter for digital experiences. The virtual party will take place at the same time as the launch party in Hollywood on February 7 at 9pm PST. So whether you are in the real world or the PhygitalTwin metaverse, the Dr Robin B Fit Rx limited edition collection helps you find that balance that future-proofs wellness and helps you win.
"I am thrilled to partner with PhygitalTwin on this debut collection," said health and fitness expert Dr Robin B.
"With the increasing toll that fast fashion takes on our planet, I am so grateful for the opportunity to provide my audience with sustainable fashion choices whether they're wearing the pieces online or in public."
As the Web3 fashion space undergoes rapid growth and transformation, PhygitalTwin is unique as they use state-of-the-art technology to create and transform unique digital fashion into physical fashion on-demand while reducing traditional start-up costs for their partners.
"The rise in digital fashion has paved a new avenue for democratisation and my goal has always been to ensure that we helped build a more sustainable future for industry participants," Louise Laing added.
"I launched PhygitalTwin to allow creators, influencers and designers the chance to explore new revenue streams and offer them new ownership opportunities in Web3 not widely available in the industry today. We also want to offer customers the option of being able to try before they buy to help them make the right decisions before purchasing. This collection does just that."
The FiT Rx limited collection will be available for purchase on Tuesday February 14 via the PhygitalTwin website. Sign up for more detail and to gain access to the imminent Metaverse party.
Website: https://phygitaltwin.io
PhygitalTwin Twitter: https://twitter.com/PhygitalT
PhygitalTwin Instagram: https://www.instagram.com/phygitaltwin/
Dr. Robin B Instagram: https://www.instagram.com/dr.robinb/